The hardest part about moving away from San Diego was leaving my friends. Ok, maybe leaving the perfect weather and the beach made it difficult as well. Over the 4 years I spent in San Diego I met some really great people. One of those people became like a sister to me and I am determined that wherever we are in the world we will always be connected. When we first met we laughed over all the similarities we shared…it was almost scary. And as our friendship grew we found we had more and more in common. Acacia is one of a few people that I know that I can tell absolutely anything to and not be judged. At least once a week we would get together and make a Paleo dinner together, split a bottle of wine, and most likely gorge on some dark chocolate/sea salt covered almonds from Trader Joe's and then sometimes finish the night sneaking another bottle of wine down to the hot tub while we talked about life. If I was having a bad day she would go out of her way to lift me up, and I tried to do the same for her. Friends like this are rare and I think you only get a few throughout your lifetime. There are so many memories I have with her and so I couldn't think of a better way to say goodbye before I move than to go on a week-long cross-country road trip to move my car and my belongings back east.
When I first asked Acacia if she would like to drive with me I didn't really think she'd be able to come along. A week off from work is a lot to ask. But she didn't hesitate to say yes and so the planning began. We chose to take the Southern route since it was February and there was a chance of hitting bad weather in the mountains. This meant skipping the Grand Canyon but we had plenty of other stops lined up. The final big one would be New Orleans before we headed North up to Franklin, TN.
Before the trip I had a huge garage sale with my roommate Lauren. People showed up at 5am and were literally fighting each other over things. I'd never seen anything like it before. I had to yell numerous times at people and I'm pretty sure a few people made off with some items without paying. At one point I brought out a bag of shoes and before I even set it on the ground 5 old ladies had there hands deep in the bag and were playing tug of war over shoes before they could even see what they were holding! The sale was a success because I sold off almost all of the things that I wouldn't be able to fit in my car and the rest was sold on Craigslist. It was hard to see my things go for a very small percent of what they were worth but I just kept reminding myself that they're just things. A week later I squeezed my remaining belongings and a cooler of food into my Honda Civic coupe.  I grabbed Acacia and we were on our way!
Day 1 – Joshua Tree National Park
Our first pit-stop was just a few hours into the trip. Acacia and I had never seen Joshua Tree National Park so we decided this would be a good place to stop for lunch. Joshua Tree is pretty interesting scenery to say the least. Having been to the a few places in the desert during my time in California I was expecting it to be about the same. But the landscape is completely different  from other places with the Joshua trees growing every which way and the Silver Cholla looking all fuzzy as the sun shines through their hair-like prickers. It's pretty amazing that all these plants can survive and actually thrive out in the desert. I don't think they would be considered beautiful in any other setting but here they're so interesting and surprising that it really is breathtaking.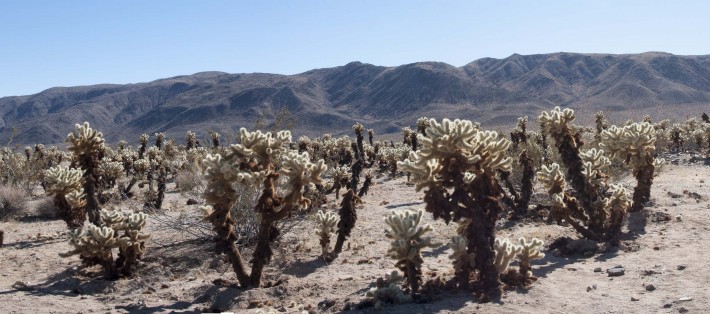 Giant rock formations carved smooth by the wind were everywhere. A rock climber's paradise. We drove through a loop with a lot of rock climbers, hikers, and campers and then pulled into a quieter area to take some pictures and have some lunch. After climbing into the rocks for some photos and after Acacia attempted to hug a cactus, we found a picnic table to spread out our first road trip meal. We had a cooler full of homemade carnitas, ripe avocados, hard-boiled eggs and fruit. Our goal was to stay away from crappy road trip meals and eat fresh food as long as possible.  It was kind of perfect sitting there in the desert with delicious food thinking about the long road that stretched in front of us. After lunch we headed out of the park slowly taking in the ever-changing landscape and stopped a few times to take some photos. Then we were back on the highway cutting through Arizona just past Tucson to our first overnight stay in a Motel 6 in Wilcox, AZ.