One of the perks of freelancing full-time now is that I can be flexible with my schedule and join Alex on some of his work trips and turn them into a little weekend trip. At the end of June last year he had to go to Ljubljana, Slovenia for a work conference and of course I wanted to join him for that. It turned out that it was exactly one year to the day that we first met in Ljubljana that we would be back there. We decided to extend the trip into the weekend and stay in the mountains.
The first few days in Slovenia Alex attended his conference during the day while I went into town and worked from one of my favorite cafés in LJ called Paninoteka. One nice perk is I got to stay in a nice hotel in the city center with a great view. I enjoyed quite a few nice lunches while I worked at the café with free wi-fi. I just found a quiet little corner on the couch, had lunch and worked for hours and the waitstaff were totally fine with it. This is one thing I really enjoy about this city. Almost every restaurant seems to have free wi-fi and not a care if you linger there working. A freelancer's dream! The only thing better is if my laptop screen didn't have so much glare so that I could work outside.

I also was really happy that I got to meet up with a lot of friends. I had coffee with my coworkers one after noon, introduced Alex to my friend Anne over dinner, and even made it to a couchsurfing meeting to see some of my old friends I met through there. On another evening when Alex and I were done working we had a nice dinner and then took a bottle of wine up to the castle. We had a beautiful sunset and toasted to our one-year anniversary since meeting each other. We finished off the evening with some dessert at another favorite spot Cacao. The last evening of Alex's conference I was invited to join the closing event which was a traditional Slovenian meal at Restavracija Skriti Kot. The waitstaff were dressed in traditional clothes and even did a dance performance involving our party. It made for a very entertaining evening.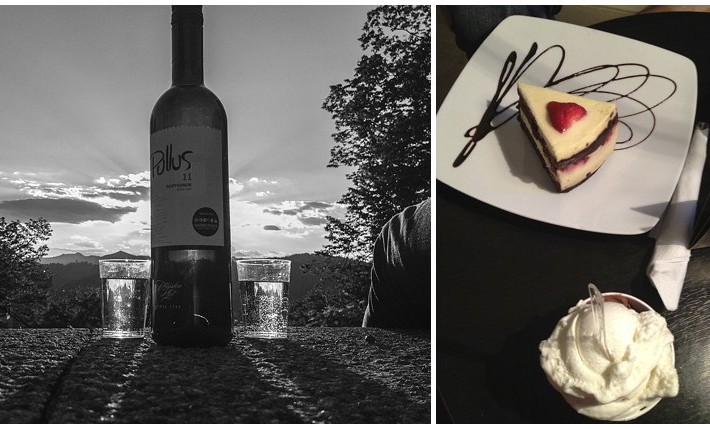 Once the weekend arrived and the conference was over we rented a car and headed to Kobarid, a small town in the mountains of Slovenia. We had booked a room at a turistična kmetija (tourist farm) I found online. We followed the GPS which seemed to take us to somebodies house. A woman walking on the street luckily spoke some German and explained to Alex that this was the owner's residence but our rental was at another address. So we entered that into our GPS and shortly arrived at a VERY remote village. We drove down extremely narrow roads through the town until arriving at our location. The place looked really neat and peaceful but there didn't seem to be anyone around. We had no instructions for a key and the owner wasn't answering his phone. We tried all the doors and nothing opened. At this point we were starving and it was starting to get late. I was getting hangry and suggested we should find another place to stay. If we waited around too long other places might close and we'd be sleeping in the car. We booked another place about 30 minutes away. At that point the owner finally had emailed me back and told us the door was open. We went and gave it another try and after a more forceful turn we got the door open and entered into a very drafty, damp room with a pullout couch. The bathroom floor was soaking wet, the bedsheets felt damp, and there wasn't even toilet paper. The owner called back and we told him we wouldn't be staying. He apologized that the room wasn't in order and offered to meet us and buy us a drink to make up for it. Slovenians are so nice! It was late so we declined and set out for our new location. We stopped on the way at a local restaurant and were treated to some great food, good hospitality, and some live music. It seemed like it was the hot spot that night in the village.

Finally we made it to our new place which was MUCH more welcoming. The owners of Turisticna Kmetija Kranjc stayed up past their bedtime waiting for us to arrive and quickly got us settled in. The room was clean, warm and DRY and we fell asleep quickly after a long day.

The next morning we enjoyed a simple homemade breakfast made with fresh ingredients and then asked the owner for some advice about mountain biking in the area. They rented us out two bikes and helmets for next two nothing and even had water bottles for us. We weren't sure if we should drive the bikes down the mountain a bit to start because from our drive up the night before we knew it was a really steep climb back up. The owner assured Alex that it would be challenging but it's doable. I tried to explain to Alex that when a Slovene says something is easy then it's actually hard. So if they say it's challenging it's probably next to impossible. He shrugged me off and we set out for our first mountain bike ride together.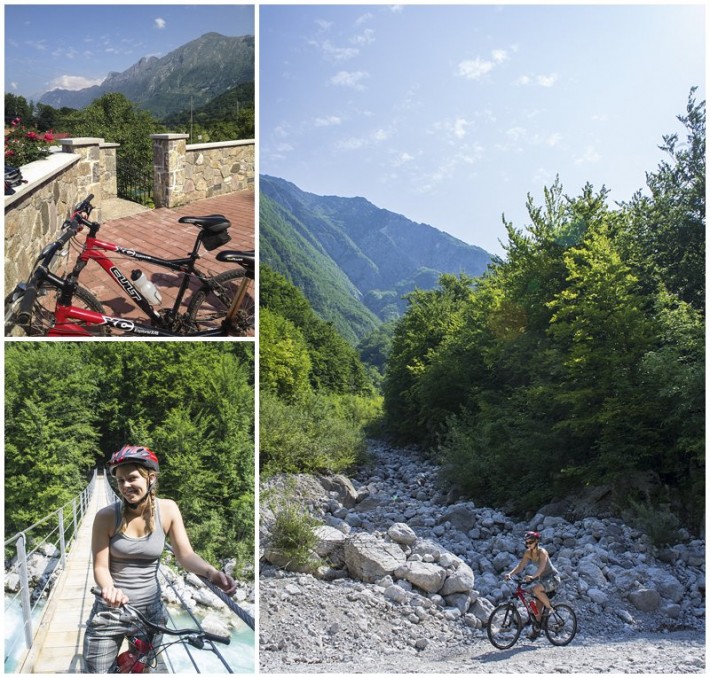 Going down I had to get comfortable again. Last time I rode was in CA and I had a few bad falls that turned me into a nervous rider. Alex is at home on a bike and this seemed to be a piece of cake for him. Either he was being very patient with me or I was doing an OK time keeping up with him. I had to dismount a few times where there were big areas of rock slides to cross. I was a little frustrated and intimidated but we eventually made it down the mountain and into town. We stopped for lunch in town and refueled and then continued our ride through the valley. This are was flat but we rode for quite a few hours. There was a destination in mind along the river where we would be able to jump in but we eventually decided not to ride all the way there. It was hot and we still had a long ride back ahead of us. For me, the only way to enter cold water is by plunging in. I really can't wade into cold water because it feels like torture. But we decided to stop anyway and see if we could go for a little swim. As expected it was just way too freezing. Alex managed to capture my reaction to the cold on camera. Needless to say I did not go in longer than half a second.

So the next part is where we made a huge mistake. We had a few snacks with us but we hadn't eaten a meal since lunch in town. After riding for all that time we really should have eaten before starting the climb back up the mountain. I definitely get cranky when I've not been fed. Normally I'm a bigger fan of the climb than the downhill when biking but on this day it was not the case. After quite a few switchbacks I was already out of energy and my mood turned very pessimistic. I got caught in a downward spiral of negative thoughts and watching Alex pump along without a complaint was making it worse I think. I hate feeling defeated and I was not handling it well at all. It wasn't long before I started to cry to myself and then started to complain out loud. I even at one point told Alex I hated him. And while of course I was just being a brat I really was a little mad that he thought I was going to be able to do this. I even got off my bike at one point but it was so steep that my legs were burning even more and it felt like it would take days for me to make it up that mountain. Getting off the bike was a mistake because it was hard to get back on at such an incline. I'm definitely no pro biker! I started contemplating if Alex should ride back and come get me with the car but I had no idea how far off we were from finishing and I didn't want to be out there for hours waiting by myself. He even suggested it at one point which made me more angry. I was really just mad at myself for letting my attitude become so defeatist. Once you tell yourself you can't do it, you're lost. But somehow I managed to pull it off and once we got up the most nasty part of the mountain we had a nice view and a more flat road and I could start to see an end in sight. I got a new burst of energy and I somehow survived that ride. I swore I would never ride with Alex again…and actually I haven't since. However, I think that if we picked something a bit more tame, or I'd eaten something, or I get more practice on a bike then we can try again at some point. I don't know how Alex put up with me that day but I love him for the amount of patience he has! This is a map of a route very similar to ours in terms of difficulty. The beginning of our ride was a different route as I think we came down the mountain more quickly and then rode along the river. But either way it shows the way back up so you can see what I'm talking about. http://www.everytrail.com/view_trip.php?trip_id=714356