May 1st or May Day is a big Spring holiday in Europe. Although Munich puts on quite a celebration, Alex and I decided to use the two free days from work to have our first long distance motorcycle trip together through Austria and into Northern Italy. Of course we were hoping for perfect weather and instead got a mix of good and bad. We drove through clear sunny skies to cold rain and even freezing snow. But I wouldn't have changed a single moment. It was a perfect weekend that will forever be in my mind.
Our destination was Lago di Ledro near Garda See in Northern Italy. Traveling directly it's about a 4 hour drive but of course we wanted to take the scenic route. We decided to split the trip up over several days since this was my first long ride and we weren't sure how I would do. Thursday we left after breakfast and were greeted in Upper Bavaria with perfect conditions, warm sunny skies! We drove through lots of cute little towns where people were out in their dirndls and lederhosen preparing for the day's festivities. We saw a Maypole going up in one village and about 2 dozen people eating sausages, pretzels and beers beneath another village Maypole. We stopped for lunch in Grossweil at a nice little restaurant on a lake. We shared a plate of Cevapcici and washed it down with a cold drink. The waiter brought me a honey schnapps in a cute little bottle at the end. I felt like I was in Slovenia!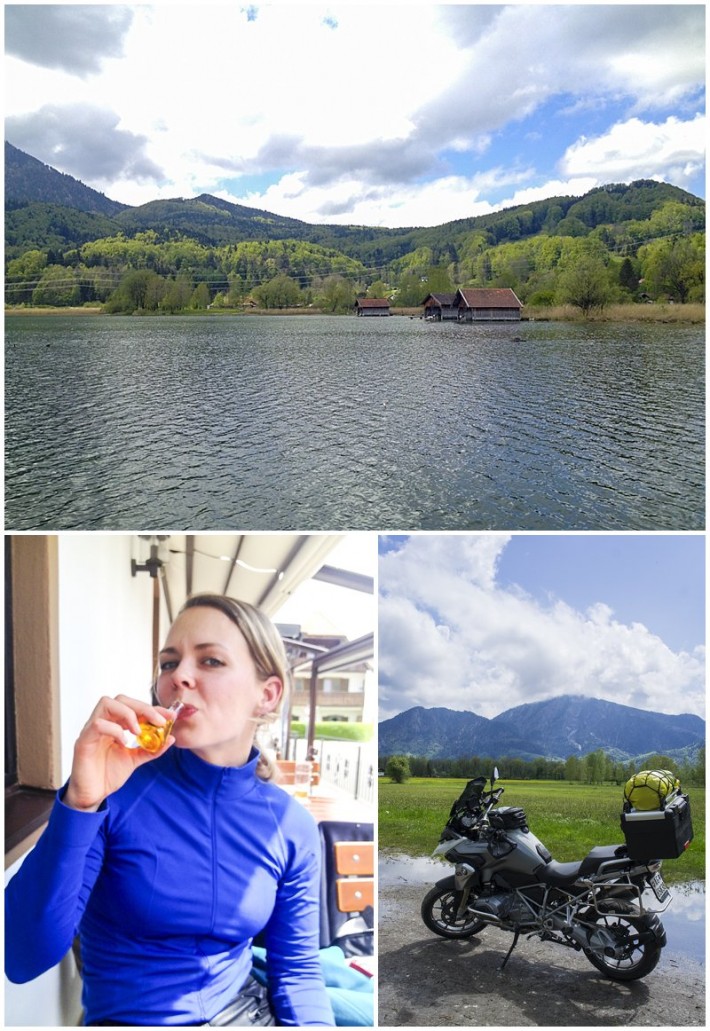 Next we crossed into Austria still enjoying good weather until it began to rain in the last hour of our riding. My new gear held up pretty well and I stayed dry and well…not too cold. We were happy for some warmth when we finally arrived at our accommodation in Romallo, Italy. A cute little bed and breakfast in a tiny but beautiful village. The landscape in this town was rolling hills covered in fruit trees. After a hot shower and a little nap we took a walk to the neighborhood pizzeria where we both enjoyed some good Italian food. Alex had suggested that we do some night photography after dinner so we had brought the camera, tripod, and a bottle of wine and started walking through the town in search of a good view. Eventually we came to a clearing among the fruit trees on top of a hill overlooking town, Lago di Santa Guistina, and the snow-capped Alps in the distance.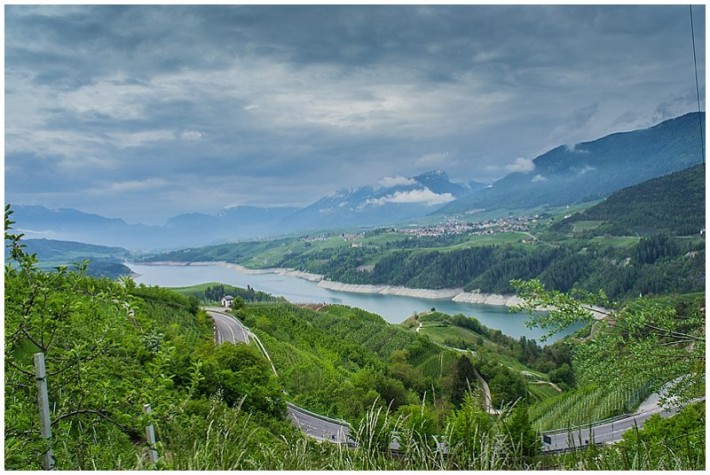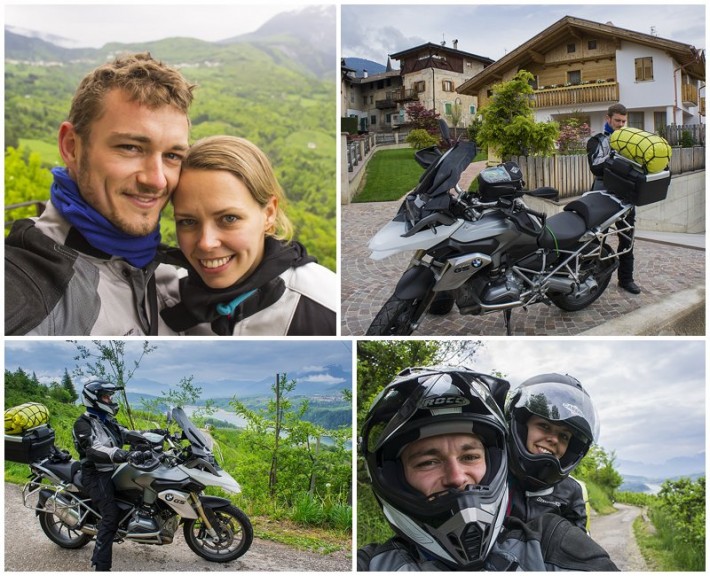 Since the cloud covered sky wasn't cooperating with our plans to take some pictures of the stars I suggested we do some fun experiments with a long shutter speed and a flashlight. The 1/2 liter of wine they served me at dinner was contributing to the amount of fun I was having with this suggestion I think. Eventually I tired myself out and it was getting cold so I suggested we pack up to go back to our room. Alex pointed out that the sky was clearing up and sure enough a bunch of stars had started to peek out. We took a few unsuccessful photos and decided to just enjoy the moment looking at the stars. Alex began reminiscing about our time in Switzerland together when we first met and star-gazed in the mountains there. I was enjoying the nice memories when he pointed out a really bright star behind me. I turned to look and I started to get a suspicious feeling. It started to occur to me what might be happening but I wasn't quite sure. Then from behind me he said "and look at this sparkly one…" I was nervous to turn around and pretended I was looking for a sparkly star. Finally,when I did turn around he was shining a flashlight into a box with a ring. Then with my mind racing he was down on one knee and asking me to marry him. I can of course remember in detail exactly what he did but when it comes to my reaction it was all a big blur. I think I said something like "Really?" or "Oh my gosh!" Then I was laughing and crying at the same time. At some point I also kneeled down, I'm not quite sure why but it seemed normal. So in a squatted position between hugging and kissing Alex I said YES! and then I asked him which finger the ring goes on. 🙂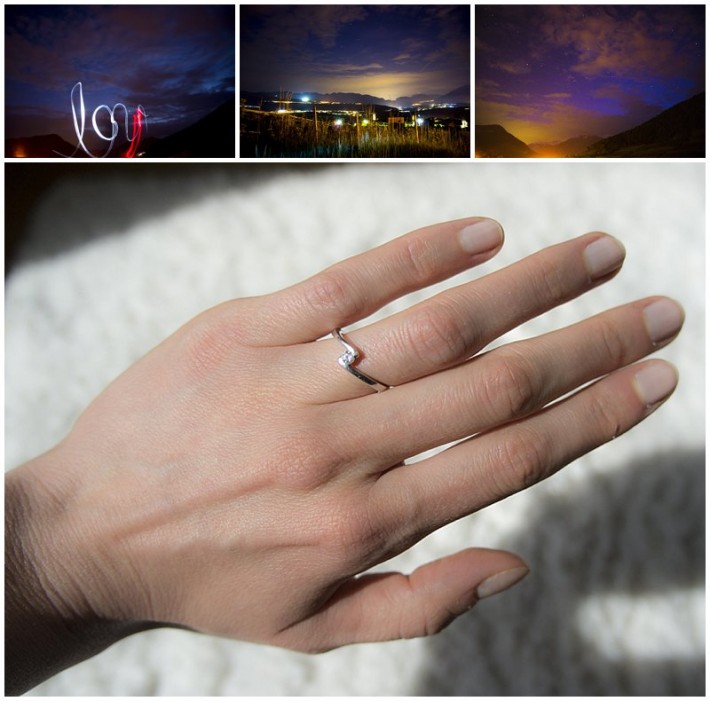 Of course after that moment nothing could go wrong on our trip! We set out again the next day to head to Lago di Ledro in Italy. The majority of that ride was cold rain coming down but it just added to our adventure. When traveling like that it makes the pit stops so much more enjoyable as you warm up over some good food. I was really happy when we stopped for lunch and the restaurant had a gluten-free menu. I enjoyed a beer and the best gluten-free pizza I've ever had. Apparently Italy has a large Celiac population so I guess it's more common to find options at restaurants. So over my pizza and Alex's giant calzone we just kept looking at my ring and grinning like two idiots.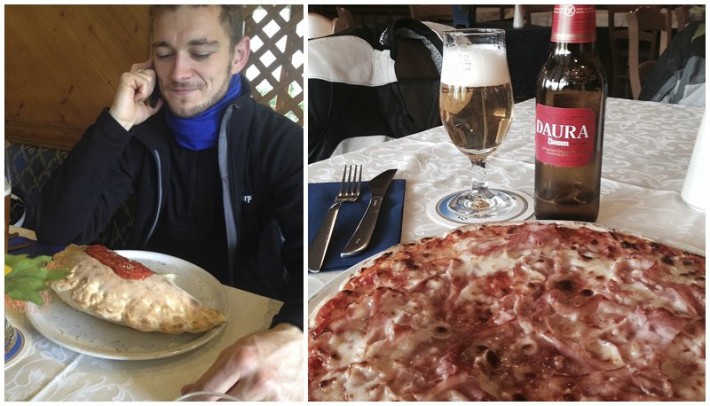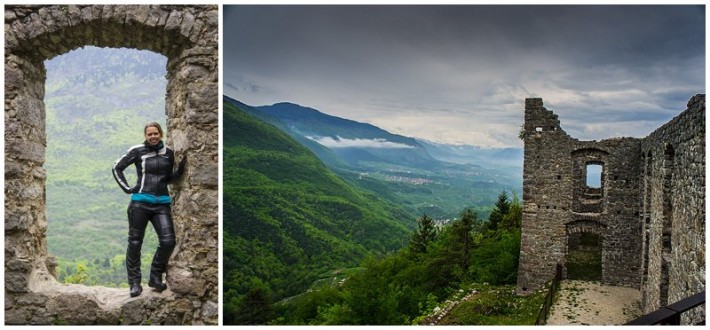 We made a few more stops along the way to enjoy some nice scenery and finally arrived in Lago di Ledro. Tired and cold we relaxed a but in our room before heading out to Riva del Garda to meet our friends Stefan and Anne for Anne's birthday dinner. Ate more amazing Italian food and drinks followed by some gelato and then a couple hours at an outdoor bar with a Johnny Cash cover band. One of the things I liked best about this town was the castle and chapel on top of the mountain that were lit up at night. I tried to take a photo but it didn't do it justice. Because the sky was so cloudy and there isn't much light pollution the mountain was so dark you couldn't see it. So there lit up in the middle of it was a bright white castle and high above that a chapel. They both looked like they were just floating in the sky and since I wasn't expecting it at all it was really a stunning view.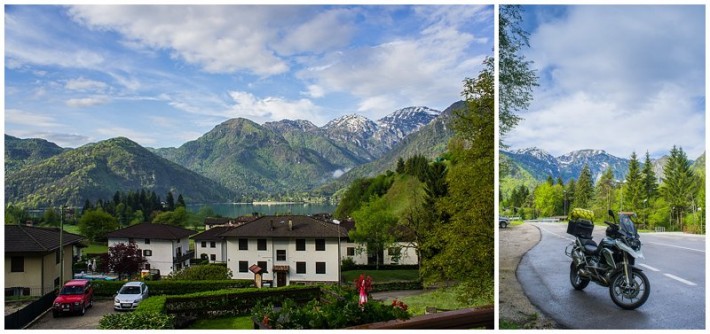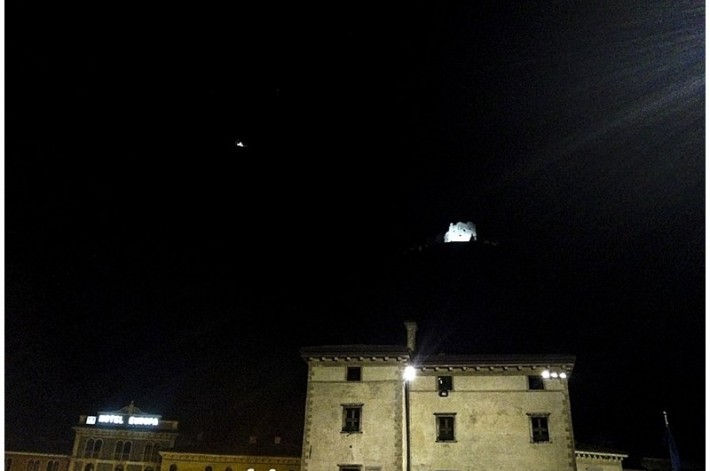 The next day we finally got some sunshine. We had a long ride planned for the day so we set out after breakfast first driving around Lago di Ledro. Our plan was to drive along Garda See for a bit but the traffic was terrible and it's just a long series of tunnels through the mountains. So we turned around and headed toward our next destination which was a little farm-stay in Ratschings, South Tyrol, Italy. We stopped at a couple small lakes on the way and picnicked on one and then headed up a windy mountain road.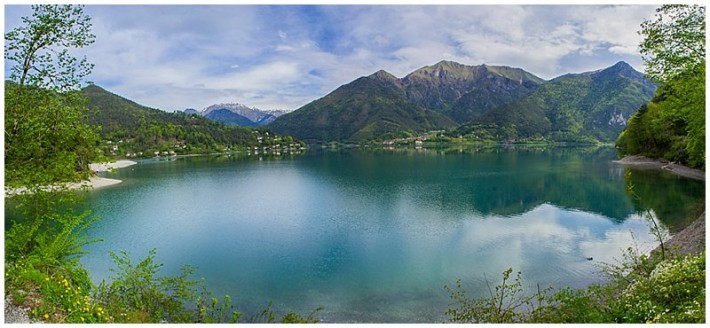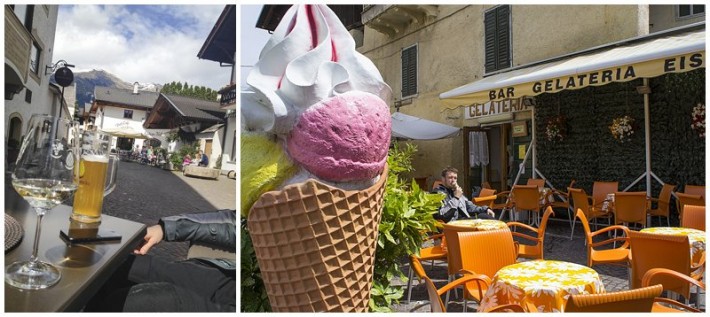 The temperature started dropping and before we knew it there was snow! There was a great view from the top and we stopped to take some photos. Then before we froze we hopped back on the bike and headed through the pass into the valley below thinking that the temperature would go back up as we moved away from the snow. We were sadly mistaken and I was shocked at how different the weather can be from one valley to another.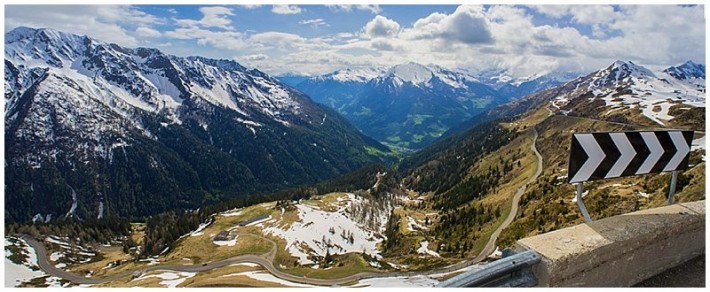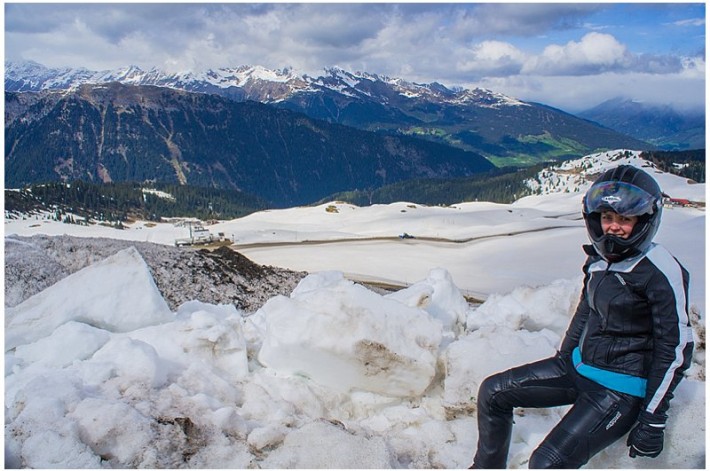 Luckily, a warm room was waiting for us at a small farm with a breathtaking view. At this point it seems that a hot shower and/or a nap are customary for us after a day of riding, it really takes a lot out of you! When we woke up we walked 20 minutes to the restaurant in the next village only to find that they were completely booked! Never underestimate the busyness of a little village. So we walked back and across the river to a rather large hotel only to find that their kitchen was closed. For the first time on our trip we were not prepared. We decided to buy a half liter of wine and go back to our room to make a dinner out of wine, granola, and what was left of some cheese and chocolate we brought. It turned out to be a satisfying meal and we found Jimmy Kimmel Live in English on the TV and just vegged out.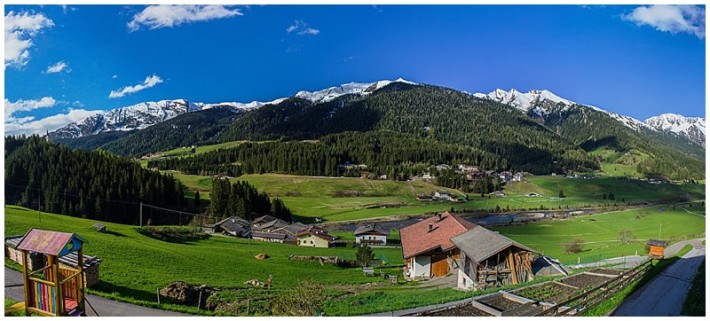 The next morning we woke up to blue skies again but unfortunately that didn't do anything for the temperature which was hovering between 1°C and 3°C. Before long we were riding through snow and had to stop to thaw out my fingers since my gloves aren't really for winter temps. After warming them up with a mug of hot chocolate we got back on the road headed to Innsbruck, Austria for breakfast. While enjoying some nice eggs the sun decided to come out but the temperature still didn't get above 10°C. However this was much better than before and we rode through to Tegernsee, Germany where we stopped for lunch at a traditional Bavarian mountain restaurant. I warmed up with some local schnapps and we finished the ride to Munich. We didn't make any site seeing stops this day because of the weather and I think we were both ready to be home. But we passed many things we've noted to check out on future rides…which I'm really looking forward to now that I know what I can endure on a ride. We were also treated to our own personal parade in one town we went through. We actually had to pull onto the sidewalk as they went by and I think we were their only audience.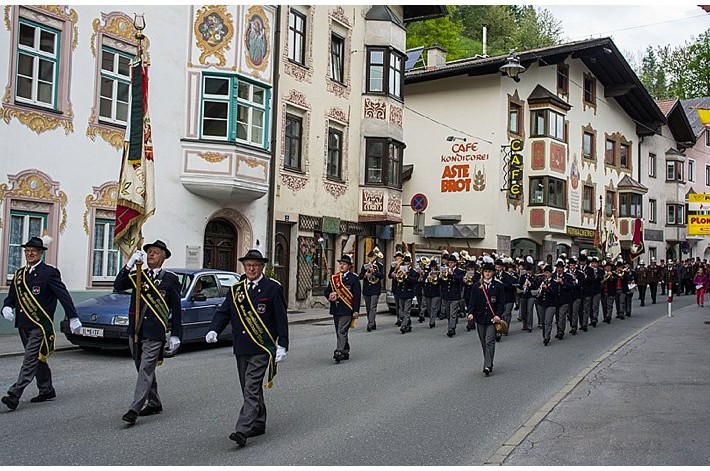 The best part of the weekend was knowing that I get to enjoy these types of adventures with Alex for the rest of my life. What an amazing experience to add to the list of the many we've already had together.