Coming up on one year ago Alex had his 30th birthday. As always a long overdue blog post.
I wanted to do something grand and memorable for the big 3-0. After much research and deliberation I decided we could pull off a long weekend in Spain without going too overboard. I found some airline sales to Malaga, Spain. In March with the weather being still pretty cold in Munich, the south of Spain seemed appealing. After doing a bit of research I found that Malaga wasn't a prime destination but that there were some inviting beach towns a short drive away and also quite a few options for interesting places to see. I was actually torn between the beachside town of Nerja and Ronda which was more inland. Google Ronda to see some amazing scenery.
Ultimately my choice was decided by the accommodation I found in Nerja. I was looking at airbnb.com and found a lovely apartment with a beautiful terrace. Alex loves terraces and eating outdoors and I figured this would be a great spot for morning breakfasts. When I also saw that the owner offered to cook authentic Spanish meals for an addition, and very reasonable, extra cost I was sold.
Did I mention all of this was a surprise? I told Alex to secure Monday off from work and that we'd be going somewhere. It was pretty hard to keep a secret like that for so long. I emailed Belén, the owner of the Airbnb and explained that it was a 30th birthday surprise and that I was interested in a birthday dinner. All of the menus she offered sounded great. I mentioned that I try to maintain a gluten-free diet but that if it's a hassle not to worry about it. I recieved the most amazing response from Belén. She explained that her profession is a wedding planner and that she would be more than happy to make this a special dinner for Alex. She was more than willing to accommodate the gluten-free request as well even though I stressed to her that I wouldn't die if I consumed gluten. I told her we eat pretty much anything and that Alex is a big fan of cheesecake. We set a budget and she said she'd let the menu be a surprise.
I had Alex pack a bag for the weekend and we woke up Saturday, his birthday and got ready to go. I told him he needed his passport even though it wasn't necessary (just in case right?). I messed up a bit when I realized he'd packed his hair product (not travel size) and I had to tell him that he couldn't do that (we weren't checking bags). At that point he knew we were flying. No big deal though since he'd realize soon enough as we headed to the airport. The secret was kept all the way to security where there was a giant screen overhead with all the flights leaving that gate. There were only a few and Alex guessed Malaga on the first try. I can't keep a straight face so the secret was revealed.
We flew with Vueling airlines which wasn't the nicest flight ever. The flight was also a bit longer than I remembered it being when I booked. I was so nervous about Alex liking the surprise that I was putting a lot of pressure on everything to go perfectly. We arrived in Malaga and, well, things didn't go perfectly. I hadn't booked a rental car because I don't have a license anymore and I wasn't sure if Alex would want to drive. I figured I'd let him decide if he preferred to drive a rental or take the bus. First we stopped at information to ask about buses. We were told that getting to Nerja would take like 3 hours or something. This was not what it said when I researched! I started to panic. After a lot of frustration about how long we'd have to drive Alex decided we should rent the car. The lady tried to explain where the car rental was and we headed that way. It took us probably 30 minutes to find it! We walked back and forth, asked directions a few times…there were no signs anywhere! We finally found it, we weren't even that far from it but since there were no signs we'd turned around before reaching it. So we get there and there is a massive line! UGH!!! I was totally regretting things at this point. Alex was probably sick of my apologies. We were both so hungry and tired at this point and the people in front of us that were basically getting lessons on how to start a car weren't helping the situation. We finally go in the car and dialed into GPS to check the route. Only 45 minutes! I knew that's what I had read online originally. I then realized that there was another town called Níjar about 3 hours away. I guess there was some miscommunication. We set off in the car and…it's raining.
So, we finally arrive at our airbnb. We get our key and check out the apartment. It's actually the night of the birthday dinner so I tell Belén that we're going to explore the town. As we leave the apartment she calls me back inside under the pretense she has to tell me something about the key. Alex waited outside while Belén and I figured out what time we would come back for the dinner and decided that we should eat inside since the terrace would be too cold (a bit disappointing). I was nervous Alex would be suspicious that she called me back in but he had no clue. So we went out and checked out Nerja. A very cute little beach town which is quite sleepy in March. We were both starving and even though dinner was only a few hours away I knew we had to eat. We stopped for a small meal and then wandered into a bar for a drink until I told Alex we should head back to get ready for our "dinner reservation".
As we approached the door I could already smell the food. Spanish music was playing from behind the door and I was so afraid he heard it and knew something was up. However he was clueless. I got the door open and I think I was just as surprised as Alex when I saw everything. I don't think I could have done a better job if I had done everything myself. I was so happy that I started to get a bit teary. It was just amazing! Balloons, candles and decorations, a table with enough food for at least 10 people. Champagne, wine, a second small table with an entire cheesecake! And the details…there as a printed menu with a note saying it was arranged by me, she'd even printed out my photo from my airbnb profile. Such a clever lady!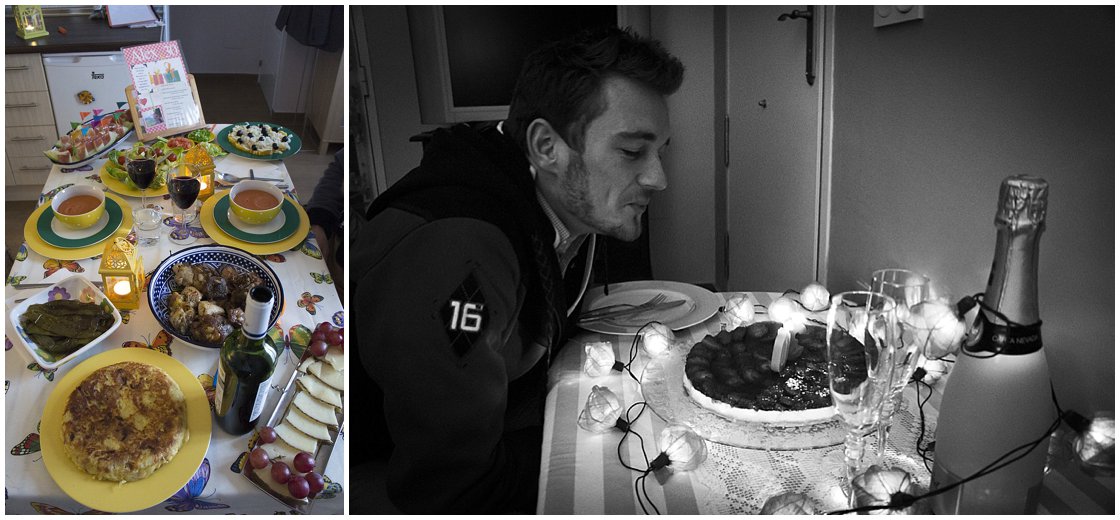 Oh my God…the food! We ate until we couldn't eat another bite. There was gazpacho, melon with proscuitto, roasted peppers, stewed chicken legs, spanish omelette, fish with oranges and olives, cheeses, fruits, salad, etc. The cheesecake had a crust made from gluten-free sugar cookies and the filling had a hint of lemon. We didn't actually even pop the champagne or eat much dessert because we were so full. No matter though, we had a mini fridge and the leftovers fed us all weekend. I was even contemplating taking the unfinished cheesecake back to Munich with me but I could tell Alex thought I was being a piggy.
With all the big surprises out of the way we discussed what we wanted to do with the weekend. It wasn't quite beach weather so we decided on Sunday to make the drive to see Alhambra, a palace and fortress in Granada. We arrived early on Sunday amidst many other tourists. After another long line we got inside. I had no idea what to expect and was blown away by the size and magnificence of this site. I still can't fathom the amount of skill and time it would take to complete all the detailed carvings in the palace. We spent the day taking it all in and snapping a photo at every corner. It was just so beautiful. When we had finally exhausted ourselves we set out for a place to eat. Well, don't expect too much on a Sunday during siesta hours. I guess this is what happens when you just wing it. We finally found a bar that was serving tapas…free tapas! It wasn't the most gourmet food ever but you got a free tapas with your drink and so it was quite a bargain. I guess this is fairly normal in Granada and it used to be the tradition with tapas. There aren't many areas still doing it this way. I would've loved to have the time to go back and explore (and eat!) on a day when things were open.
On our final day we had beautiful weather so we drove up the coastline. We stopped to hike out to a viewpoint and get a really good view of the ocean. We couldn't leave without getting our feet wet (who am I kidding? I was the only one brave enough to test the waters.) and stopped for a while on the beach.
And as quick as that the weekend was over and Alex had started the 3rd decade of his life. It was really just a 2.5 day trip and a tiny taste of Spain but it was enough to leave me wanting more. Until next time Spain… 🙂