in July of 2014 Alex was invited on a sailing trip in Croatia with some of his work colleagues. He decided to ride his motorcycle there and then we planned that I would fly down after his trip and we would make a one-week road trip back to Munich through Croatia, Slovenia and Austria.
I will keep this post brief and just mention all of the amazing places we visited. The pictures speak for themselves and it was definitely the way to see Croatia.
So I arrived at the airport in Split, Croatia where Alex picked me up on the motorcycle. He had most of my gear packed already on the bike and I just arrived with my helmet and dry bag full of the rest of my things. I changed in the parking lot getting a few odd looks from people walking to their cars. I guess it looks a bit odd to be leaving an airport on a motorcycle packed full of camping and road tripping gear.
Prior to arriving in Croatia I had messaged my friend from High School Justin. He was in Croatia for his wedding and he and his lovely wife invited us to visit them on the island of Supetar just a ferry ride from Split. So we headed from the airport to the ferry intending to find a campsite on the island. When we mentioned our plan Justin and Andrea generously invited us to stay in the gorgeous house they rented for their wedding trip. One night turned into three and we had such an amazing time with them. They took us to their favorite restaurant, the same one they'd had their reception dinner at. There we enjoyed really amazing seafood and grilled meats. The highlight was probably the squid ink risotto and the world's best White Russians we had for dessert.
Alex and I didn't want to impose to much so the next day after some beach time we took the motorcycle to the other side of the island to see another town and have some dinner. We had another great meal overlooking the ocean and after exploring the streets a bit and observing the night life we headed home. The drive back on the pitch black winding and hilly roads was a bit scary for me. Something that will take getting used to. We met up again with Andrea and Justin for some more White Russians.
The next morning we stopped at a bakery where Andrea ordered us some Börek, a fried pastry filled with meat or cheese. I stood there in amazement as she fluently spoke to the Baker in Croatian, turned and had a conversation in Swedish with Justin, and then confirmed the order with us in English. Puts my German learning skills to shame! We took our "healthy" breakfast to the beach and enjoyed the sun and the sea. After some relaxation we were feeling like we needed to move around so we decided to try out the floating action park. I thought this would be like a medium level of fun but it was way over the top! We paid for 30 minutes I think and it went by so fast as we jumped from the giant inflatable iceburg, bounced recklessly from one platform to the next, slid down slides, climbed walls, and then finally challenged eachother to a timed race. We were having so much fun we attracted all the pre-teens to try out our race too and so we timed them as well. Happy to say that us old folk had better balance and speed than the youngsters. We checked out another beach and spent the rest of the day lounging in the sun, swimming, and jumping off the pier. The next morning we left on the ferry early with Andrea and Justin who were ending their vacation and flying home.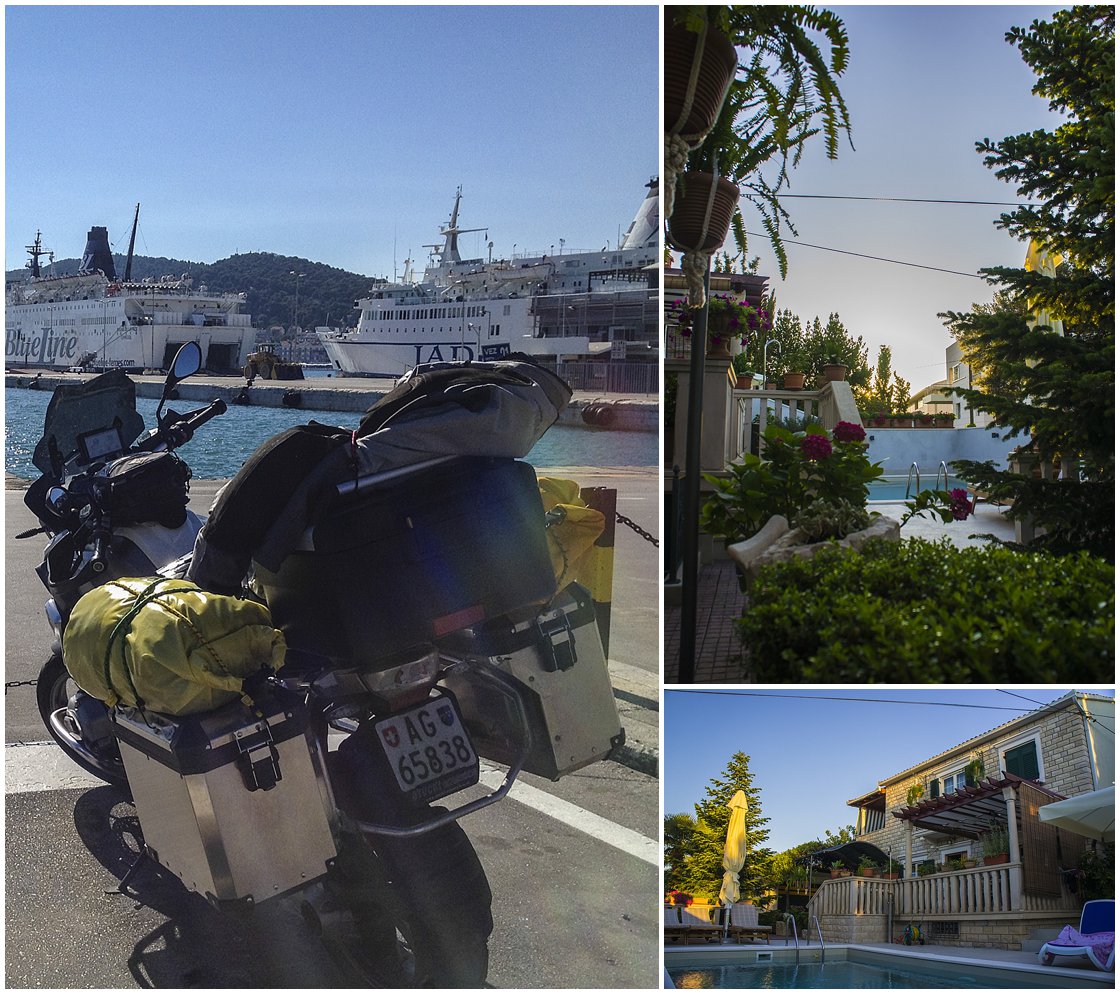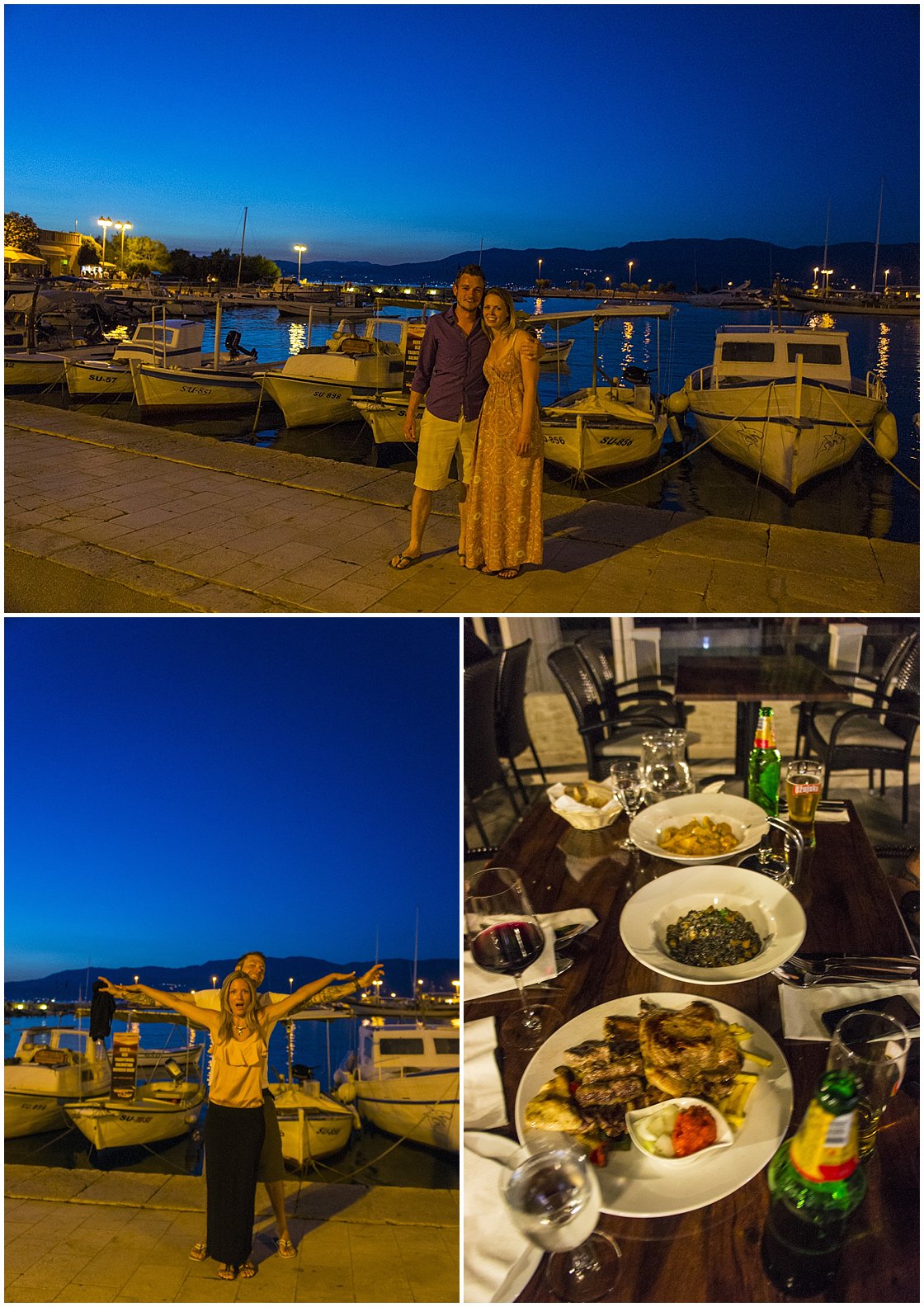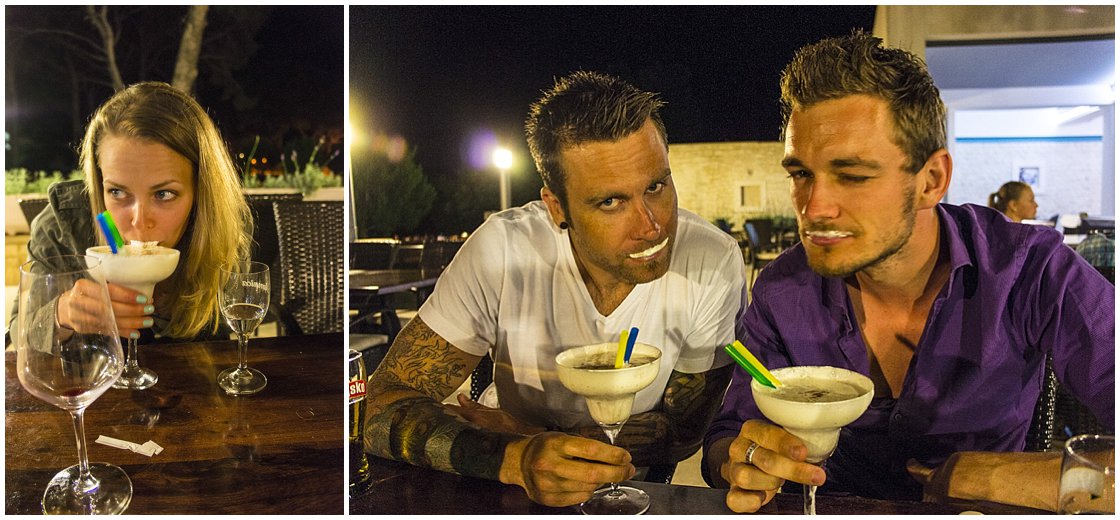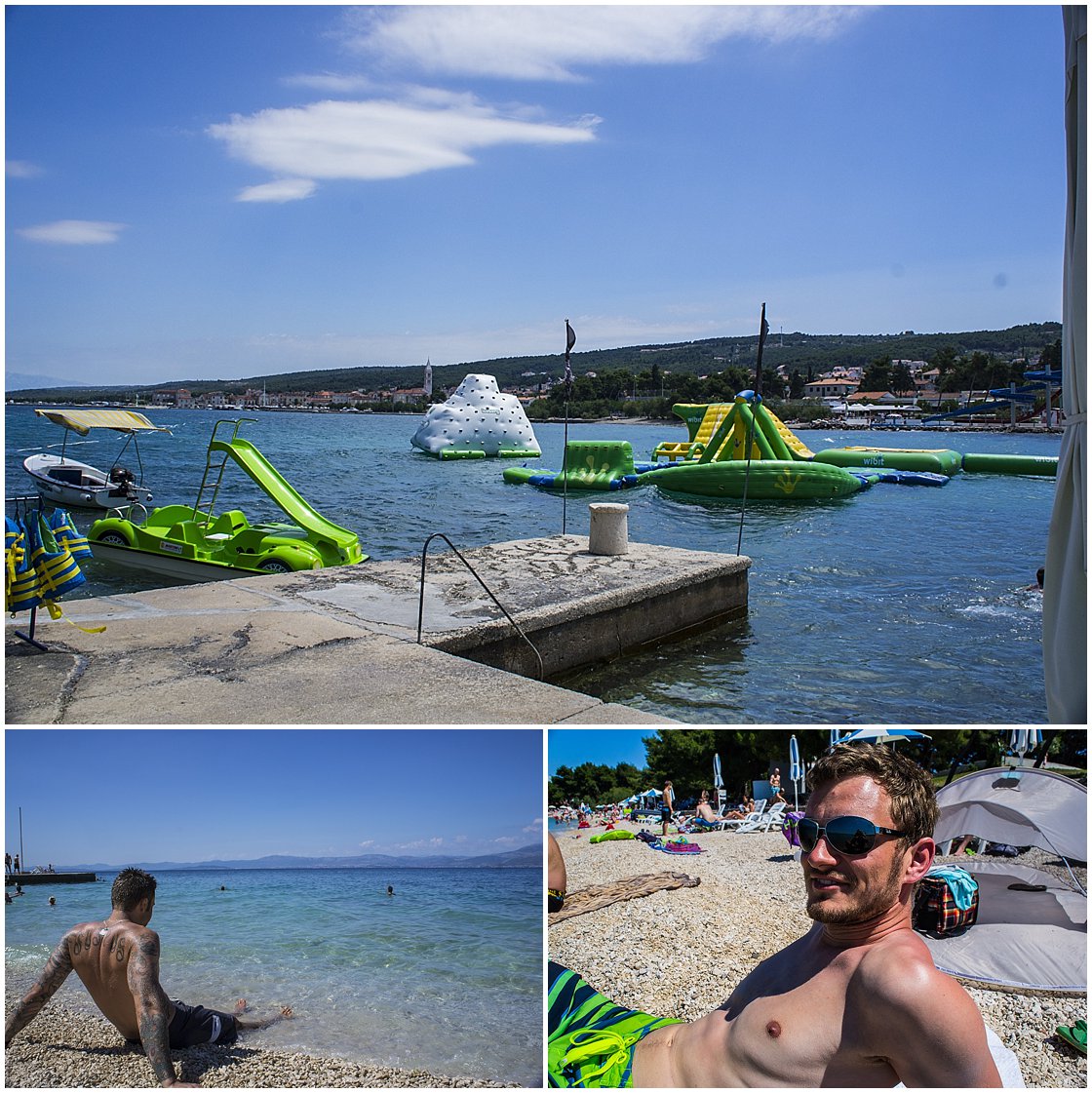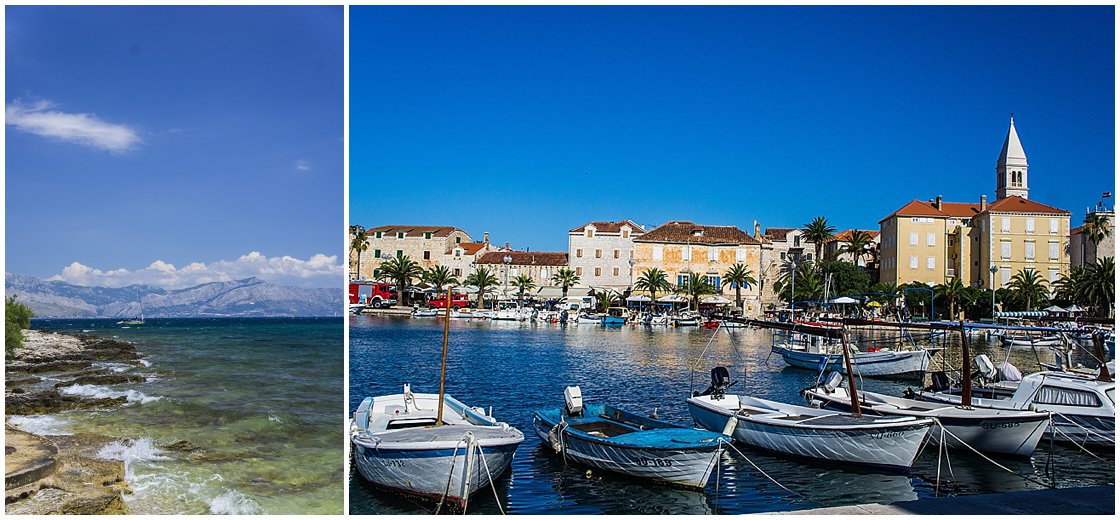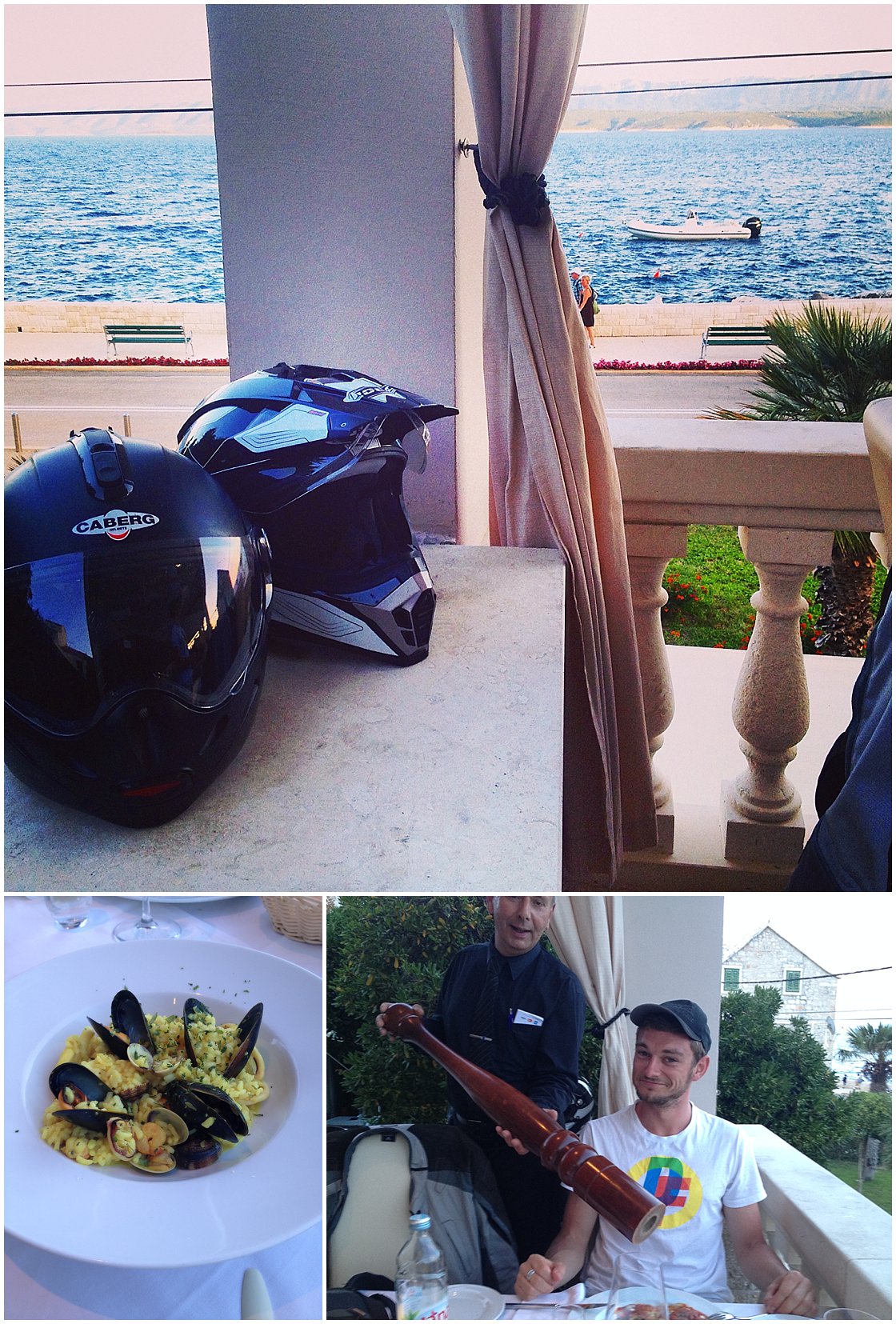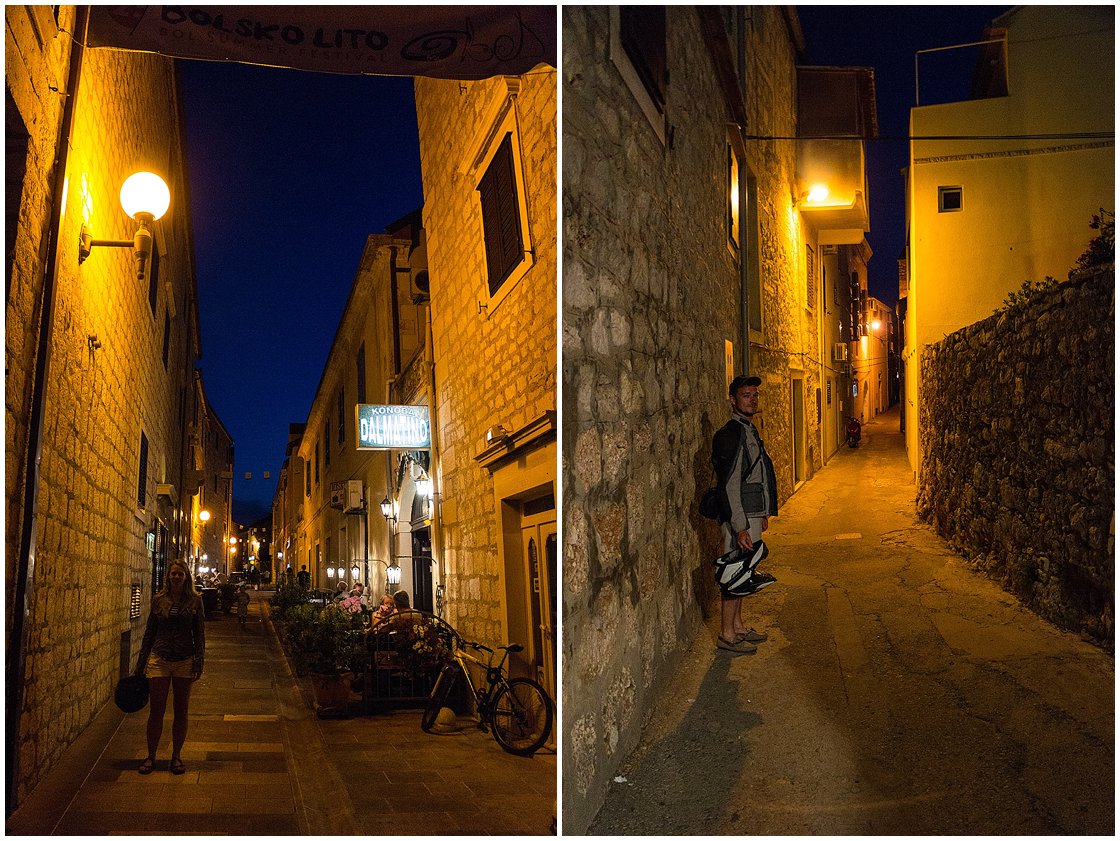 Once back in Split we tried to explore a little. Andrea had recommended seeing the old part of the city. We parked the bike and within minutes the sky looked like the world was coming to an end. We decided we should get on the road and get as far as we possibly could since we had no idea how bad the storm would be or how long it would last. So we managed to take a few photos of Split, which was really gorgeous with the white stone buildings and green shutters. We basically got about 2 minutes onto the highway before the sky opened up and it started raining…hard. Of course there was NOTHING on the road. We debated turning back and then saw a random cafe out in the middle of an industrial area. We parked the bike in an open garage and ran inside. I'm not sure when the last time was that I saw rain like that. It was just coming down in sheets and you couldn't see anything beyond the road. When the sky finally cleared, maybe two hours later we got back on the road and headed to our next stop, Sibenek.

Another beautiful seaside town and similar to Split with the white and green buildings. We had found a highly rated restaurant on Tripadvisor called Pelegrini. They weren't quite open yet so we checked out the Cathedral of St. James and then walked up through the narrow alleys to St Michael's Fortress. The journey up through the streets was the best part. It reminded me a little of exploring the small hidden corners of Piran in Slovenia. The view from the top wasn't too bad though either.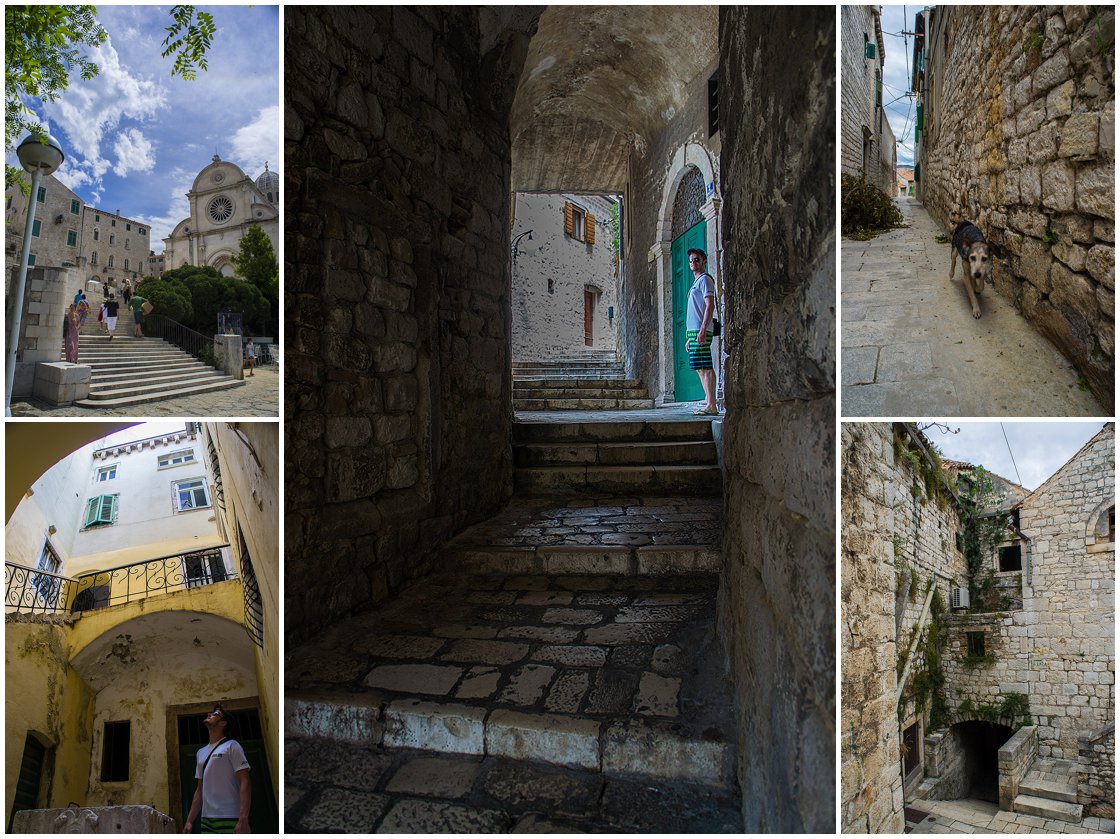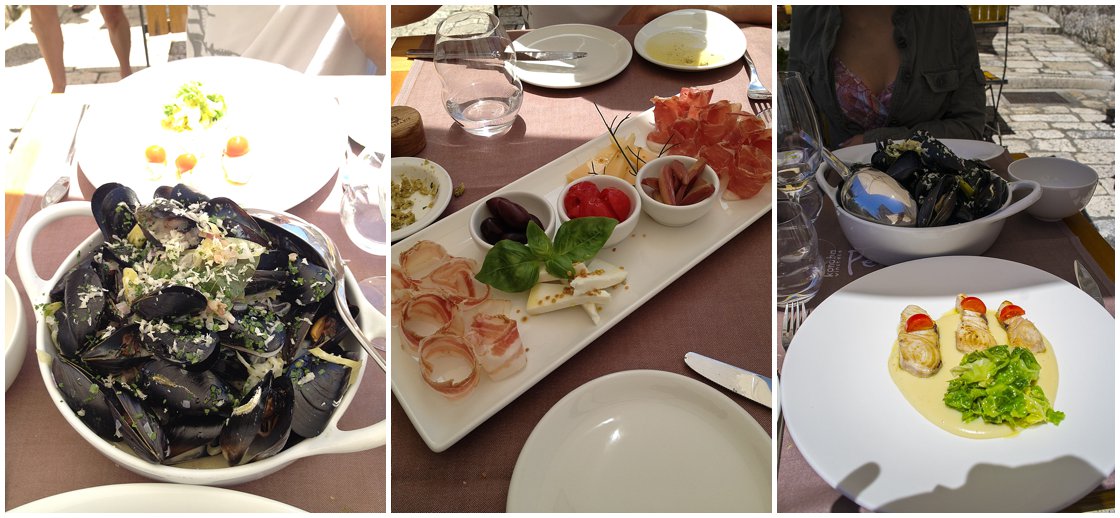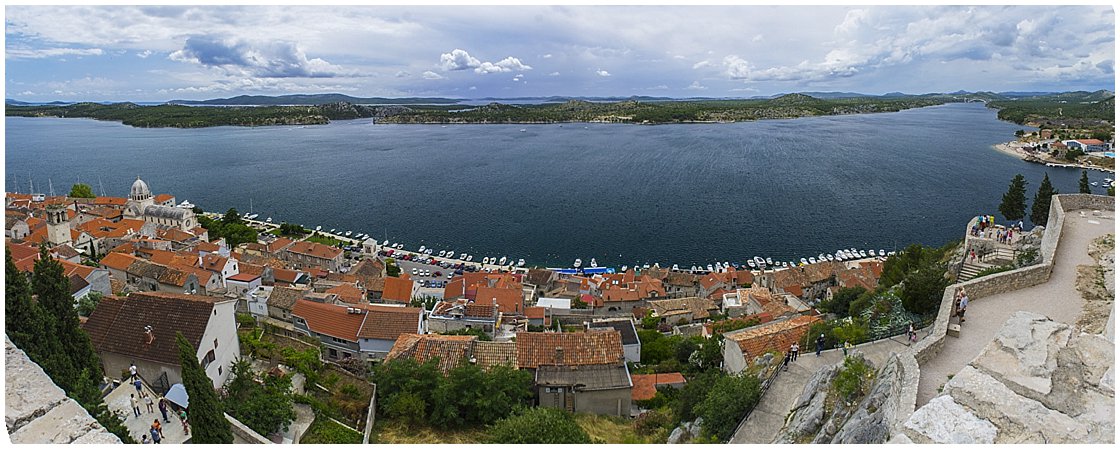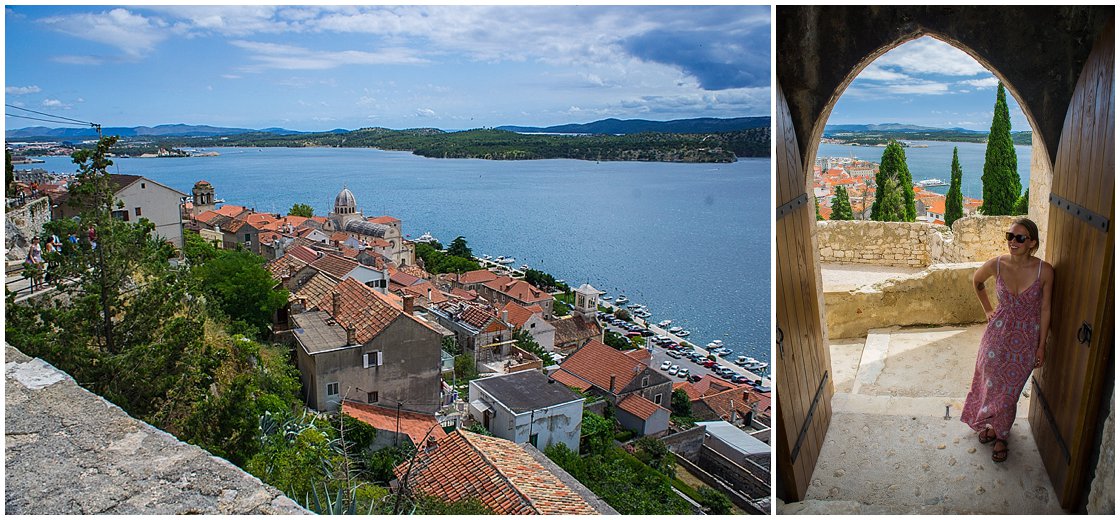 After lunch we left Sibenik to continue to our next destination Krka National Park. Roadtripping in Croatia offers some really interesting landscape. We drove through lush forests, mountains, desert life terrain, and wide open plains. The countryside was dotted with many abandoned and gutted buildings. Some were covered in what looked like a spray of bullet holes. I can only assume this is devastation from the war which was never rebuilt.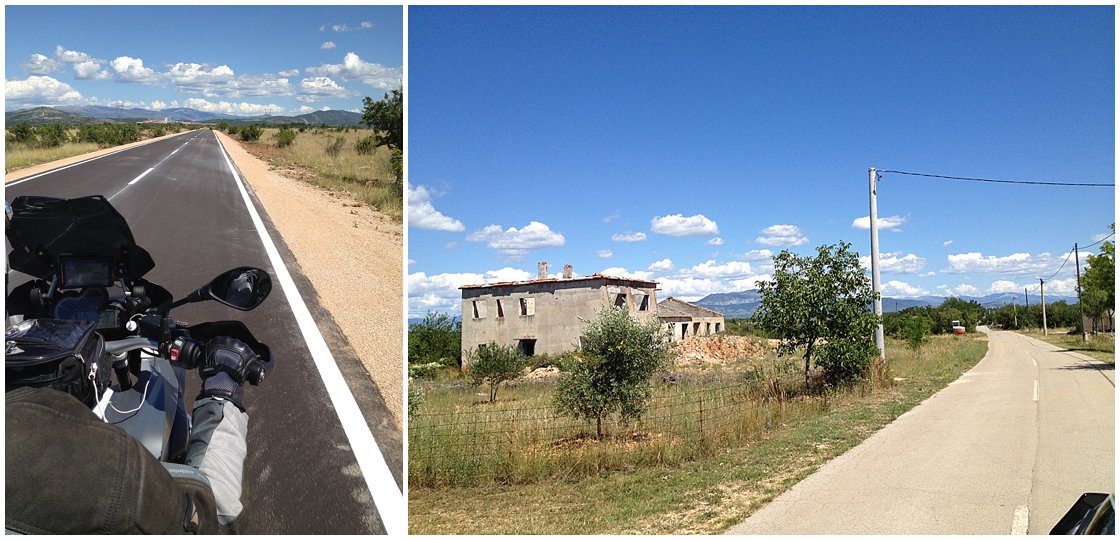 We arrived to Skradin in the late afternoon. After finding a small campsite and setting up for the night we walked into town in search of some dinner. We bought some local figs and salted almonds from some vendors and then tried to select the least touristy restaurant we could find. Our choice was decent. Not the best of our trip but an enjoyable meal and wine and by the end a trio of musicians roamed the restaurant playing at the tables. It reminded me a lot of Mariachi bands in San Diego and made me a bit nostalgic. After dinner we explored the streets of Skradin, bought some gelato and hiked up to the Fortress of Turina to check out the view.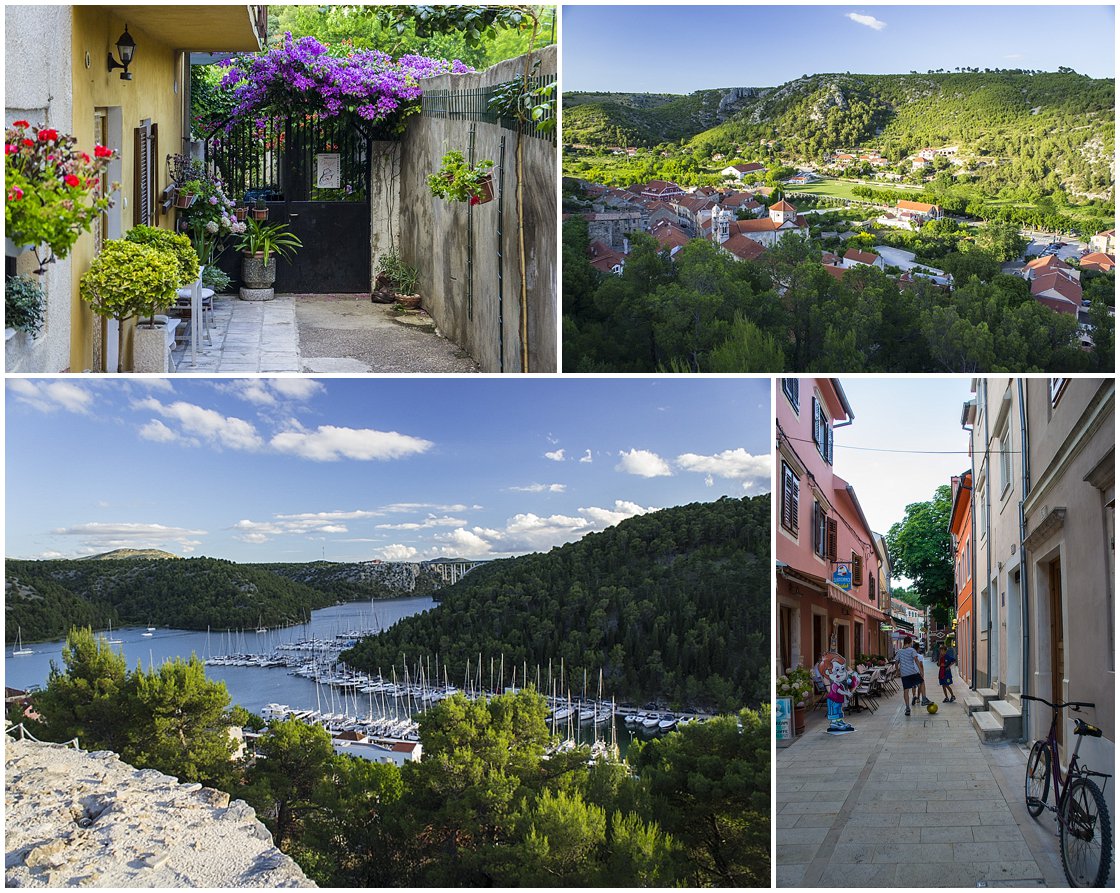 The next morning we woke up early to take the ferry to the park entrance. We were one of the first ferries of the morning so aside from us and the others on our boat the park was uncrowded. At Krka there is one roped off area where you can swim in the unbelievably clear, turquoise water. In hindsight we should have done this first, but we decided to try and get the walking tour started before the park filled up with people. Krka has many beautiful waterfalls and it just seems that everywhere you look is breathtaking. At the end of the walking tour we headed toward the swimming area to find that it was packed with people. I decided I at least have to get in for a little bit to test the frigid waters as I usually do. Alex took my word for it, it was cold!



We took the ferry back to Skradin and had one more thing to check out before hitting the road. Before arriving in Croatia I had seen Justin post a photo of a bridge he jumped off of. I asked him for the name of it and it happened to be in Skradin. I didn't want to leave without also jumping. Justin had warned us that it might not be legal so to just do it and leave. When we arrived there was some sort of park ranger looking guy at the dock so I was a little nervous. We first scoped out the area a bit and he didn't seem to be bothered that we were there. I then tested my nerve by jumping from the underside of the bridge. Piece of cake. I hiked up to the top of the bridge while Alex got ready to snap some photos. Once at the top a man on a bicycle stopped to watch. Standing at the top of the bridge in a bathing suit, it was obvious was my intentions were. To be honest, if he wasn't there watching I may have wussed out. But since it's important to impress strangers that you'll never see again I jumped without much hesitation. My form was poor and I screamed pretty loudly but I think it was warranted since it was one of the highest jumps I've done I think. Something about jumping from heights into cold water has a way of etching memories of my trips into my brain.