1 year ago this month Alex and I were enjoying the warm weather in Thailand, eating tons of Pad See Ew and lots of new and delicious dishes. Currently we are sitting here in Munich on a cold winter day with some fresh snow on the ground. Facebook's Memories feature has been reminding us every day of our amazing 4 week trip last year and so I figured it's about time I sit down and write about it. We covered a lot in for weeks so this will definitely have to be broken into a series of posts. So, here we go…
After spending Christmas in Tiefenort with Alex's family, we headed back to Munich where we were greeted by the first real snow of the year and we began packing and preparing for our trip. Neither of us had been to Southeast Asia before and this was one on the top of my list for the majority of my life. My interest in visiting Thailand began way back in middle school when my friend, whose mother is Thai, came back from having spent a school year in Bangkok. The stories she told interested me enough that a few years later in high school I decided to write a comparison essay for English class on the differences between American high schools and Thai high schools. We were required to have a few sources and one had to be a direct source. I don't remember so clearly but this was back in the days when we had AOL. I somehow got on a message board for Thai high schoolers and I posted a question there. I guess when I signed up I put in my mailing address because for the next 4 years I was receiving letters for teenagers in Thailand wanting to be my pen-pal, best friend, marry me, visit me, etc. Most were written on Hello Kitty stationery and many included photos. These photos were a real glimpse for me into the life and culture in Thailand…which was so drastically different from anything I knew. I can clearly recall a photo of a boy with a rice hat on in a boat on the river. Aside from all this my Dad had many business trips in Thailand and introduced us to Thai food. By the end of high school I had a shoe box full of letters, a new found love of Thai food, and just knew I had to visit one day.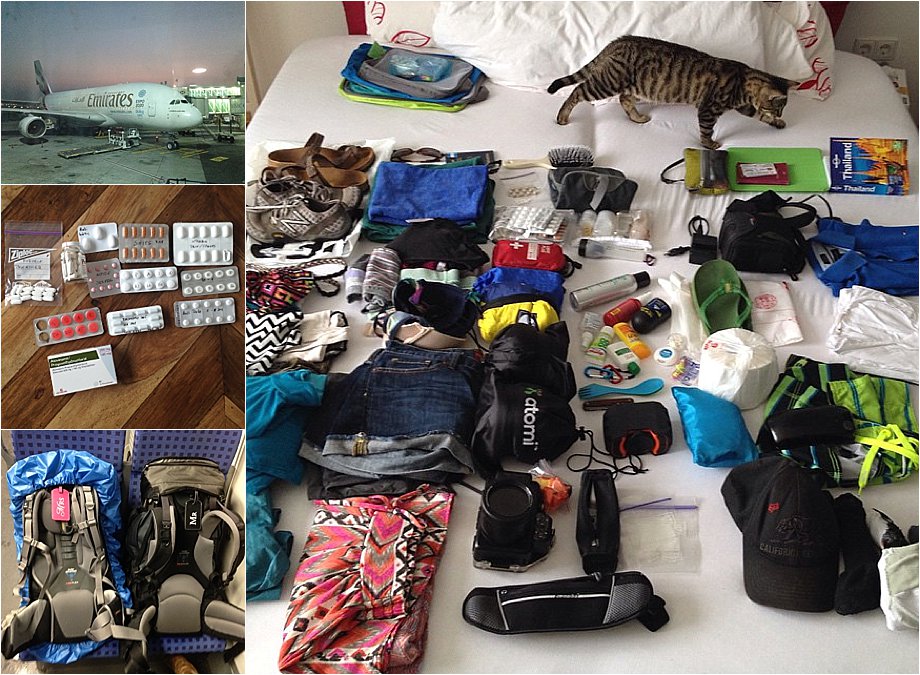 So here we are, freshly vaccinated and preparing for 3.5 weeks traveling through Thailand. Nothing much planned other than our flight in and out of Bangkok and the hotel we would stay in for the first couple of nights while we recovered from the jet lag. We packed as light as possible having been told that we could buy anything we needed once we were there. Both of us had a 65L pack and we managed to get everything we needed in there. In the end of course there were quite a few things we didn't really need but that's just how it goes with travel. Our flight was booked through Emirates airlines and we had a layover in Dubai. This was by far the largest plane I had ever been on! The flight was very comfortable and the service is incredible. They even come around with a Polaroid camera to make a nice travel memory for you. The only complaint I had was with the food service. They took so long to clear the trays that everyone was trapped in their seats. By the time they were cleared people were racing to the restroom all at once. To make things worse, we hit some turbulence and they made everyone go sit down! I've never seen so many looks of desperation. I'm pretty sure I looked the same. Luckily no one peed their pants as far as I could tell.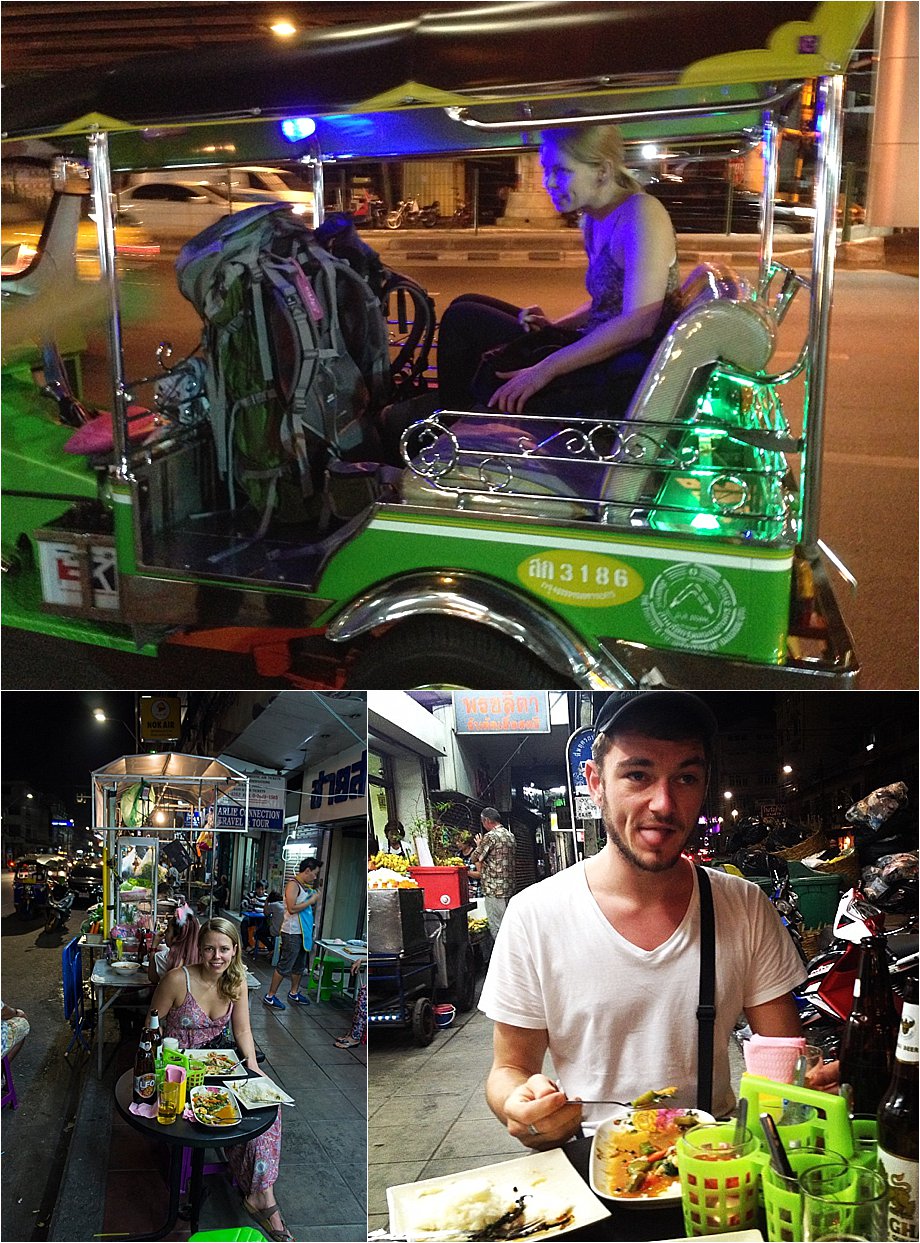 We arrived to Bangkok late in the evening, extremely tired and in need of a shower and bed. After picking up some free SIM cards they were handing out at the airport we took the city express train to Prayha Thai. I had already read that the taxis are not to be trusted by tourists and that you should always get a price before getting in one. As soon as we exited the train there was a very official looking "Airport Taxi" offering rides but it was quickly apparent this wasn't an official taxi. So we walked past and flagged down a tuk tuk. Anyway, glad we did this because what better way to start our visit than by whizzing through the busy streets of Bangkok on a hot summer night in a tuk tuk! As tired as we were I think we both had huge grins on our faces as we took it all in. The driver got us to our hotel, Chillaxin Phra Nakhon. We booked two nights there so that we could get in some sleep and lounge at the pool while we decided on what the next part of our trip would be. This was one of the "fancier" hotels we stayed in on our trip and it was sufficient for us. The air conditioning unit was quite loud in the room, it actually sounded like a man snoring, but other than that we enjoyed the infinity pool with view of the city and the free breakfast in the mornings.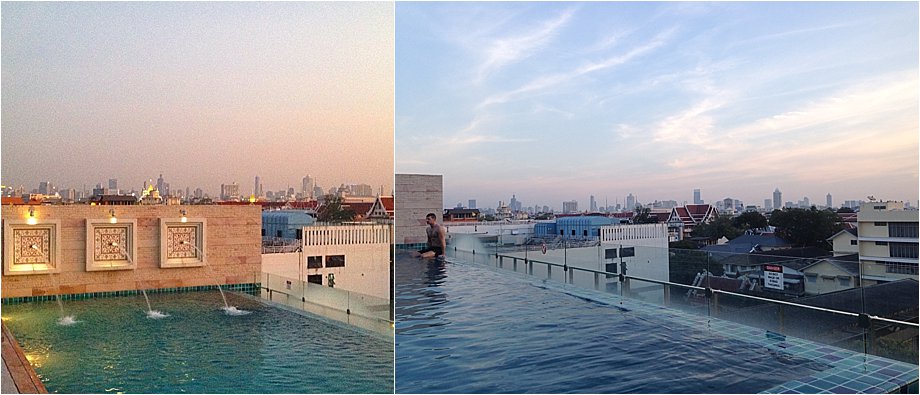 Aside from trip planning by the pool with plenty of tropical drinks while we scoffed at the tourists with their selfie sticks, we also explored Bangkok a little bit. We took a walk to Khao San Rd. which is known as the backpackers road. The street was filled with vendors selling t-shirts, elephant pants, and flip-flops. We didn't waste any time trying out the street food and we really enjoyed the experience of eating right at the street and seeing how the cook and clean the dishes all right there. The food was amazing! We were cautious of what we ordered as neither of us wanted to end up sick. So no seafood or raw stuff (it was tough to resist all the fresh fruit and juices!) but I could live off Thai noodles so that was fine for me.
I had read all about scammers. One of the main ones is tuk tuks that offer to drive you around all day for a low price but end up taking you to very specific locations where you're expected to buy some things. We wanted to avoid this at all costs. As we wandered we stopped to look at a sign with a map on it on the street corner. A Thai man approached us and began chatting with us about where we are from in the U.S., how he's an English teacher at the school across the street and he loves the U.S. He recommended a place for lunch and a festival happening at a temple and wrote it all down for us. Then he gave us some warnings about which tuk tuks are official ones and which to avoid. At that point he flagged down one of the "approved" tuk tuks for us, haggled on the price in Thai, gave the main instructions where to take us, and we were on our way. Man, these guys were good! We were already on the way to these pre-set destinations before even realizing what happened! The "festival" was over when we arrived but the temple was still nice to see. The restaurants were almost all closed but we were starving so we settled on one that turned out to be decent enough. Then of course the catch was that we have to go to the tourism center because it gets the driver gas vouchers. We expected to be pushed to book something but they only printed out some possibilities for our Chiang Mai trip and let us leave. The driver then took us all the way back to our hotel. In the end it was a good deal because it would have cost at least that much just to get back.
Our trip planning pool sessions concluded in us deciding to head North to Chiang Mai and then do some nights in the jungle a bit further north. We booked our overnight train tickets through the hotel concierge for New Year's eve. We were both looking forward to celebrating the holiday on the overnight train. We figured we'd be among other backpackers and have a very unique celebration.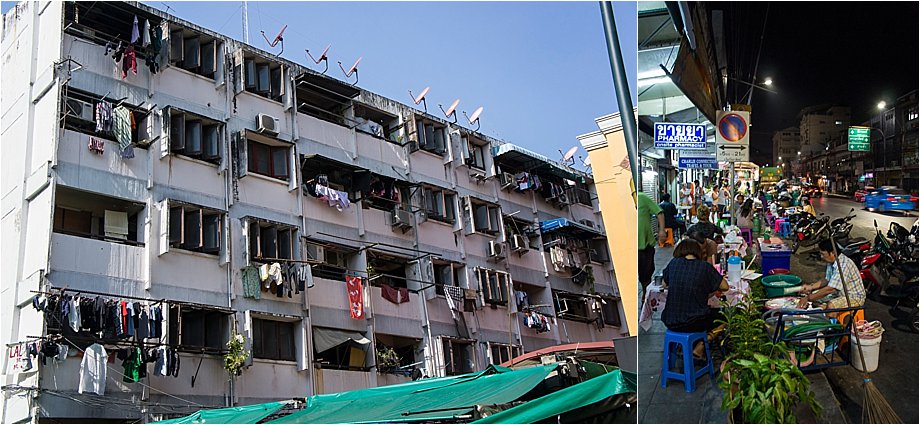 The next day we packed up and began a half day walk around the city with our loaded backpacks until our train was departing. We were able to visit Chinatown which was near the train station and wandered into Wat Traimit – The Temple of the Golden Buddha – where a festival was going on. It was pretty cool to see with all the people there attached to strings that all eventually attach to Buddha. After exploring there for a bit we went in search of food and found some delicious BBQ pork buns. These are one of my favorite things so I was super excited to find some. Alex loved them just as much so we ordered seconds.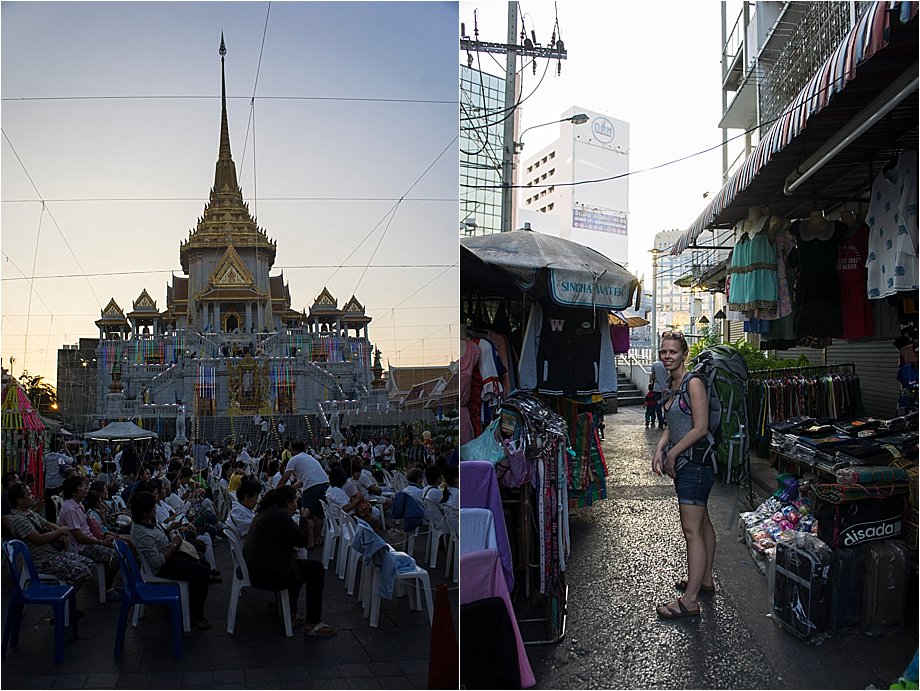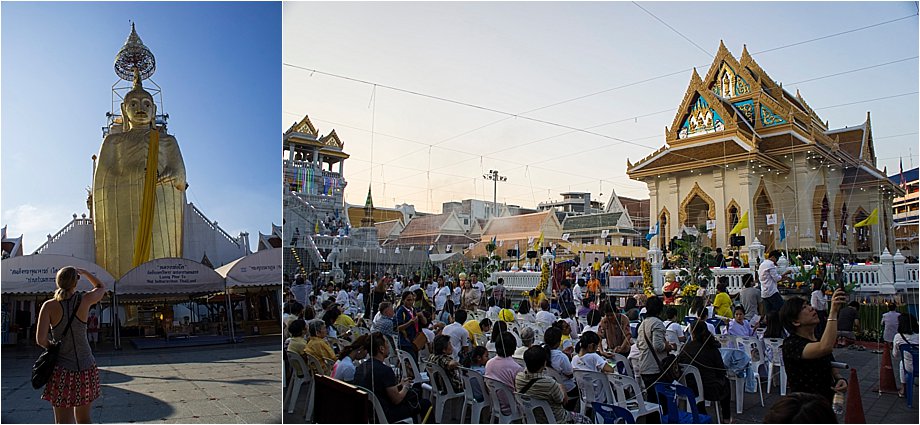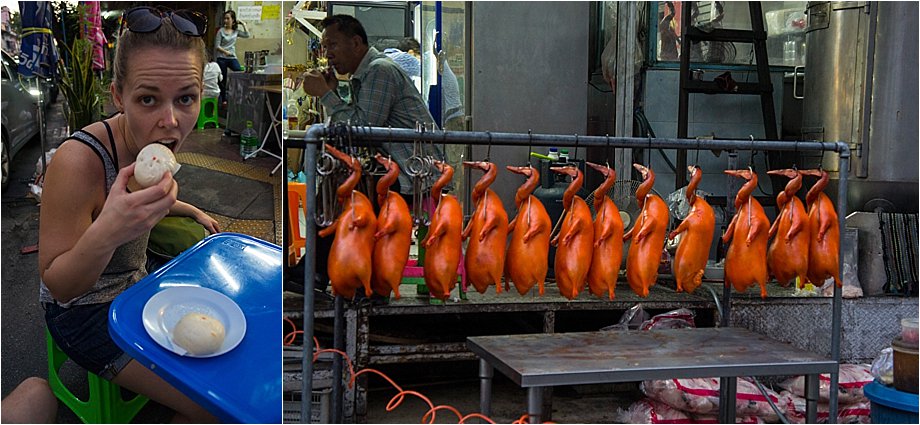 Finally it was time to catch our train. We boarded and found our assigned sleeping car and quickly realized this wasn't going to be the New Year's party we had hoped for. Our bunk mate was a middle-aged Japanese business man who spoke very little English. We didn't see many other people on the train at all. No matter, we were both pretty tired still from jet lag and walking around all day. So we shared a beer with our bunk mate and called it a night.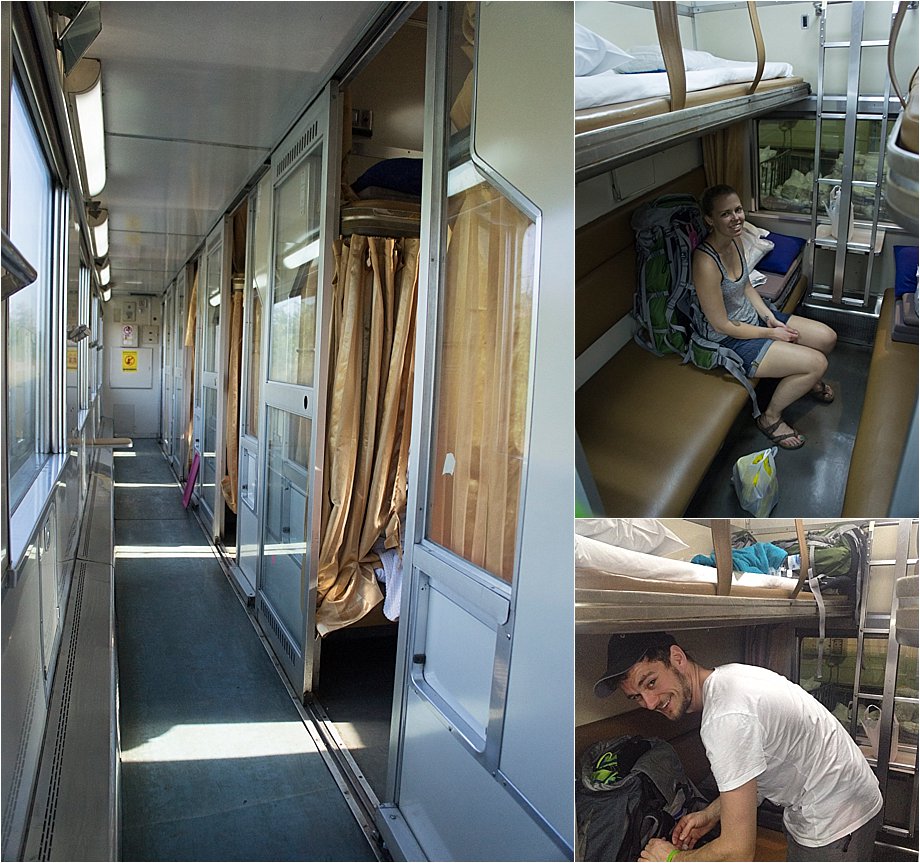 If anyone is wondering what it's like to ride on a train like this I will just say that you shouldn't expect a good night sleep. The train is extremely loud, even with earplugs in and a sleeping pill. It's constantly screeching to a halt and bouncing back and forth. The beds were decent enough. At first you're just sitting on them like seats but towards the evening a train worker comes around and makes up your bed for you with clean sheets. They also took your order for breakfast in the morning. There's a curtain for privacy however, I couldn't really relax at all and I kept dreaming that I could hear someone entering our car and rummaging through our stuff. I guess I've watched too many movies. It's also important to know that the air conditioned cars get extremely cold. I slept with leggings, socks, and a fleece jacket on. I would have preferred a fan car but the cheaper tickets go faster and they were all sold out. The bathrooms were also interesting in that the toilet is just a hole that empties out into the moving ground beneath you. Good reason to not walk along train tracks…aside from the risk of getting hit by a train of course.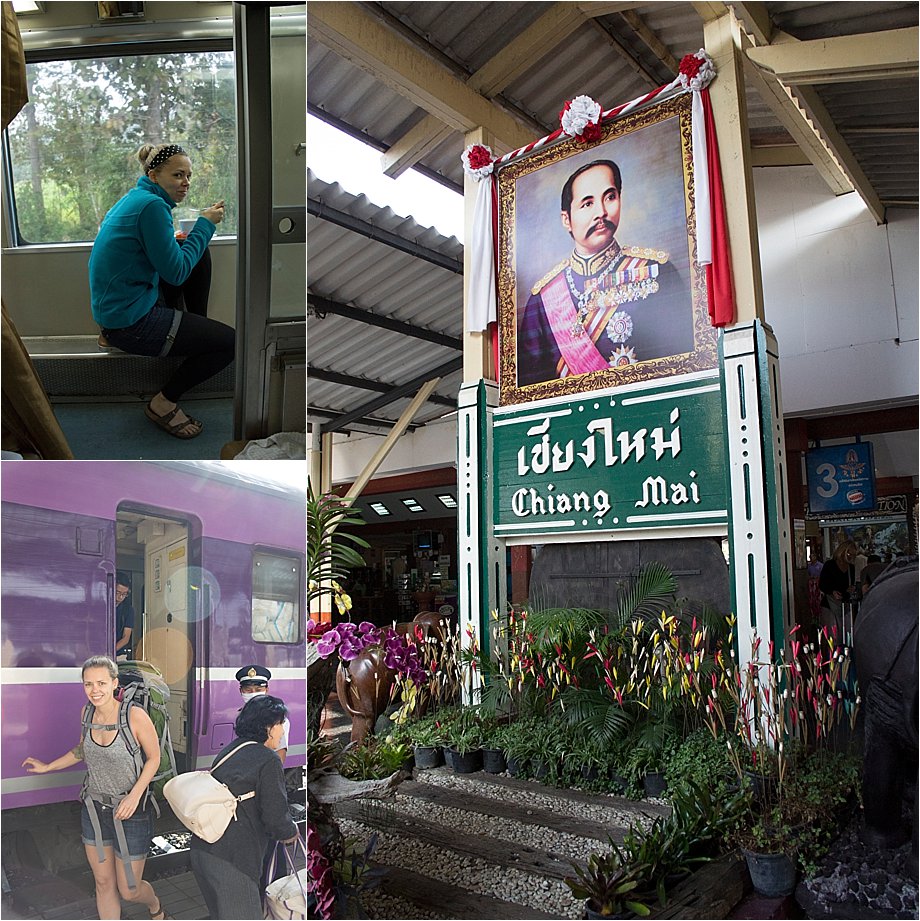 We woke up groggy the next morning with a "Sawasdee Kap" and warning that breakfast would arrive soon. We were both pleasantly surprised at how good our rice soup was for a train meal. The other treat was waking up in a drastically different landscape than Bangkok. The train lurched through jungle, rice paddy fields, and stopped at tiny train stations along the way. After another couple hours (about 12 hours ride in total) we reached Chiang Mai station.