After a long night on the train from Bangkok we finally arrived in Chiang Mai. We walked with our bags in the heat a good 20 minutes to our next accommodation, Swiss Lanna Lodge. We knew we picked a good one as soon as we arrived. The whole thing was constructed from Teak wood and with an airy feeling throughout. It sort of felt like a tree house. We were greeted by Toto our host and immediately treated like family. Thais are seriously great hosts!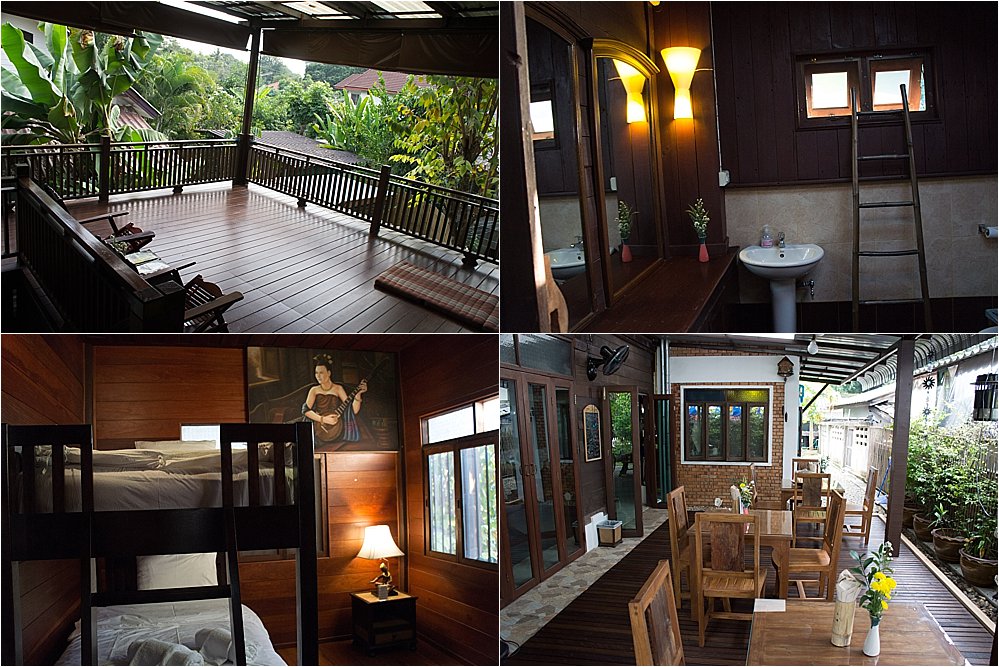 While unpacking it didn't take long before Alex discovered his iPad was missing. The only explanation was that he had left it on the train. Our hosts graciously called the station for us and were told they would call us back. Alex was understandably upset. I was trying to remain positive which is easier to do when you're not the one that lost it. After a shower they still hadn't called back and Alex resigned to just planning our day and moving on. I stubbornly persuaded him into renting bikes and riding to the station just to check. Then at least we know we did all we could. Well what do you know? They actually had it! In fact, they had a very serious system for lost items. They'd already filed some paperwork for it and Alex had to prove to them that it was his somehow before seeing it. Then they made him sign the paperwork and took a photo of him with the train officer and the two of them holding the iPad. It was very ceremonial! We were just so happy that a simple mistake wasn't going to put a damper on our trip…and that the people working in that train were so honest and helpful. We gave them 10 USD as a thanks which seems like nothing to us, but I hope was enough.
So, first things first, some exploration. We crossed the Ping River and headed inside the old city wall. At the city gate there were a ton of street vendors selling all sorts of interesting things. Freshly cooked fish, exotic (to us) fruits, brightly colored fresh juices, etc. We both got pretty hungry. We wandered around a bit more while heading toward New Delhi Indian Food Restaurant, which was recommended in our Lonely Planet. Chiang Mai has a really large ex-pat community and you could see its influence throughout. While there was still plenty of amazing Thai food to be found there was a lot more variety of food than I had expected. I had swore that I would never get sick of Thai food but after only a few days I was happy to have something different. While the wait was quite long here it wasn't a shock because they had a sign warning you that they made things fresh and it took time. The food was really good. Unfortunately, not long after eating, the thing I had been dreading happened. My stomach was angry! We headed back to the lodge and I took one of the many varied stomach medications we had brought with us for just this occasion and had a nap.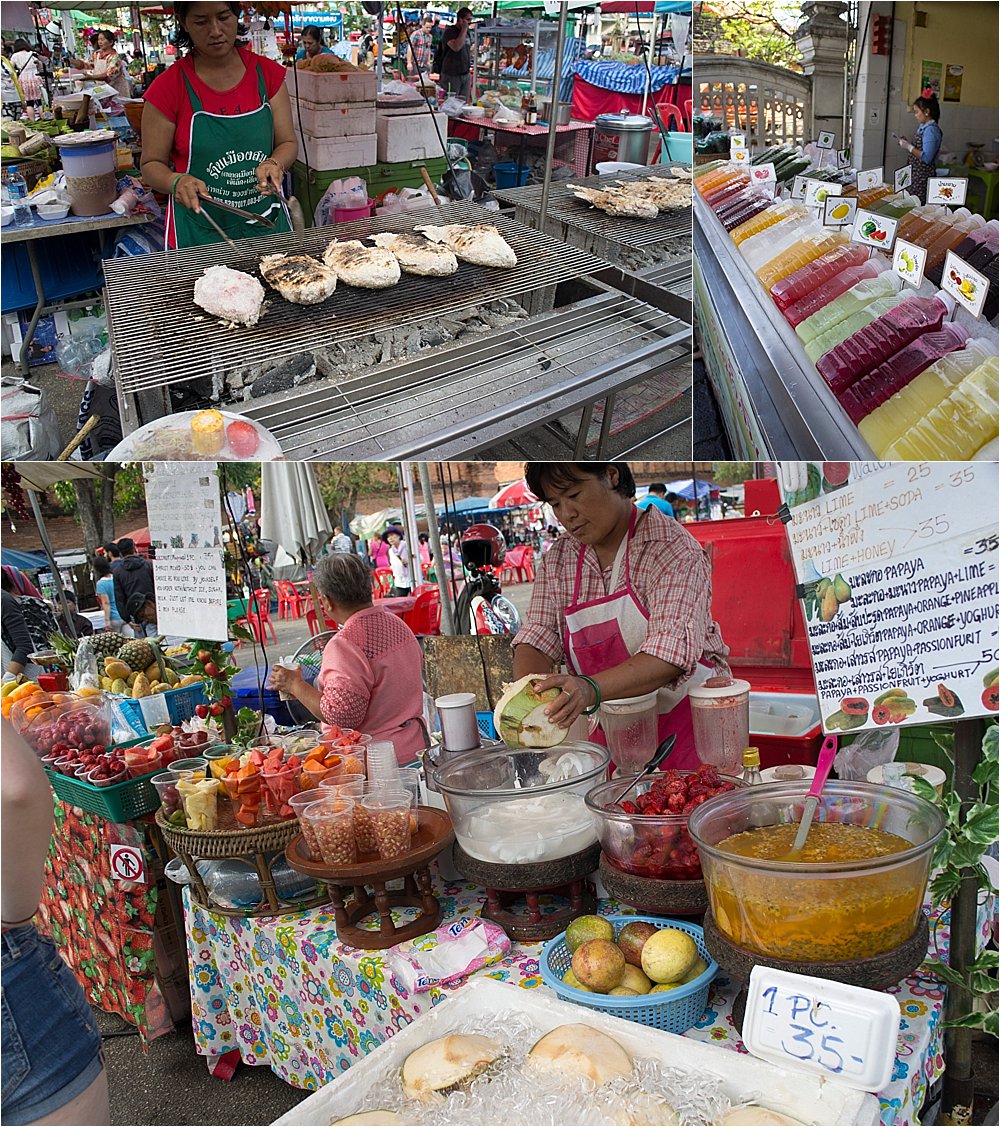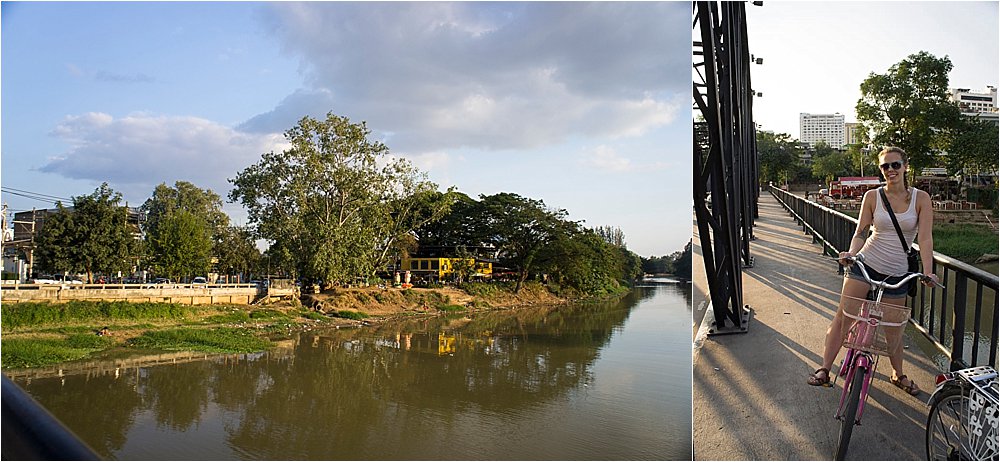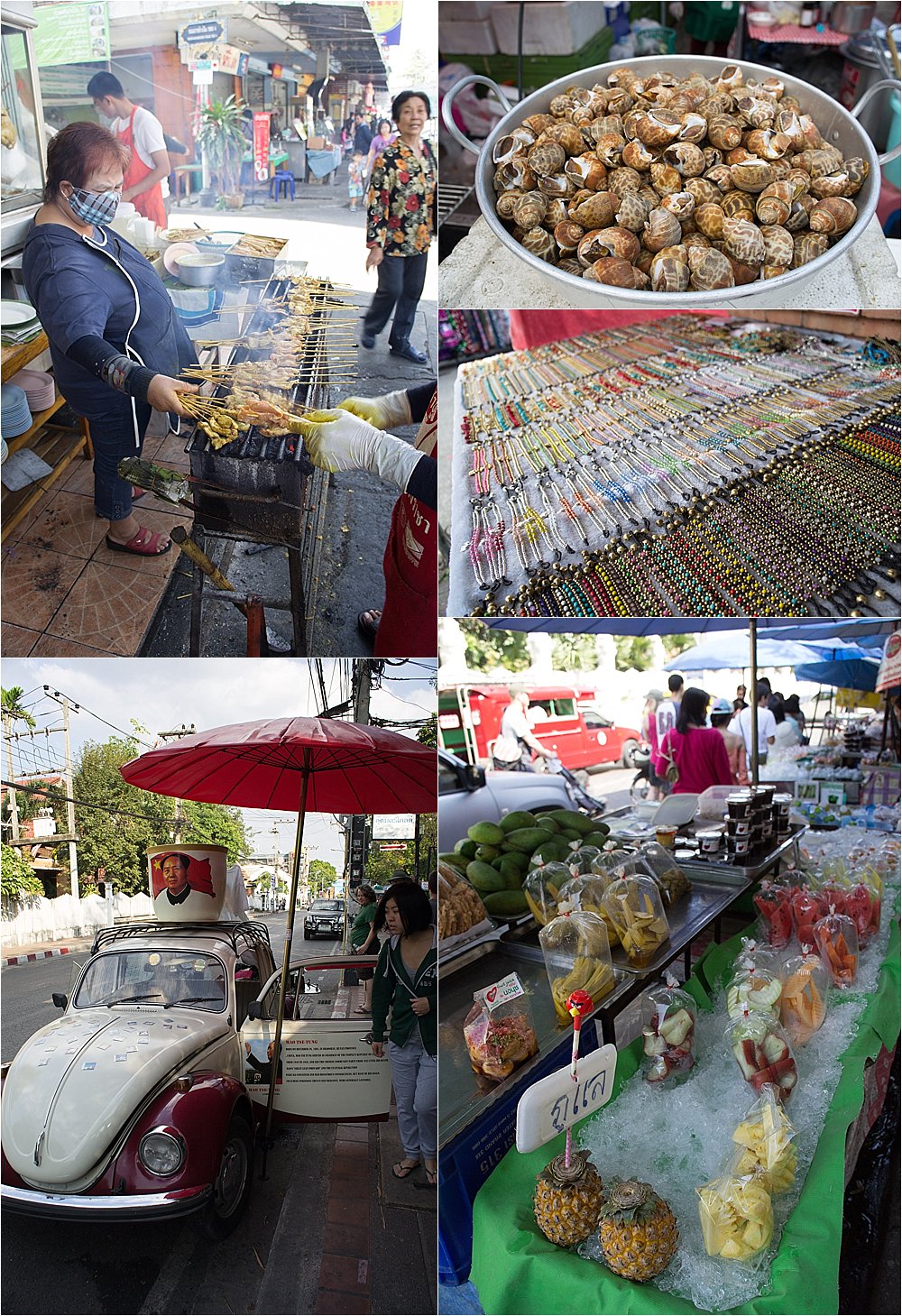 In the evening we grabbed a tuk tuk and went to the Anusarn Night Market. I was already succumbing to the elephant pant virus, which seems to effect most tourists, and practiced my bargaining skills for awhile. The best part of this market though is the food. Booth after booth of all sorts of types of food. I got my first Thai iced tea here. Not first ever, but first in Thailand. I paired it with yet again, pad see eiw. Alex tried some banana roti for dessert which is basically like a crepe with some bananas inside and sweetened condensed milk on top. It's extremely popular but I found it to be too sweet.
Heading back to the lodge we noticed some people launching some lit paper lanterns from the bridge. We stayed for awhile watching them trying to get them in flight. I always loved this tradition…even though I realized in that moment that its a bit of a fire hazard!
Day two in Chiang Mai started with breakfast at the lodge. Nothing special but its nice to have it included in the price and not have to plan every meal. We had reserved a scooter the night before and it was conveniently dropped off for us. We packed up some snacks and beers and drove through the city, onto the highway and into the neighboring mountainside. Nature, at last! We stopped at a park that said it had waterfalls. It ended up being 10 or 11 levels to the waterfall and was a really beautiful hike. There were others there walking and relaxing but it wasn't overcrowded and it seemed to be a lot of local people. The walk was longer than we expected so at the end we decided to eat from one of the vendors at the park even though everything looked a bit questionable. Luckily we survived that meal without incident. I also recommend bringing some baby wipes with you in Thailand because if you need to use the toilet often you will leave feeling pretty disgusted. It's sort of like using a port o potty and not have a place to wash your hand… hand sanitizer or baby wipes to the rescue!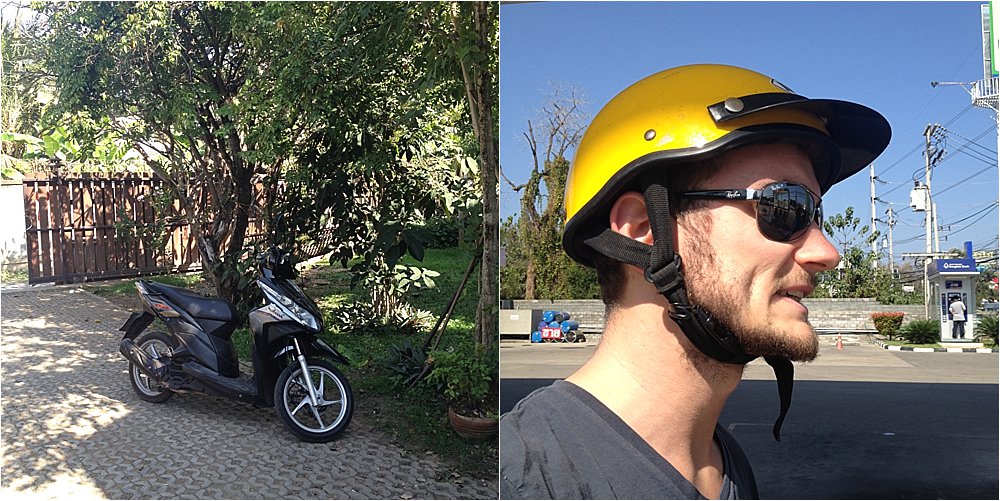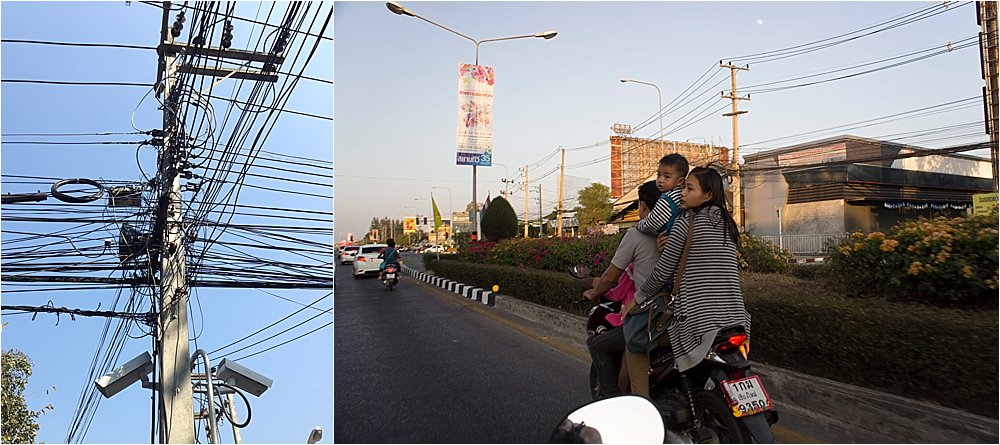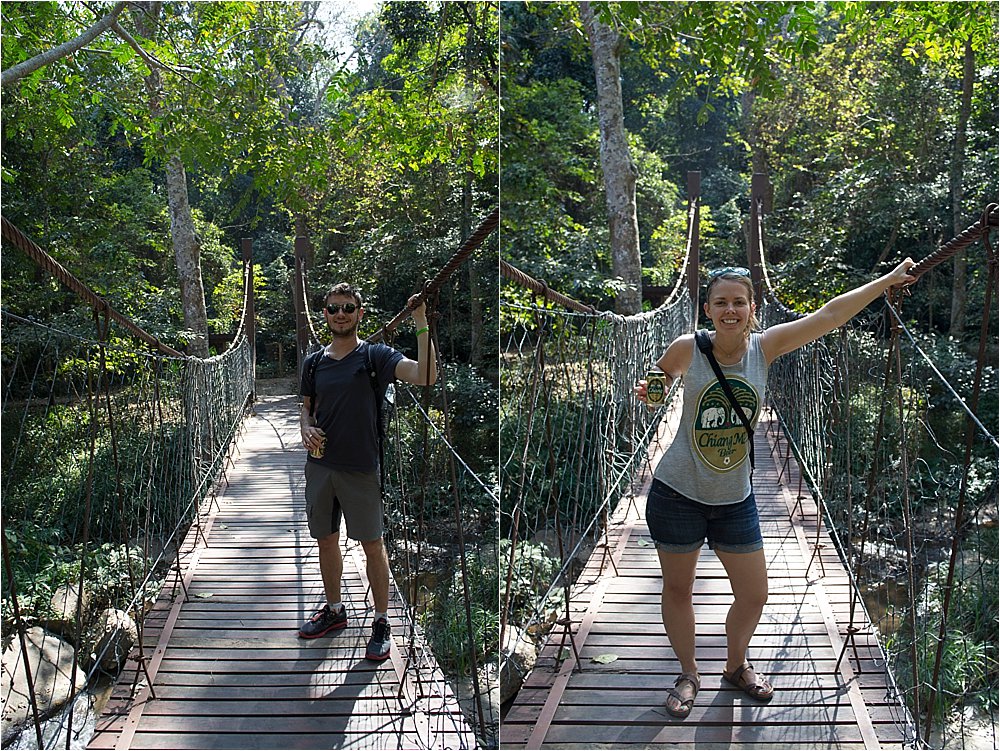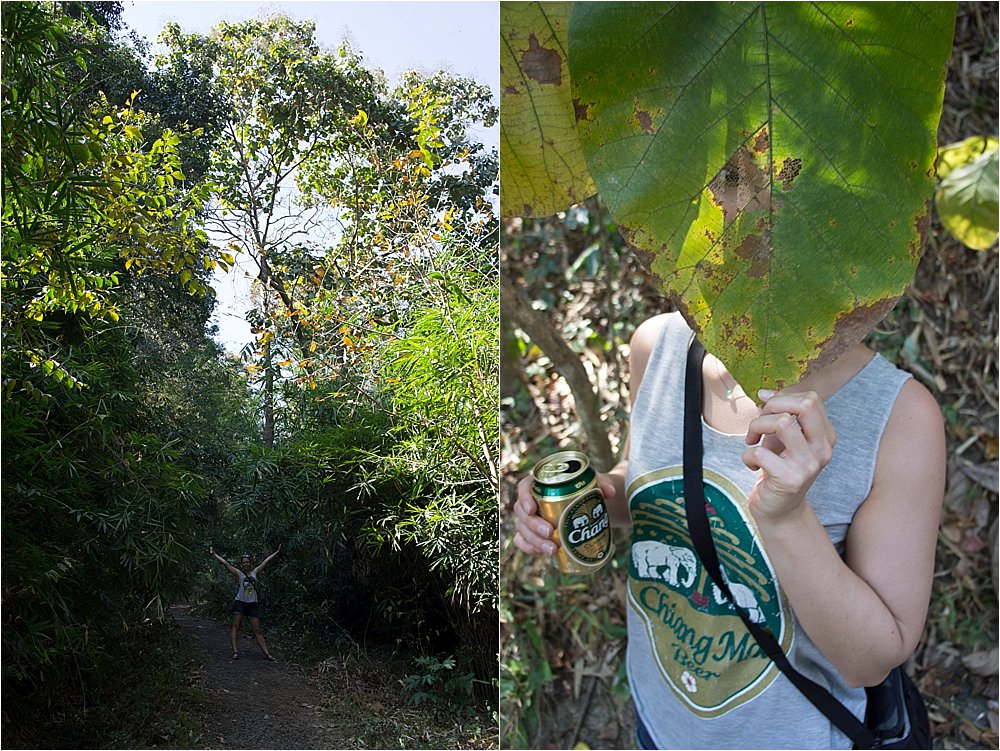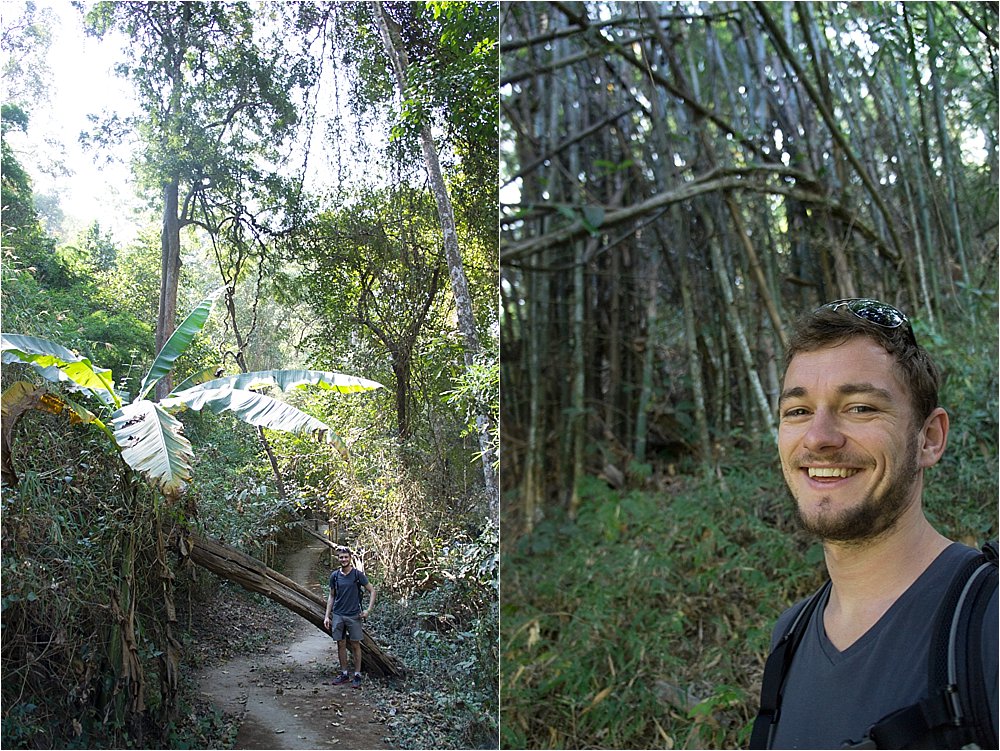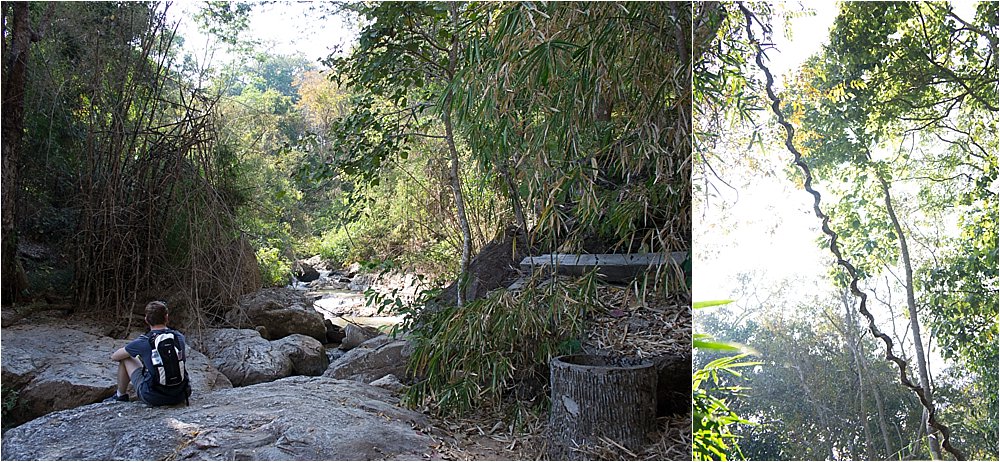 Then something happened we were unprepared for. It got freezing cold! We were dressed for the heat that we had in Chiang Mai and had no idea that buzzing through the mountains on the scooter would be so cold. Especially as the sun was going down. The ride became painful and seemed endless. I named the scooter "Black Scorpion" in hopes that a badass name would help it climb the hills a bit faster and get us back to the warmth of Chiang Mai.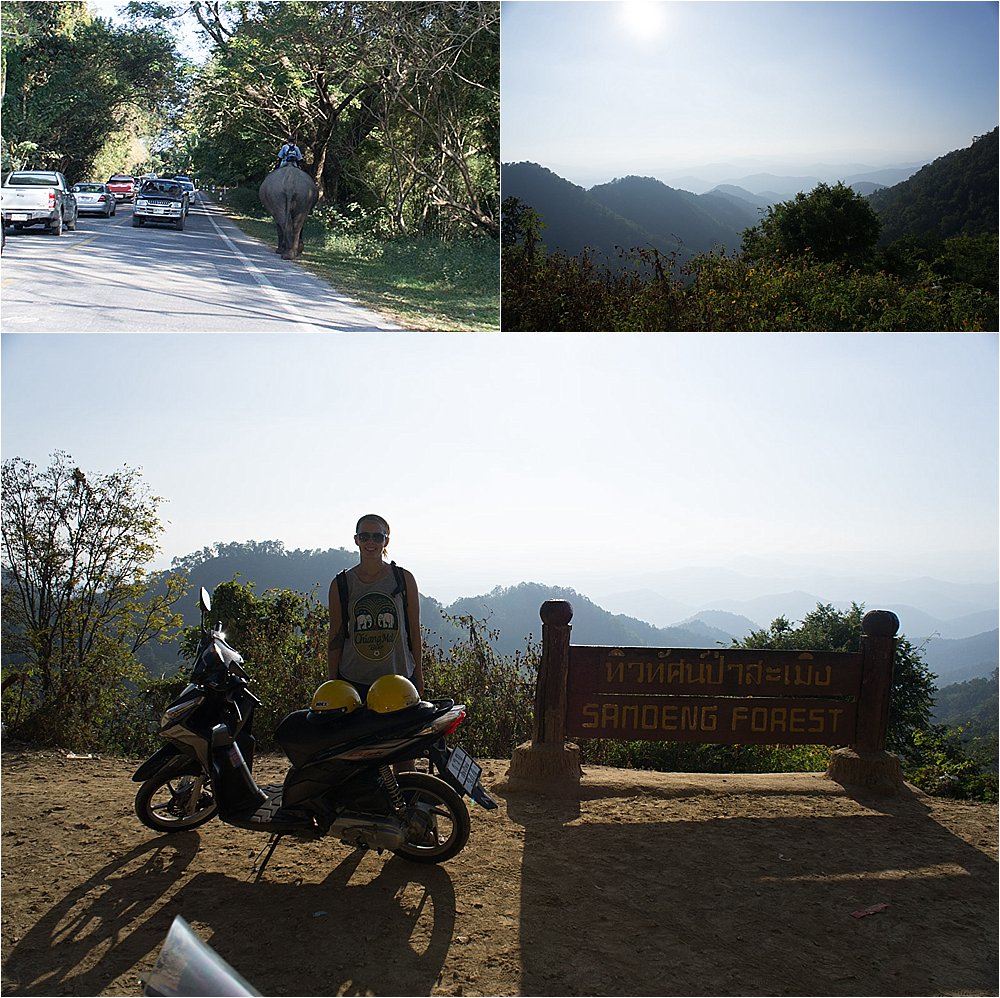 So some people told me I had packed too much and that I wouldn't need all the warmer clothing items. WRONG! We used them quite a lot actually. From the airplane ride to the air conditioned train. We could have used them on the scooter ride. And now back in Chiang Mai the evening was actually pretty cold. We changed clothes and headed to a restaurant (Tab-Tim-Krob J – UAN Restaurant) that seemed to have 100% Thai clientele. A very good sign. Every single thing here was delicious. After dinner we tried the special Thai dessert. It's sort of like a frozen yogurt bar except sweetened coconut milk with crushed ice and the various toppings are things I've never heard of. As weird as it looked, we both loved it. Afterward we walked around the city a bit and stopped for a drink at John's Place (also recommended by Lonely Planet). The plus was that there was a traditional Thai dancer who was fun to watch and a rooftop bar. The minus was that the place seemed like a complete tourist bar but also had a super weird vibe.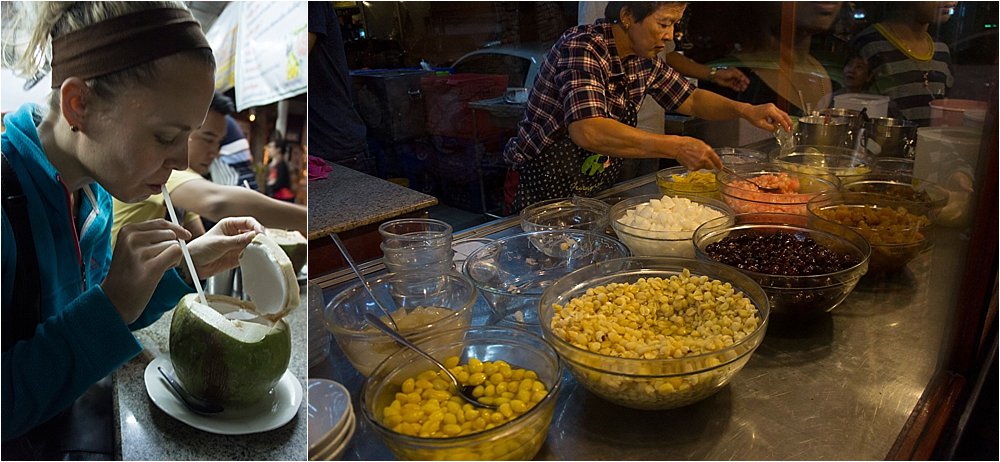 On day 3 we decided to do a self-guided temple tour. Giving the Lonely Planet another chance we followed a route suggested by the guidebook. Before starting the tour we needed breakfast and stopped at a bakery that we had passed a few times. We quickly grabbed a few things that looked tasty and brought them with us. Then we made another stop at a pretty cool cafe (Akha Ama Coffee) for some coffee and Thai iced tea and had our breakfast outside. The baked goods and cookie packaging were all in Thai so it was a surprise biting into them. Coffee flavored cookies (yum), cream puffs (yum), and sweet buns with fish inside (??). With breakfast out of the way our next task was to get me a scarf to cover my shoulders for the temples since I was wearing a sundress.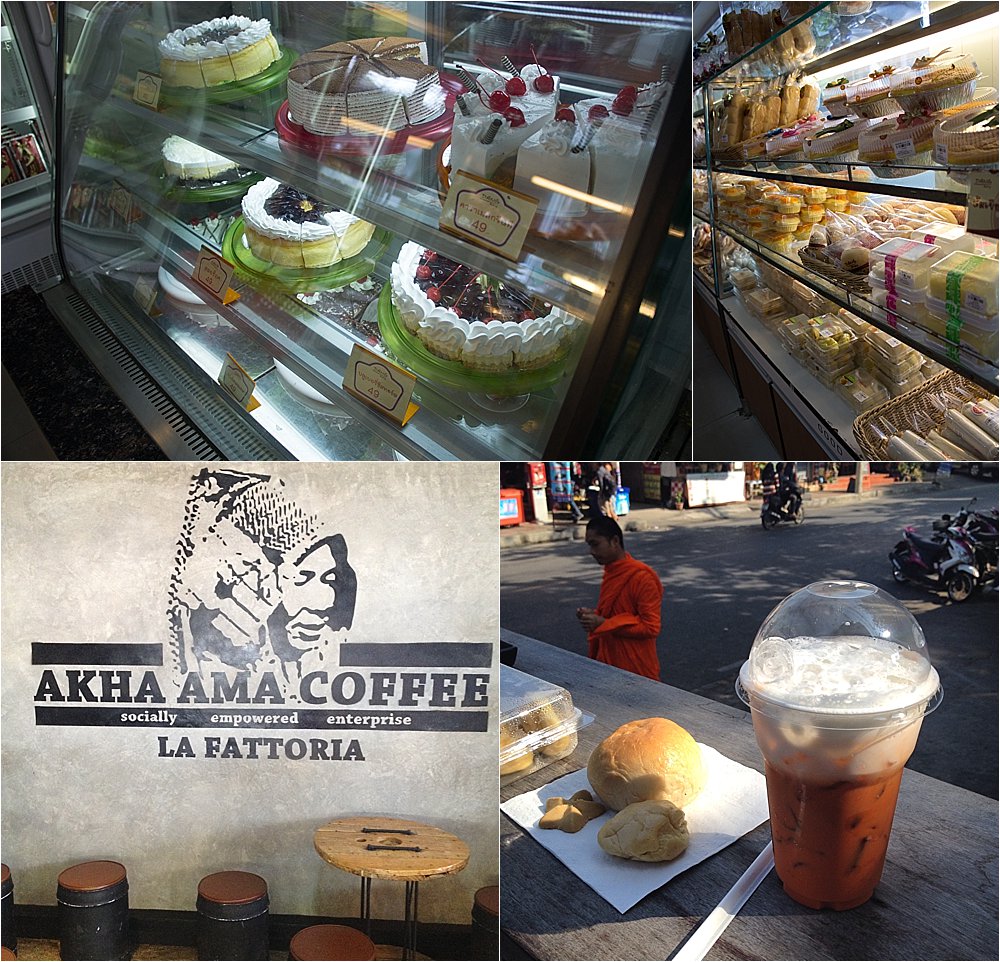 We visited around 5 temples that afternoon, each one having its own unique features. There were some really nice traditions being practiced that I would have liked to learn more about. We were told that pouring water from one bowl to this sort of fountain would wash away your sins, gold leafing the statues honors the teachings of Buddha and also can relieve pain if you foil the same spot on Buddha as where you have pain, and dropping coins into the many donation bowls is supposed to bring good fortune.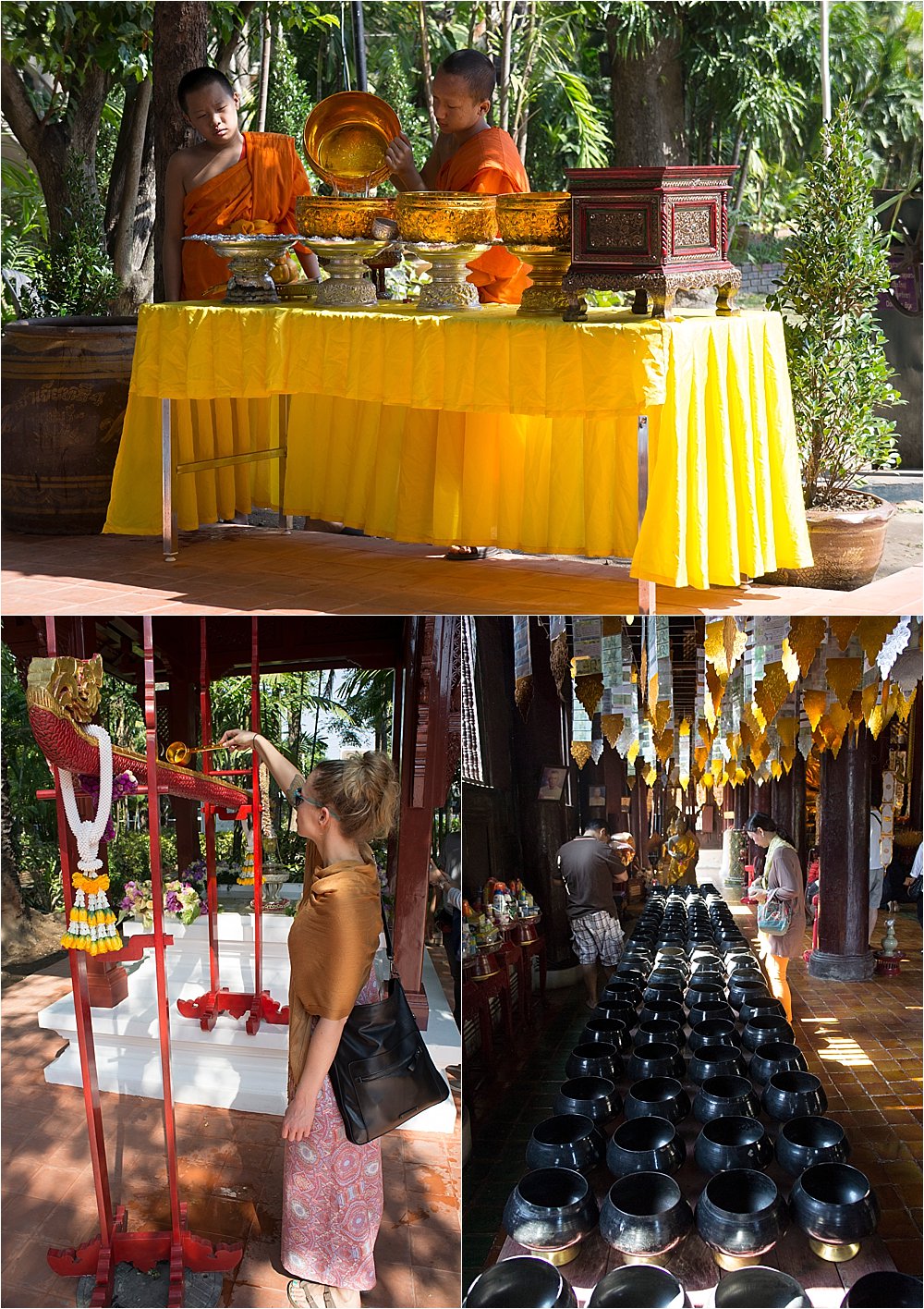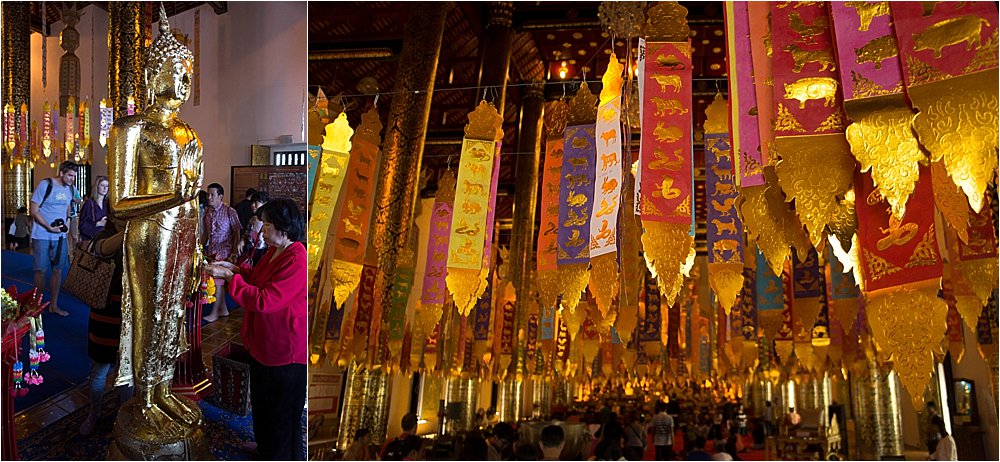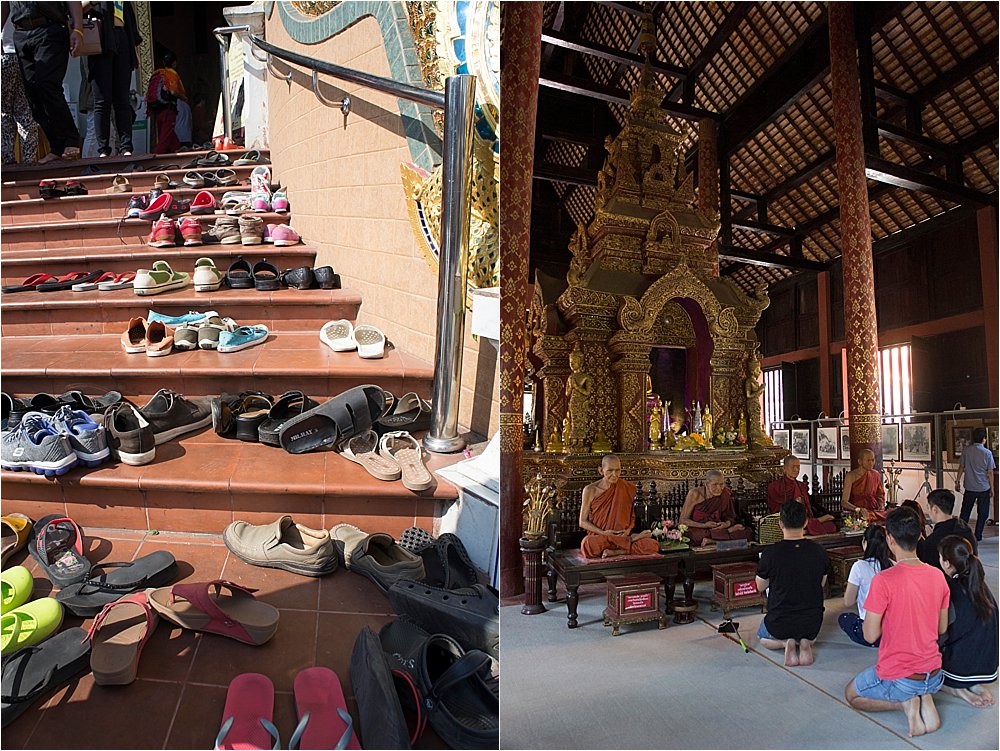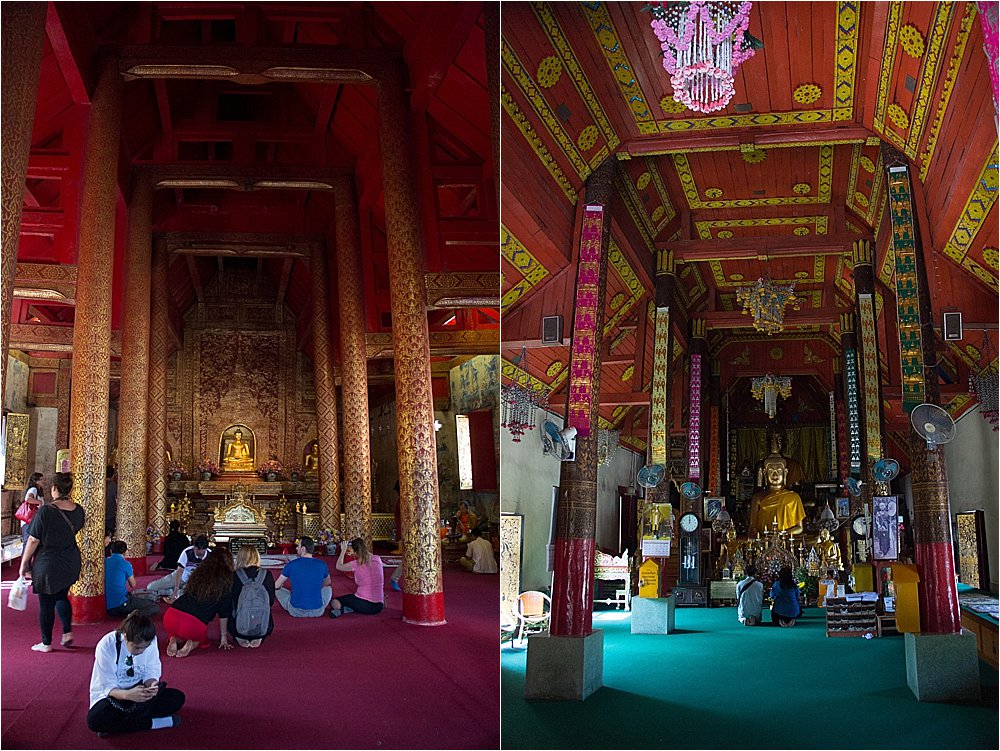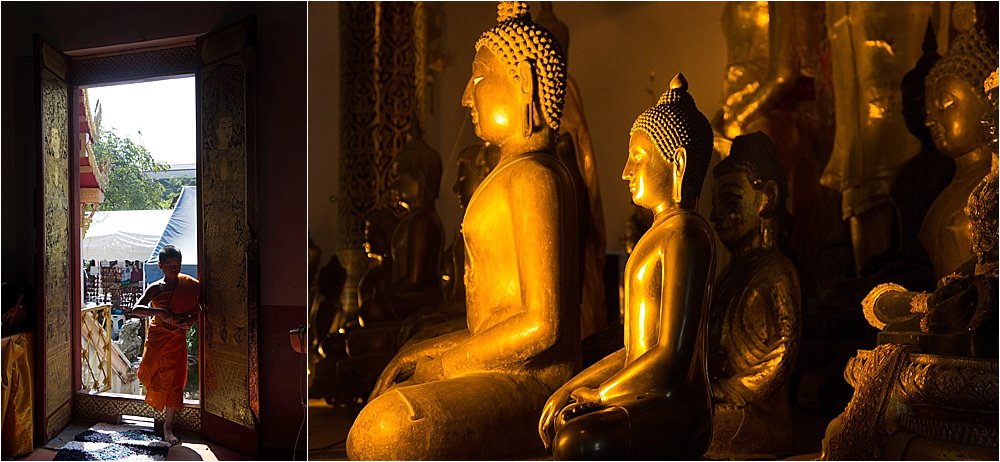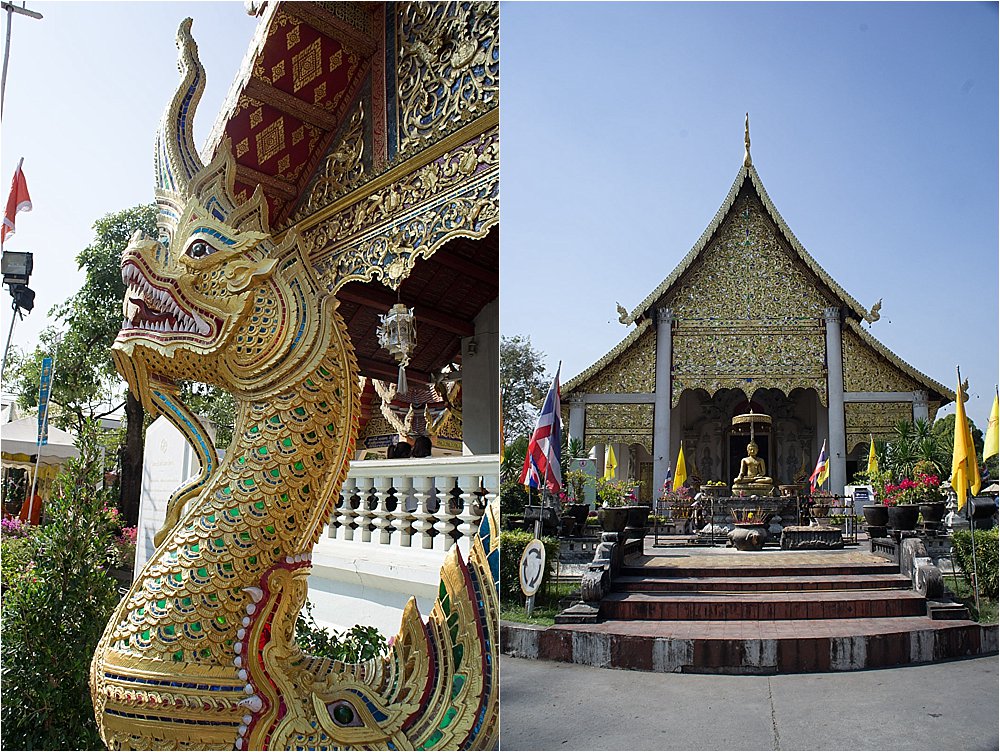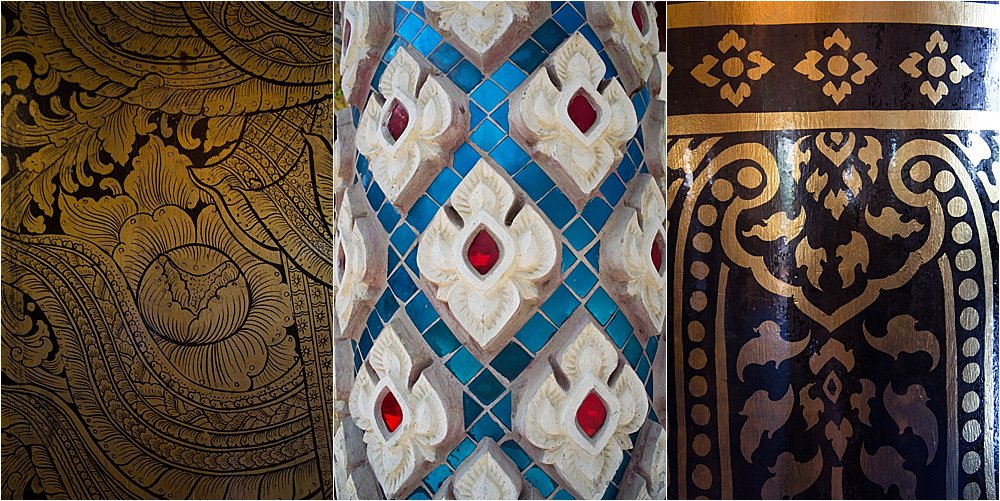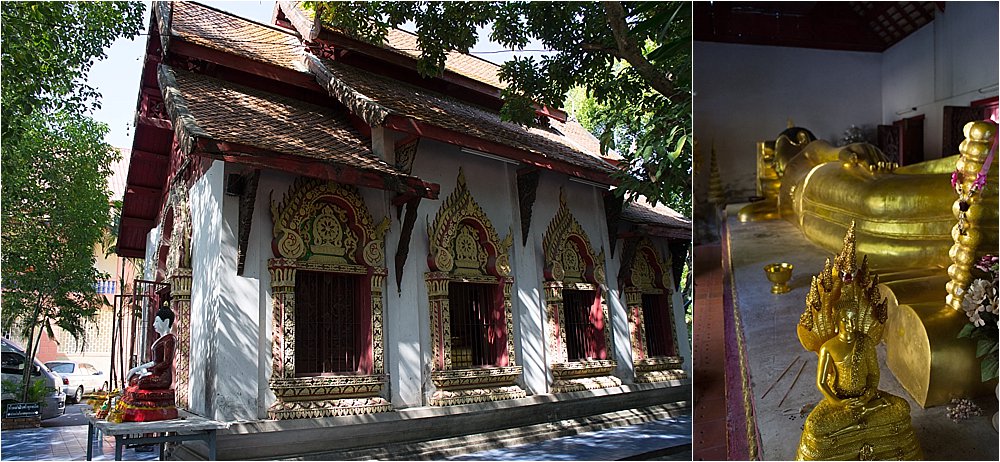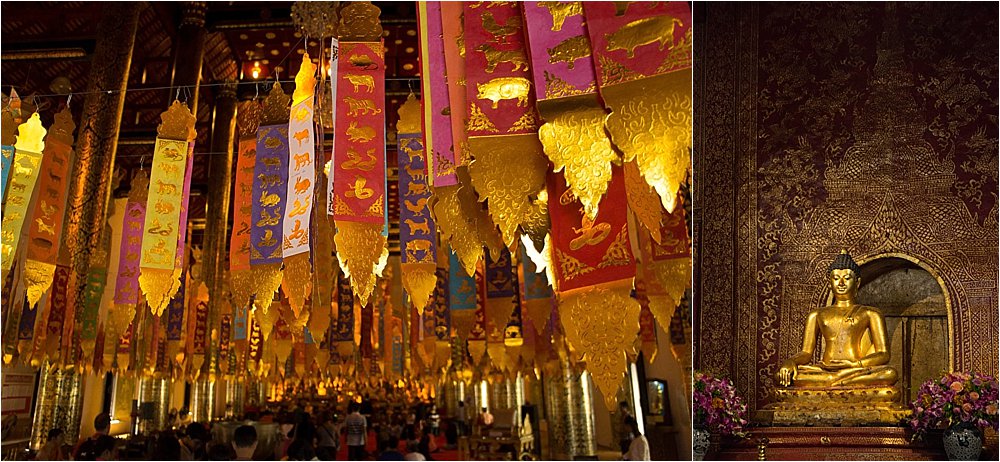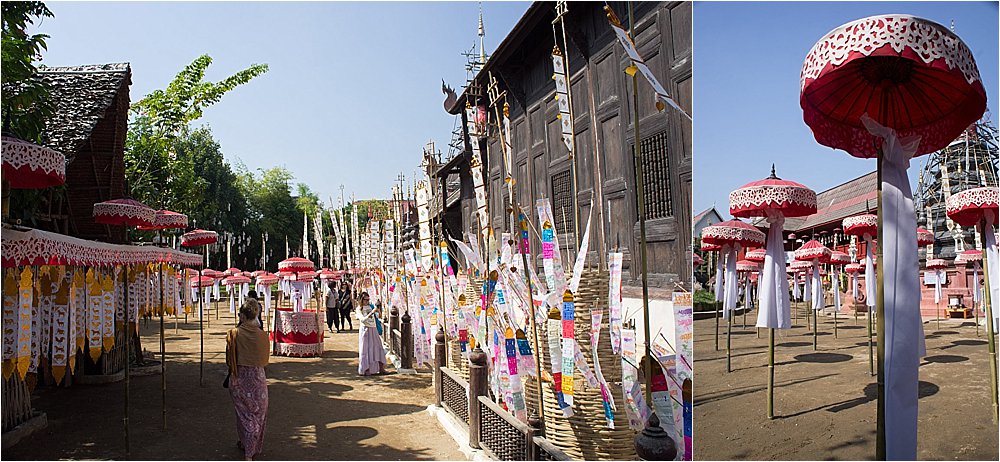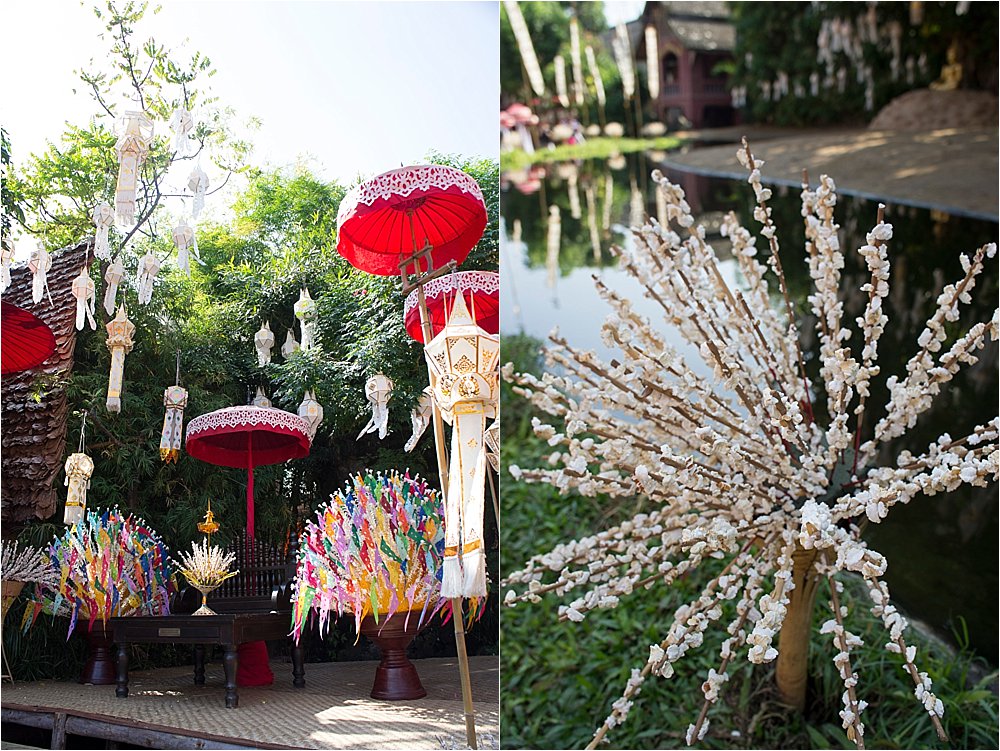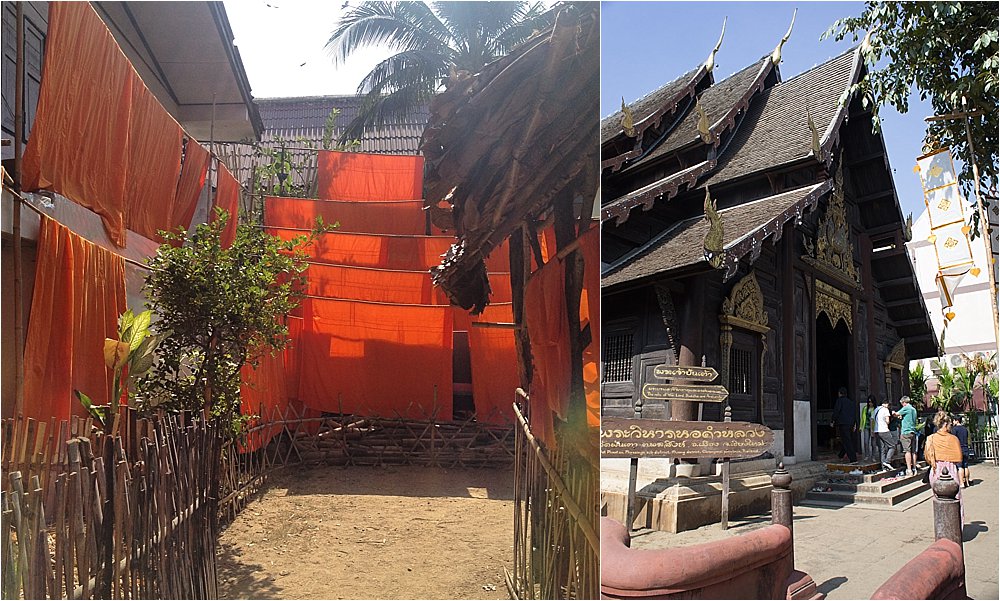 In between the temples we took a break for lunch at Kow Soy Siri Soy. Finally a recommendation from Lonely Planet that was spot on. This was a restaurant specializing in a famous local dish called Koi Soy soup. It as extremely spicy but still edible for our untrained palates. We ordered one soup with chicken leg and egg noodles and one dish of chicken and rice and shared them. It was a great combination and both were super satisfying. Lots of locals in this place too which is always a good sign.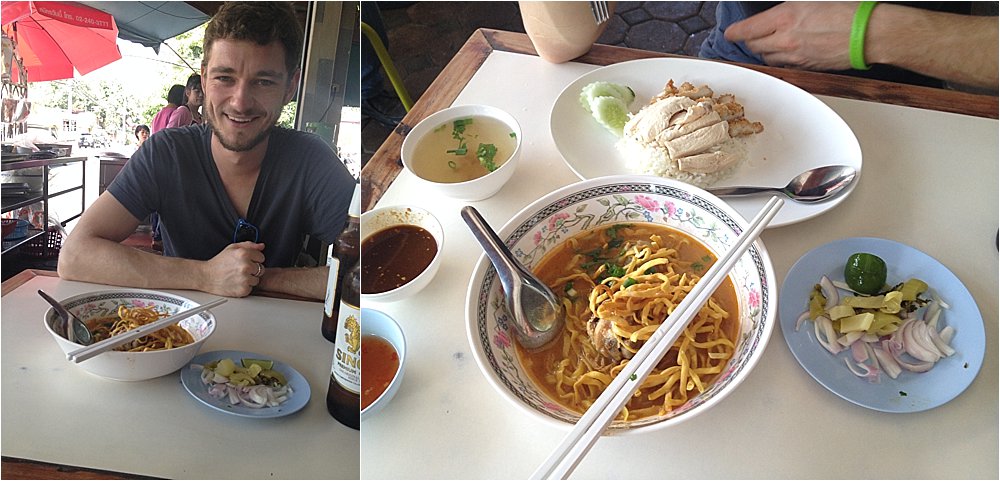 After our long tour we decided a foot massage sounded lovely. We headed to Lila Thai Massage and got ourselves a 1 hr massage for 200 baht (that's about $5). We really liked supporting this place (as little as it was) because it employs women who are newly released inmates from prison in an effort to integrate them back into society.
Getting pampered was a great end to our city stay in Chiang Mai because what was up next was a little more rough. We packed up and said our goodbyes to Toto and friends and hopped on the truck that would be driving us into the jungle.