Let's have a little intermission from the Thailand blog post series and take a little trip to the Dolomites in Italy. Last September some very important people came to visit us in Munich, my best friend from college Sarah, and her husband Malcolm. It was their first time visiting us here and we were so excited to have an adventure with them. Prior to their arrival we discussed some different ideas for seeing something outside of Munich. Alex and I had been wanting to visit the Dolomites for awhile and I thought it would be great to share the European hiking experience with Sarah and Mal. Until coming to Europe I had never done a hike that has a mountain hut at the top, waiting to serve you some delicious comfort food. And I had definitely never done an overnight stay in huts like this. Sarah and Mal were on board with just a few requirements. They weren't keen on staying in a dorm-style room with other smelly and snoring hikers. No complaints from me on that decision! We found a couple different options that offered private rooms and planned out the trip.
The Italian Dolomites are a mountain range in Northeast Italy, in the region of Südtirol or South Tyrol. From Munich this was about a 3.5 hour drive. The Dolomites have some history in World War I as they were the line between the Italian and Austro-Hungarian forces. There are open air museums there now detailing some of the history, one being located at Cinque Torri (Five towers), which was on our list of stops. The region itself is a blend between Italian and Austrian cultures which we could especially notice in the food and the languages spoken. Food was a highlight of this trip and all dietary restrictions I normally follow gladly went out the window. A few days of feeling bad post trip was well-worth it and I can say I didn't regret any of my choices.
Our first stop was in a tiny village in the north of Bolzano. I had booked two rooms at an agritourismo called Oberfellsonnerhof. All of us were excited as we headed into this valley and could see the tips of the Dolomites within view. There was a slight snafu when we pulled into what we thought was our accommodation and the woman greeting us told us there were no rooms available. I had been the one to book the rooms and had exchanged many emails with her. She seemed to remember me but was saying that she told me they had no vacancies. I was panicking and pulled up the email on my phone to show her. When she read it she breathed a sigh of relief and told us that I had booked a place just up the street and we were at the wrong location. Somehow Google maps had lead us to the wrong place, and coincidentally it had been a place I had tried to get a room at and was denied. Once at the correct location we were warmly greeted by our real host and shown to our rooms. Very cute and comfortable with balconies looking out over the valley. Perfect for sitting and having a drink before dinner.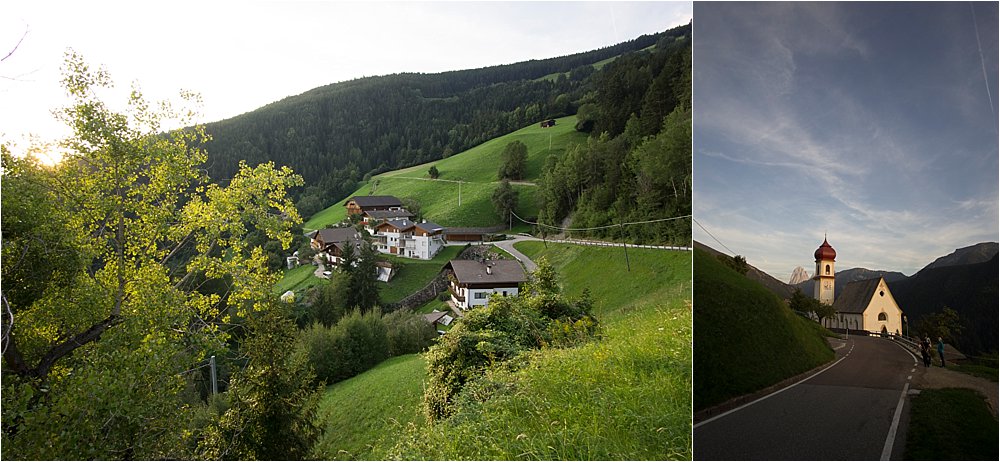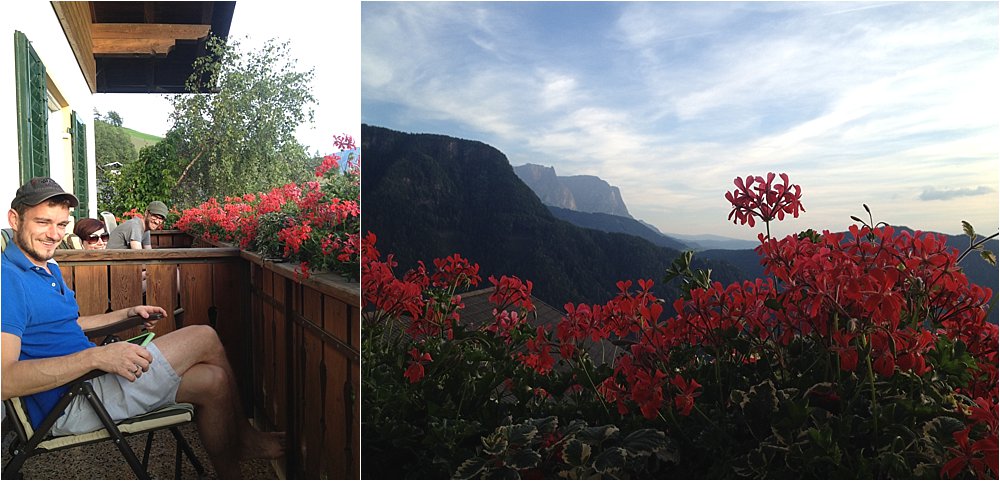 There was one restaurant in town inside a hotel (Hotel Überbacher) . Originally I thought we'd drive into one of the bigger towns for dinner but we were all tired of being in the car. I was a little worried that being the only restaurant in town would mean that they didn't need to have very high standards. We took a nice little walk through the village and easily found the restaurant. I wasn't blown away by the ambiance but luckily they had a really large balcony sitting right out over the valley with an excellent view. The menu had a really nice option which was to choose two dishes from the list and you'd get a half portion of each. We decided to each order something different so we could try as many things as possible. OH MY GOD…this food was amazing! Every single thing was delicious. In Germany I had tried dumplings (knödel) a few times and never really cared for it. In this restaurant, in South Tyrol, it was a completely different story! Our waitress spoke excellent English and was really nice, which is a welcome contrast from service in Munich. Even though we were all completely stuffed at the end she sold us on dessert when she described a Nutella dumpling. When the dessert arrived there were audible gasps at our table when we sliced into the dumpling and warm Nutella oozed out. While the presentation wasn't amazing the taste made up for it. You know a dessert is good when you've eaten until you're about to bust and you can still lick the plate clean. Or we're just pigs!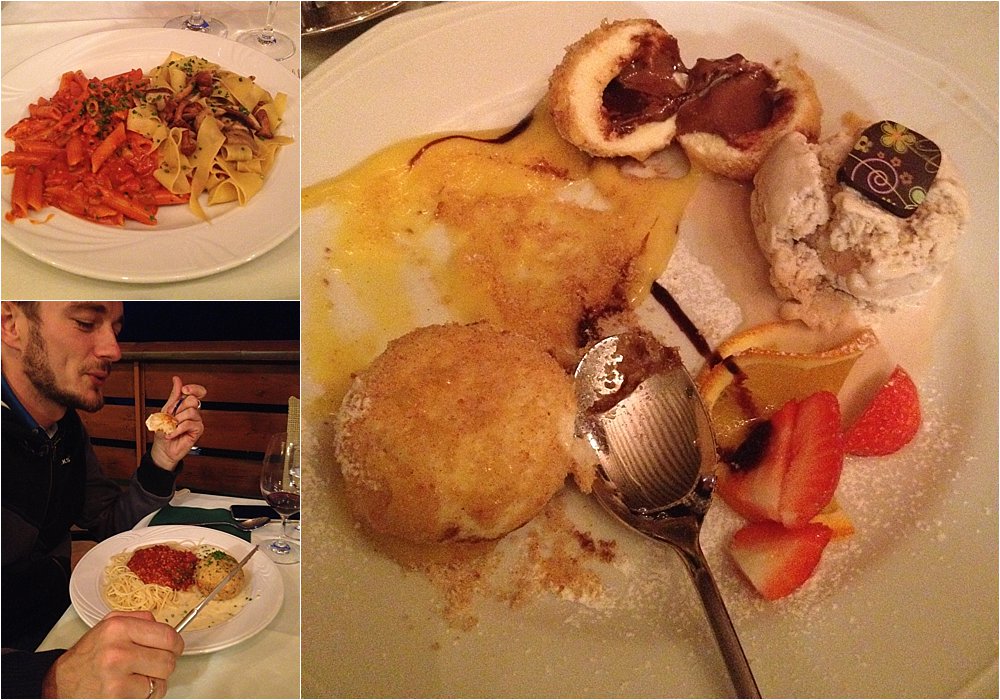 The next morning we drove south to Lago di Carezza. I had looked up a bunch of lakes and been given some advice from a Dolomites expert, Erin Babnik (check out her amazing photos of this area). I knew I wanted to find some turquoise lakes and Lago di Carezza did not disappoint! One thing that I didn't expect was the fact that the lake was roped off with a boardwalk going around it. Likely due to how visited the location is by tourists. I was surprised to see tour buses here and had imagined it to be more isolated like our experiences in Switzerland and Slovenia. However, we learned the whole Dolomite region is pretty popular and this lake was one of the highlights. While I don't like touristy sites I would still highly recommend visiting this spot. The color is unbelievable and especially beautiful with the mountains as a backdrop. There was a nice little fairytale about the color of the water, but I've already forgotten what it was about. We ate a packed lunch here to fuel up for the hike to our next accommodation, a mountain refuge overlooking the famous Cinque Torri.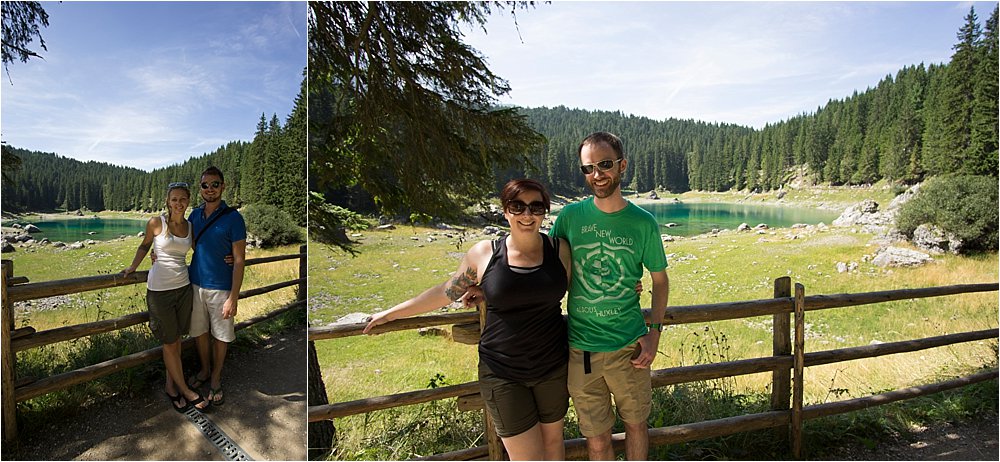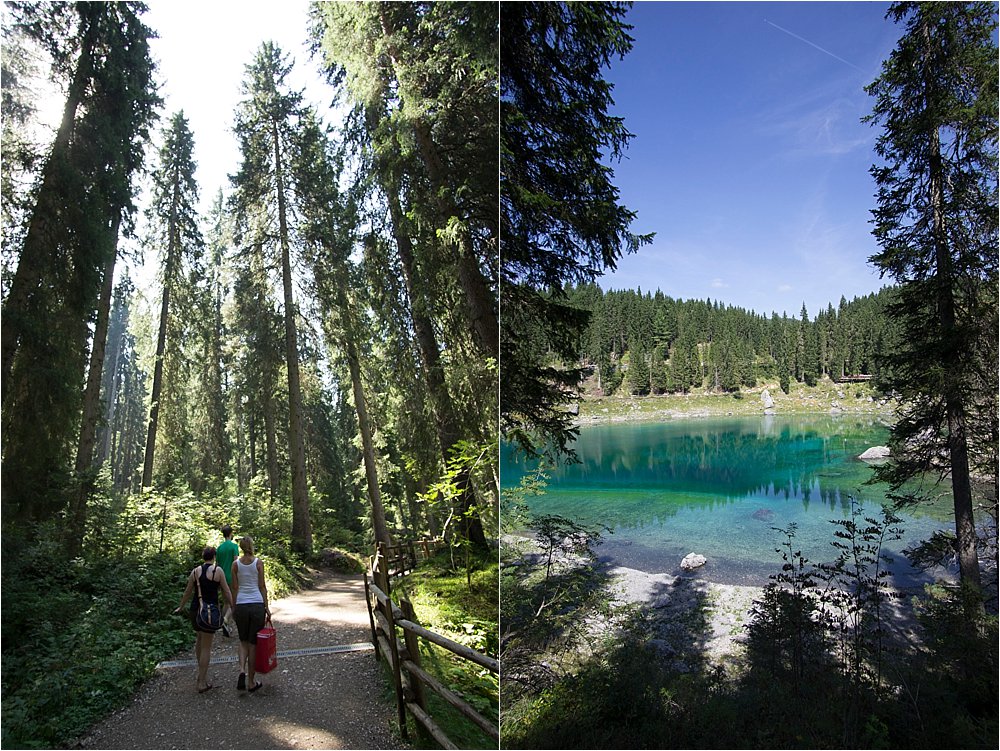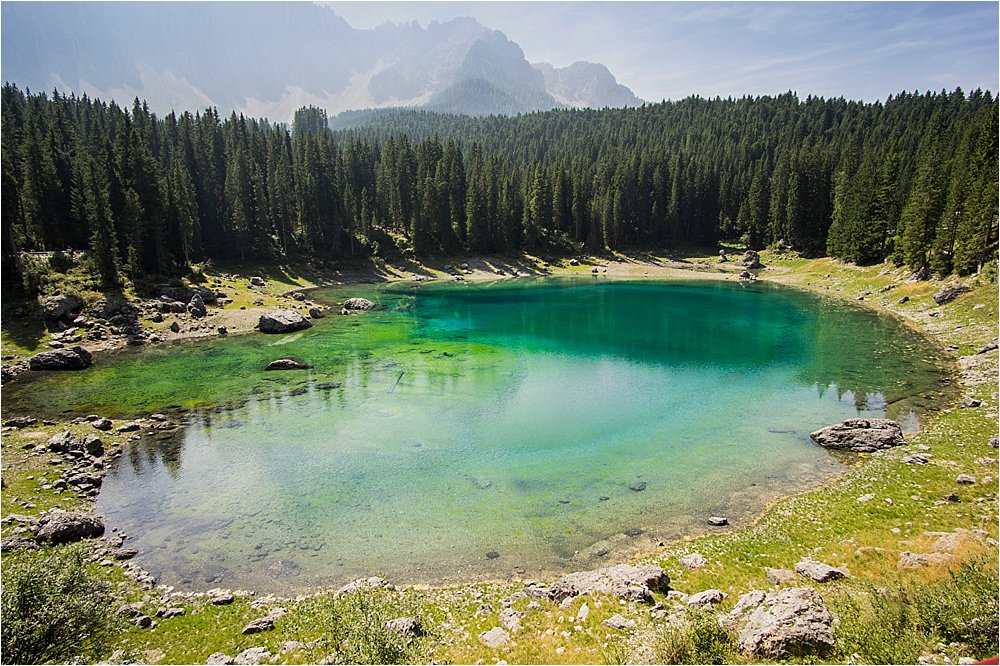 On the way to the start of our hike we passed another beautiful lake. If you're a fan of mountain lakes and beautiful scenery, South Tyrol does not disappoint. The hike up to Rifugio Scoiatolli took us about 2 hours stopping quite often to admire the view and take photos of the unobstructed views. I would say the hike was of medium difficulty. Not too much skill involved but the incline was enough to get you breathing hard. Alex was the hero of the day when he carried most of our overnight stuff, photography gear, water, and the wine up the mountain. Once at the top the view was even more impressive!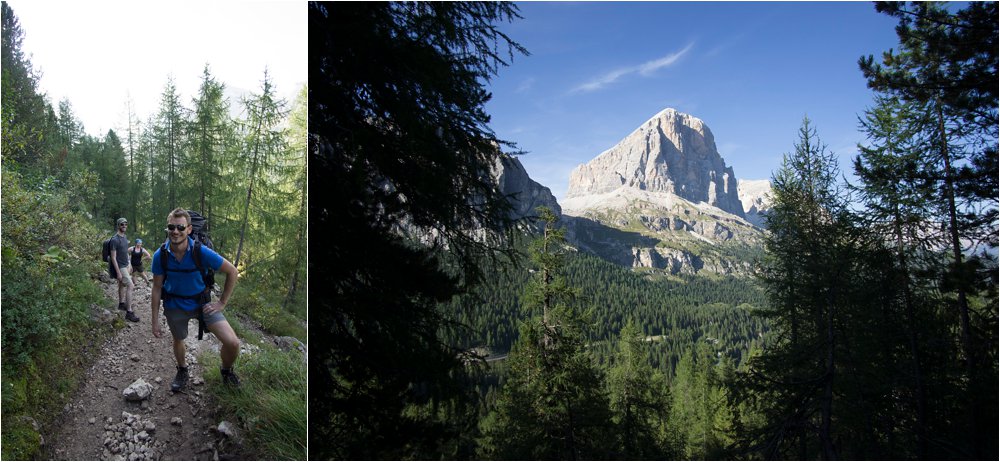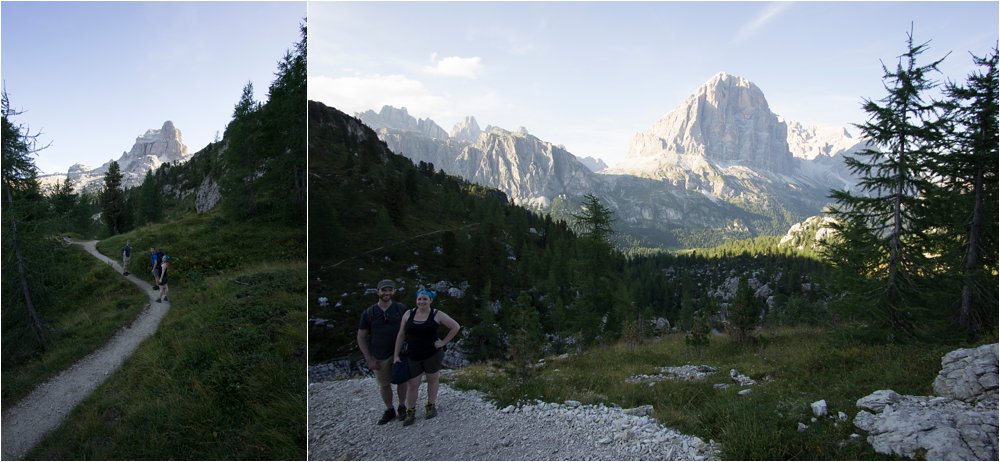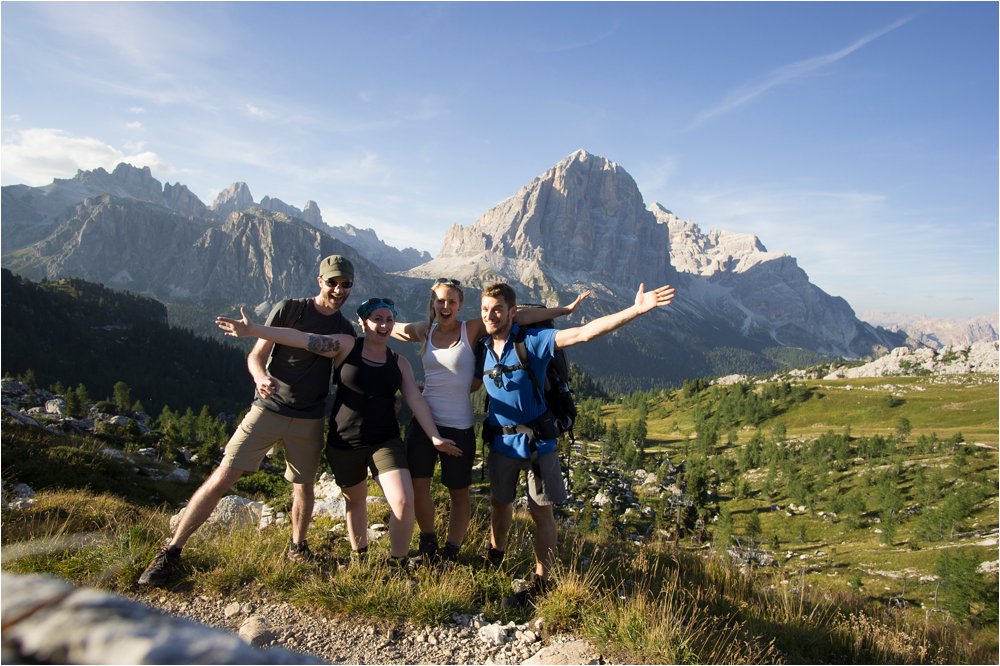 The rifugio was a compromise between dorm style and private. Meaning our rooms were private but the toilet and showers were shared. The room was small and furnished with a bunk bed and closet with access to the shared balcony and great view. For me, this is all I need when hiking. It's actually a luxurious step up from the dorm-style open rooms we've stayed in before with just a sleeping mat. If you really want to splurge at this place you can even rent their wood-fired hot tub for the evening. We didn't partake as it wasn't really affordable for 4 people, but it would be nice if we ever return with a bigger group. A 3-course dinner and breakfast buffet was included for an amazing price and we were spoiled once again to some more regional dishes. This place can definitely stand on it's own as a restaurant. The nice thing is that even if you don't want to hike up there is a gondola that will bring you to the top. While we waited for our dinner the sun began to set and Alex ran out to get some photos. He also played paparazzi and captured us just as our food was served, I think you can see how happy I am about it. After the sunset and once it was dark we went out again to do a little night photography. It ended up pretty interesting because we had a full moon and the photos could be mistaken for daytime. We took a nice one that will be our album cover if we ever form a band together.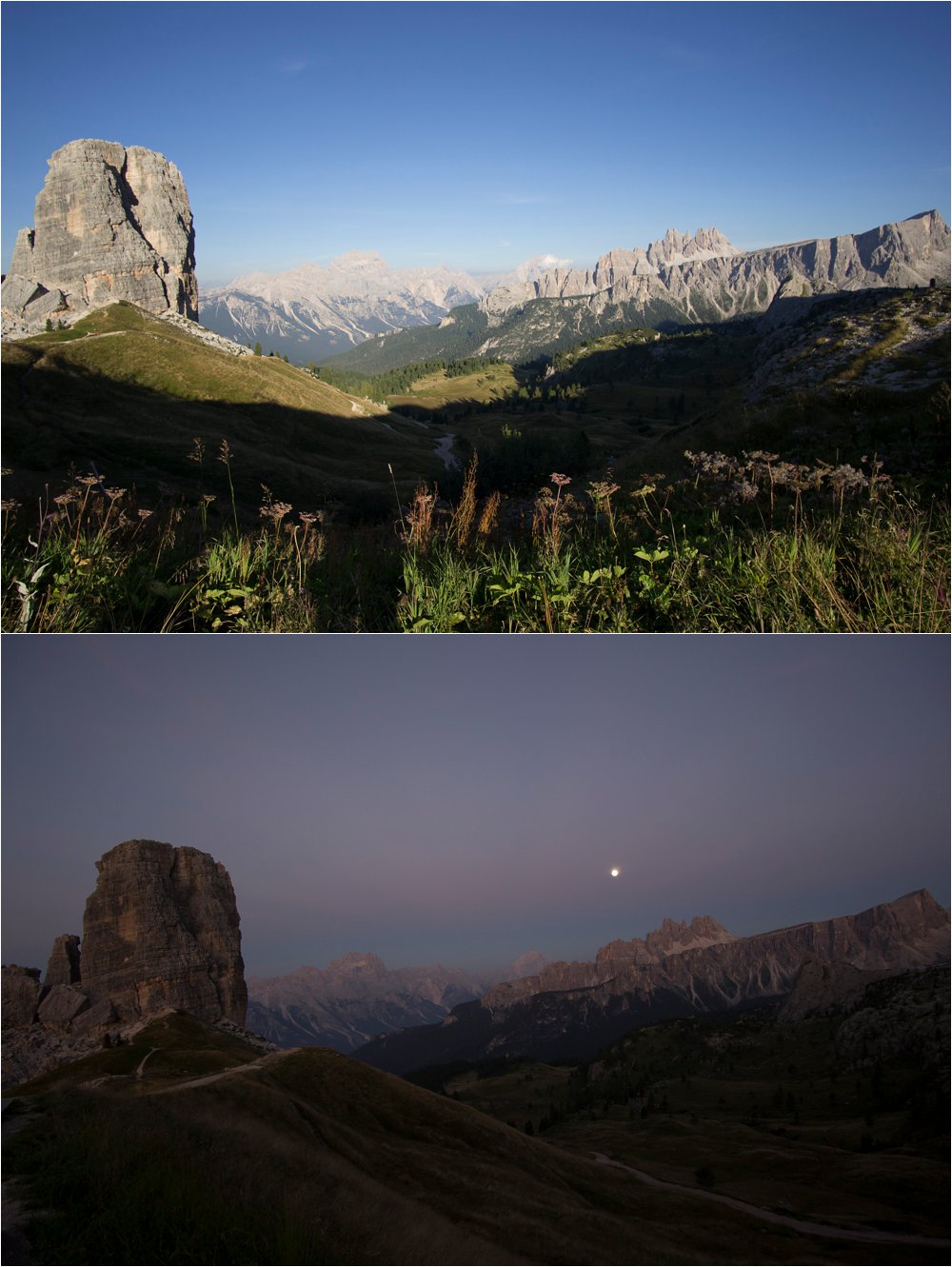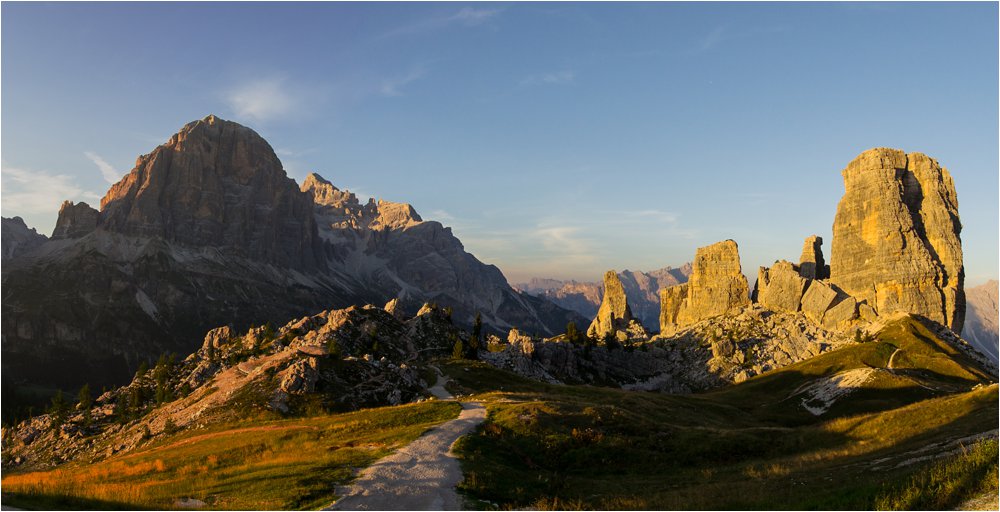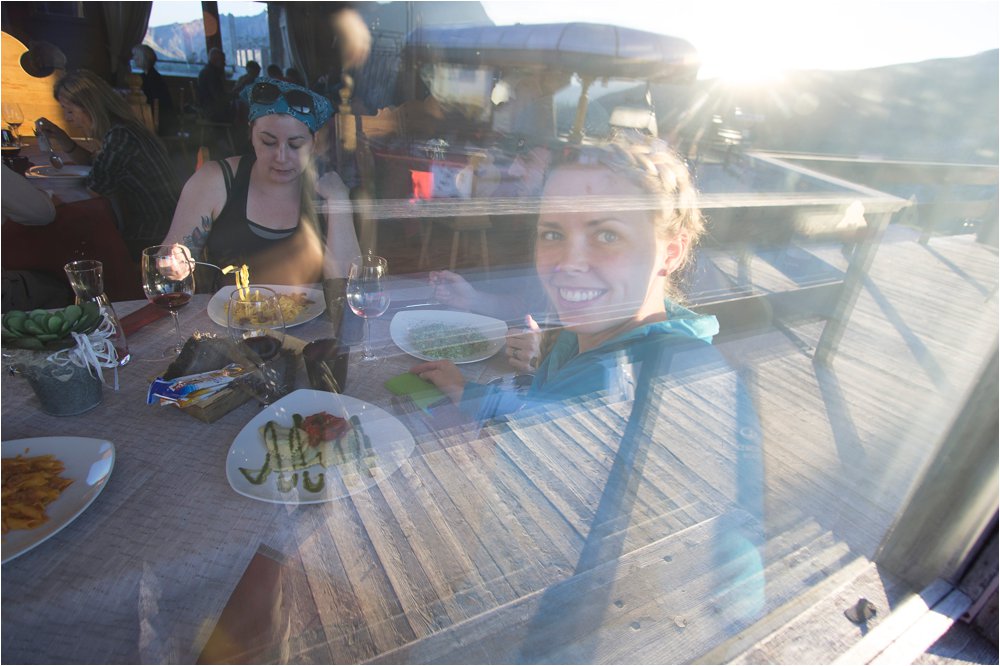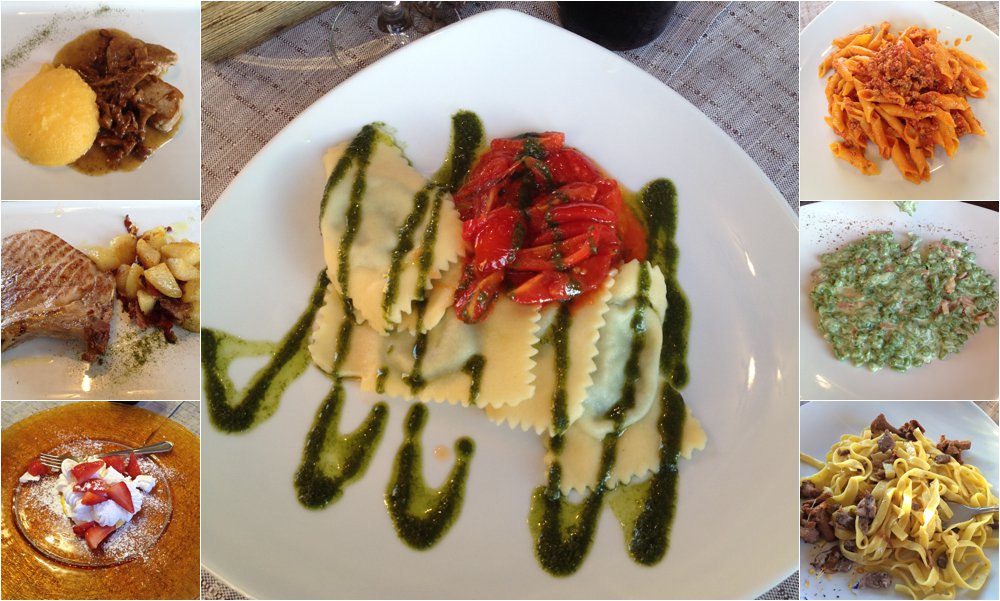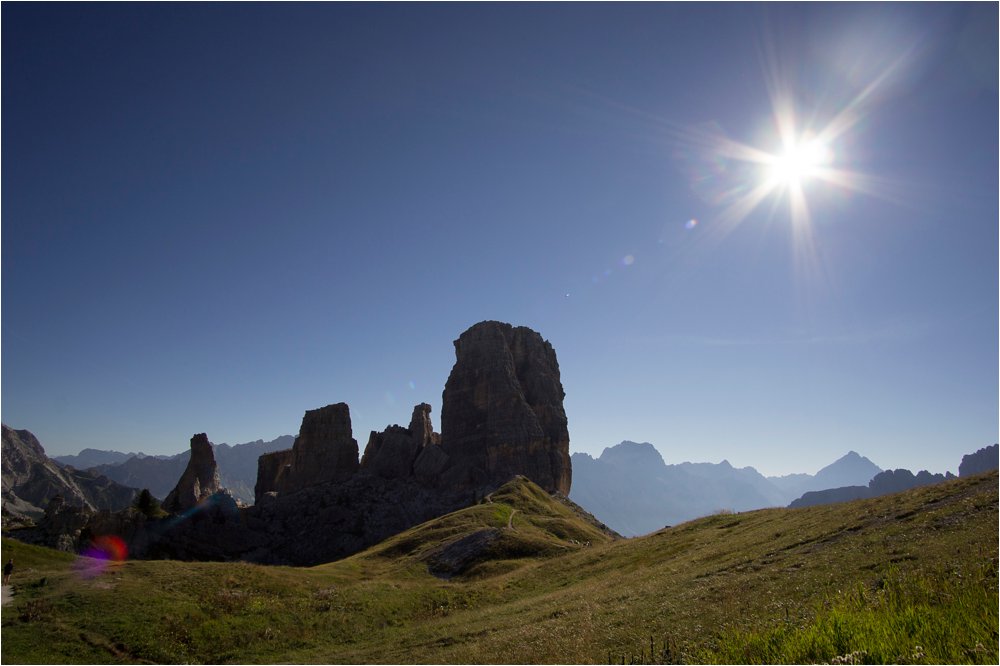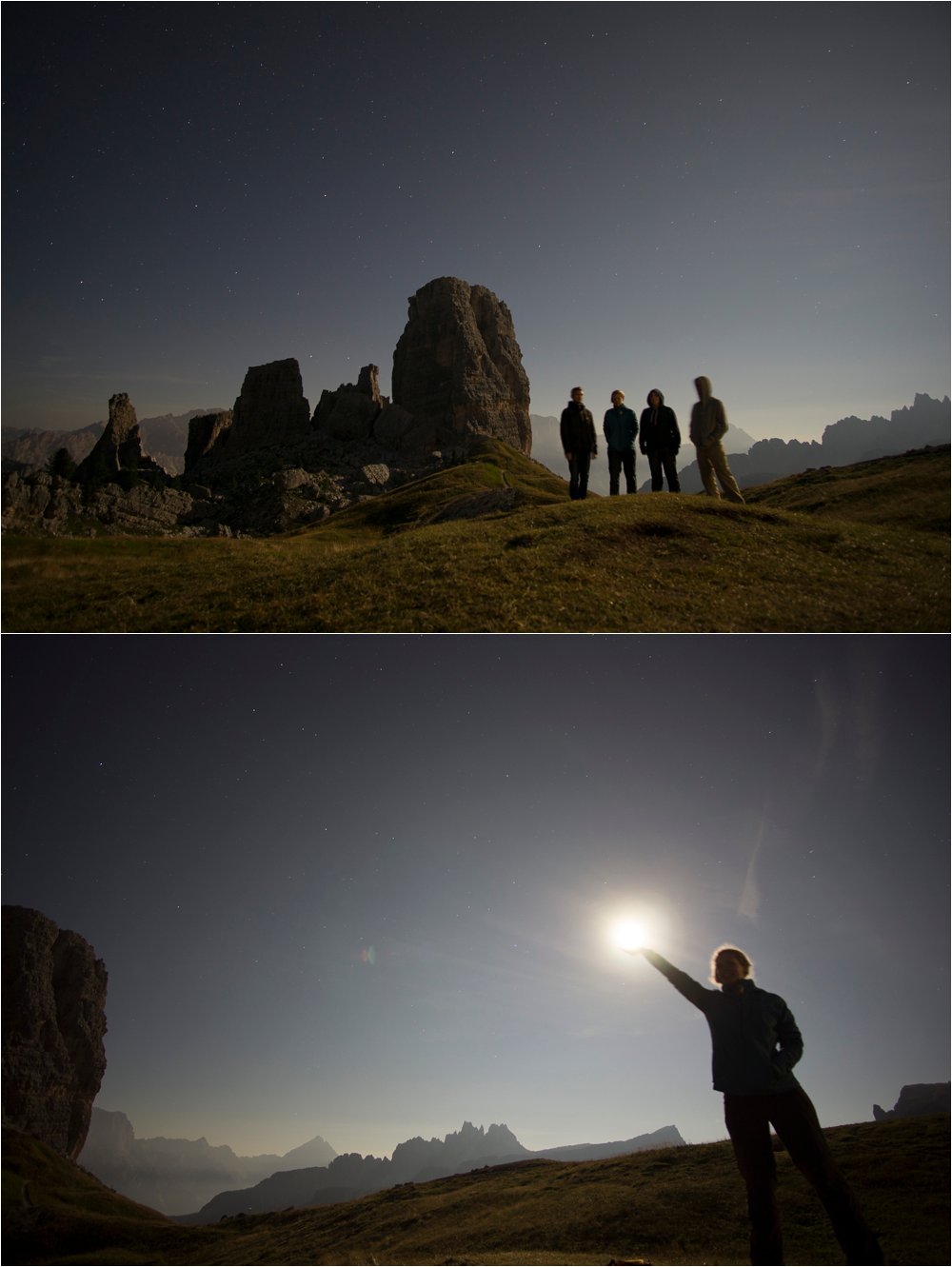 Our 3rd day in the Dolomites started with the breakfast buffet and then hitting the trail back down. The trail passed through the World War I open air museum where we took our time strolling through the restored trenches and encampments. At one point I found a treasure hiding on the roof of one of the encampments. It was a lost purple my little pony. The rescue attempt was dramatic but I saved it and placed it back in the majestic scenery where it belongs. Perhaps its owner will come back and find it one day. Between taking our time there and misjudging the route down, the hike was a lot longer and more tiring than we expected. Once again Alex carried down the heavy pack which still included the bottle of wine we'd brought up. So far this bottle of wine had traveled with us from Munich and still not been consumed because the wine at dinner was so affordable and good that we had plenty there. I was feeling a little bad that Alex was the mule so when we reached a part where I thought we were just about 10 minutes from the car I said I wanted to carry it. That was a huge mistake. When I put it on I nearly tipped over from the weight and I was immediately filled with even more respect for my husband. He didn't complain even once and this thing was ridiculously overpacked! Unfortunately for me I misjudged how long we had left in the hike AND didn't realize that we would have to hike uphill at this point. But, I stuck to my word and got a nice workout the rest of the way.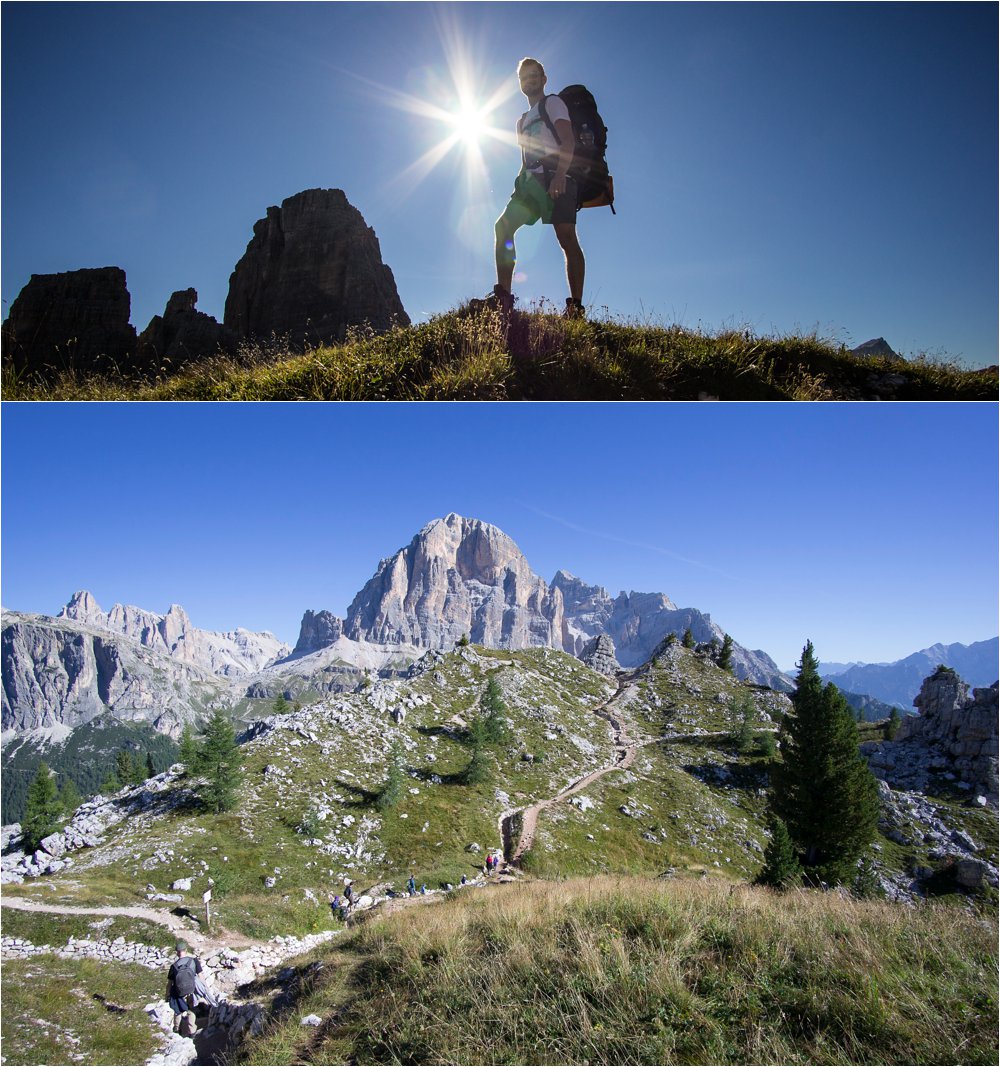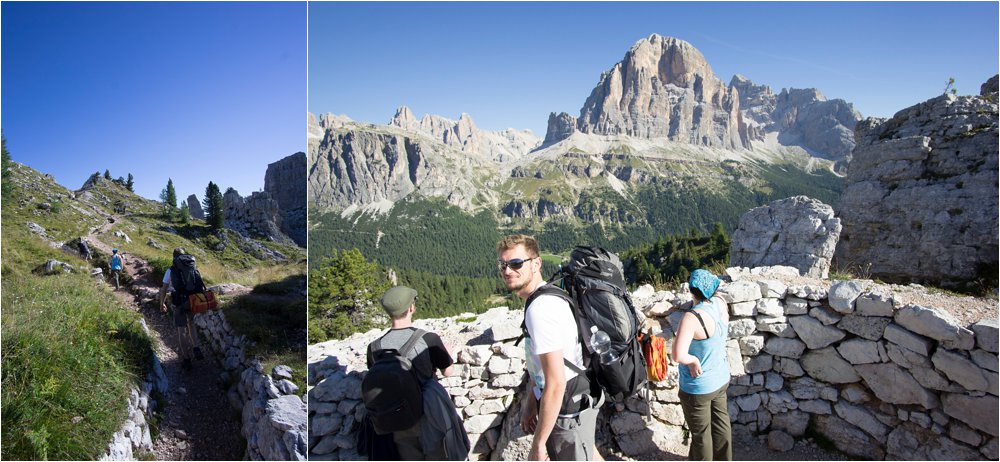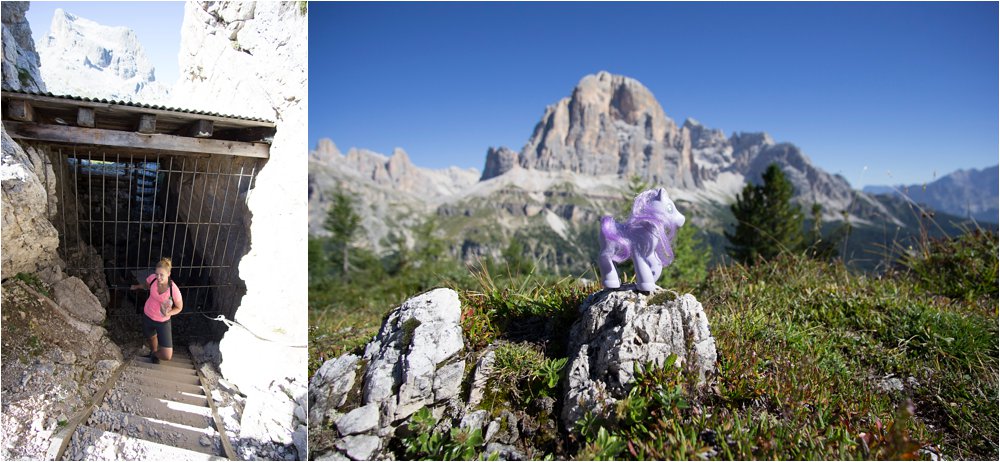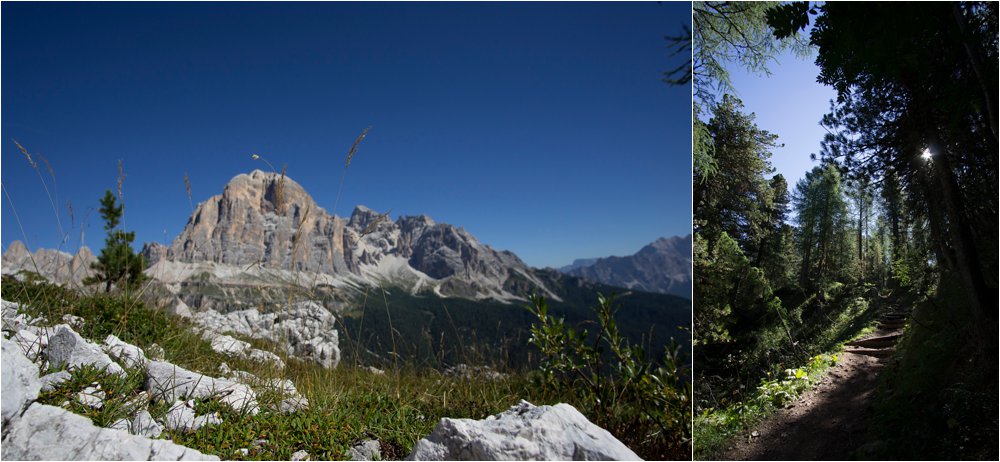 After soaking our feet in the freezing cold stream by the car, and snacking on some trail mix, we loaded up and headed to the nearest village to get some much deserved lunch. We explored the quaint little village and had some pizza for lunch. Then it was back in the car to Passo di Giau where we had booked our last night's stay in Berghotel Passo Giau. When we arrived we were a little shocked to see so many cars in the parking lot. The hotel rests right next to the mountain road at the top of the pass. The outdoor eating area and restaurant were filled with people and we were a bit worried that staying there wouldn't be very relaxing. However, we soon realized that the restaurant in the front didn't reflect the rest of the hotel. Once shown to our rooms we passed through to the hotel area where you couldn't hear a single noise and it felt like you were in a different place. Our rooms were the best by far for the whole trip. On the top floor with panoramic views of the scenery and beautiful wood furnishings throughout the room. We were in heaven! Even though we were all exhausted from our earlier hike, we took a nice walk up the hill with the rest of the tourists, passing some horses and just enjoying the hot weather. At the top Sarah and Mal decided to head back for some relaxation/napping in their comfy room. Alex and I stayed and spread out the picnic blanket to get a little sunshine.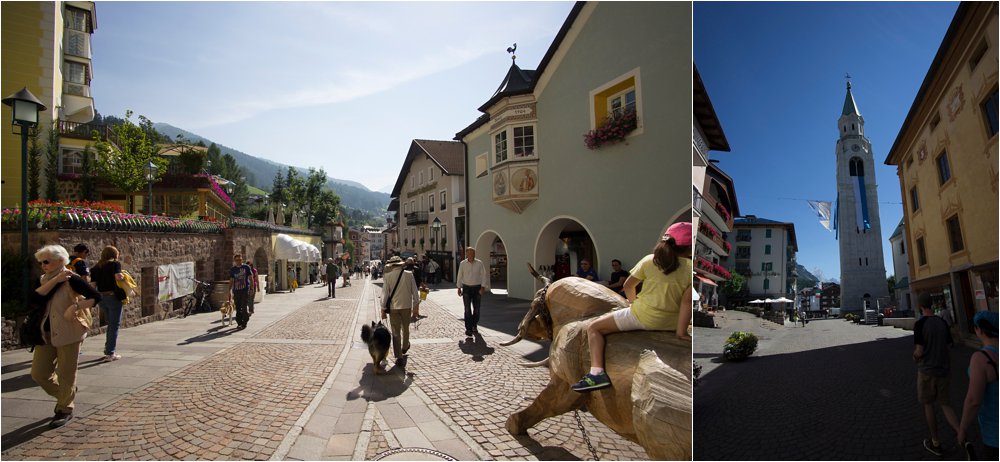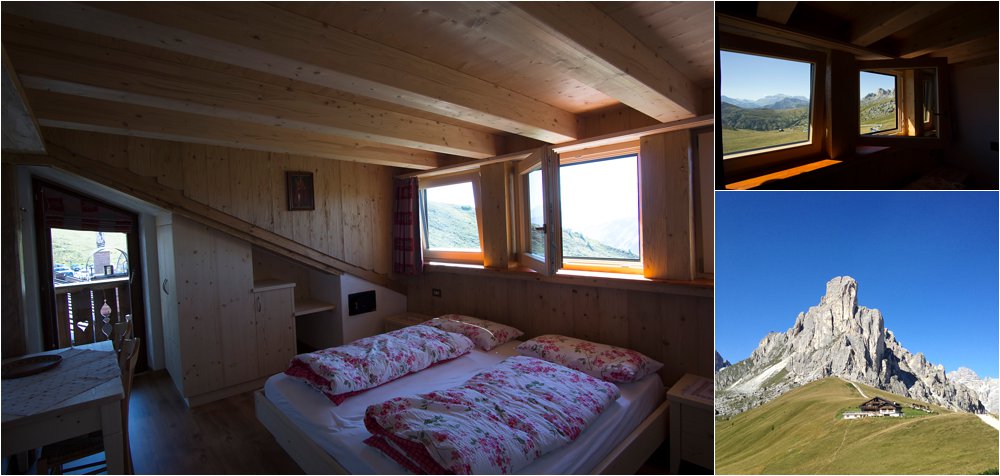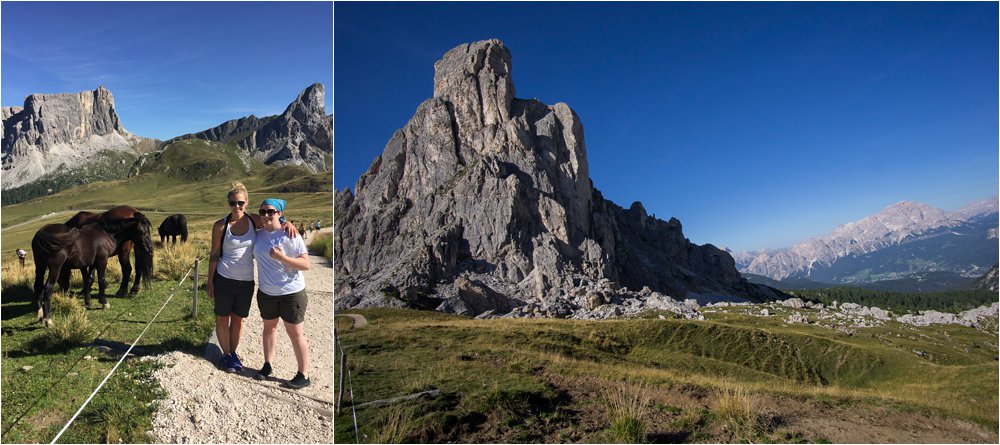 Later that evening we had another great meal in the hotel's restaurant which advertised "slow food". There were so many memorable meals on this trip and not a single disappointing one. It was really nice to travel with friends that also appreciate great food. The funny part of dinner was that while we were in a nice dining room the music being played was AC/DC. Alex complimented the owner on her music which she seemed to appreciate and then she brought out probably every AC/DC album that exists and said we can select what we'd like. Definitely a quirky place! The highlight of this meal though was for sure the tiramisu at the end. Alex and I are big fans of the dish but my mom has always held the title for Best Tiramisu. However, this particular one definitely could have taken the title. I can't be sure until I go back to the States and try my mom's one more time. Alex and Malcolm were the biggest fans and the noises they were making while eating it were entirely inappropriate for the dining room! We were treated to another beautiful sunset here and then Alex and I took the camera out in the dark once more to experiment with some night photography. Again, the moon was super bright. In the morning we did one last little photo by the sign before beginning the journey back to Munich.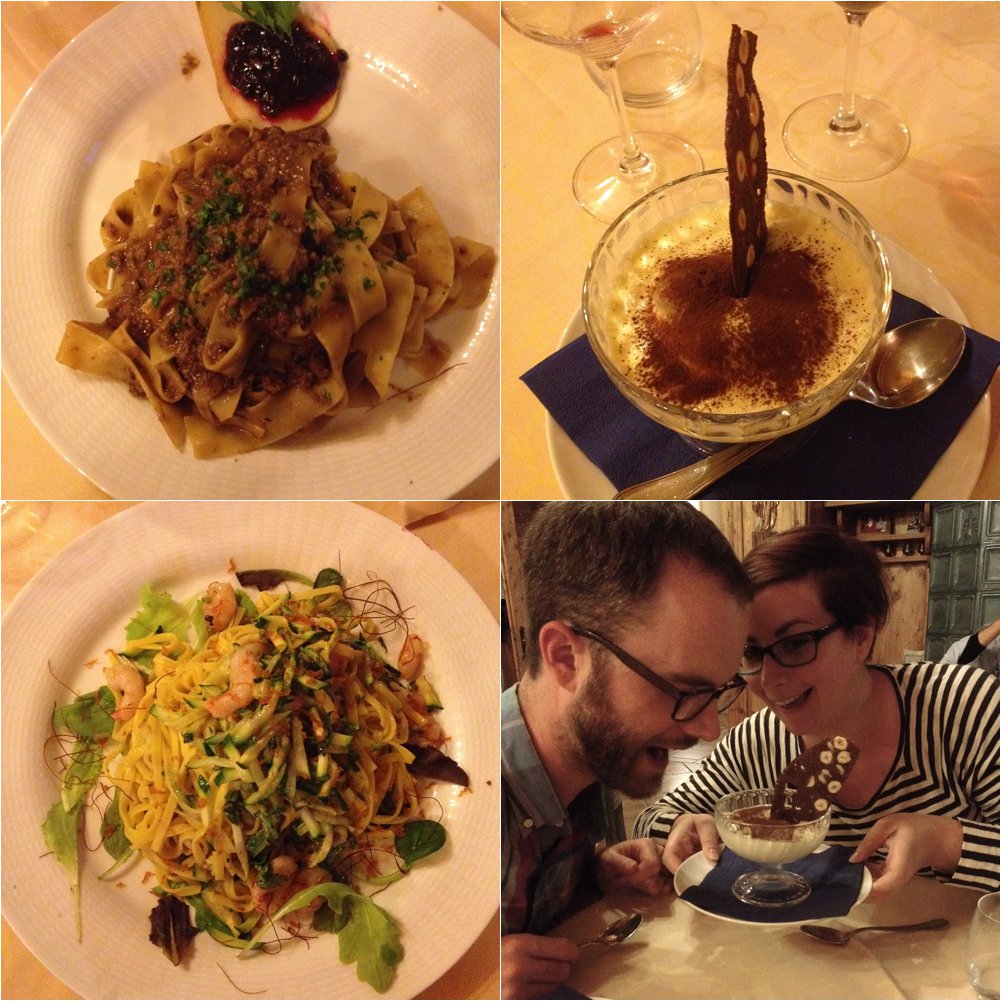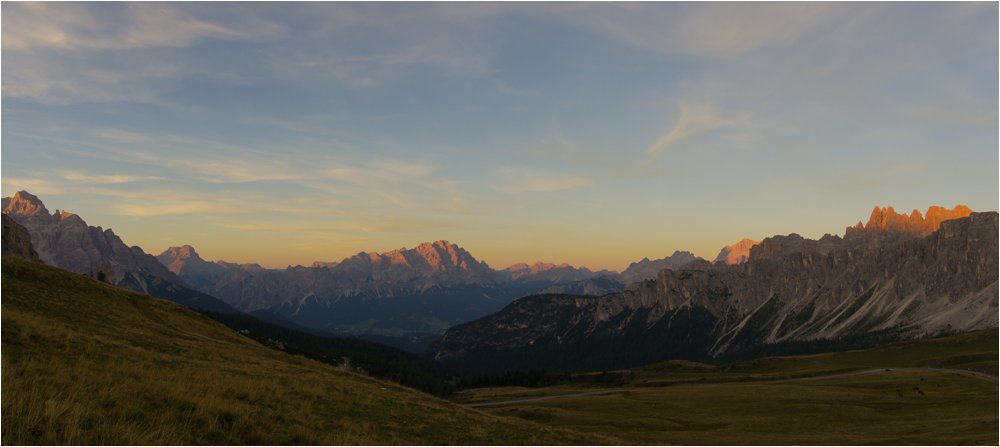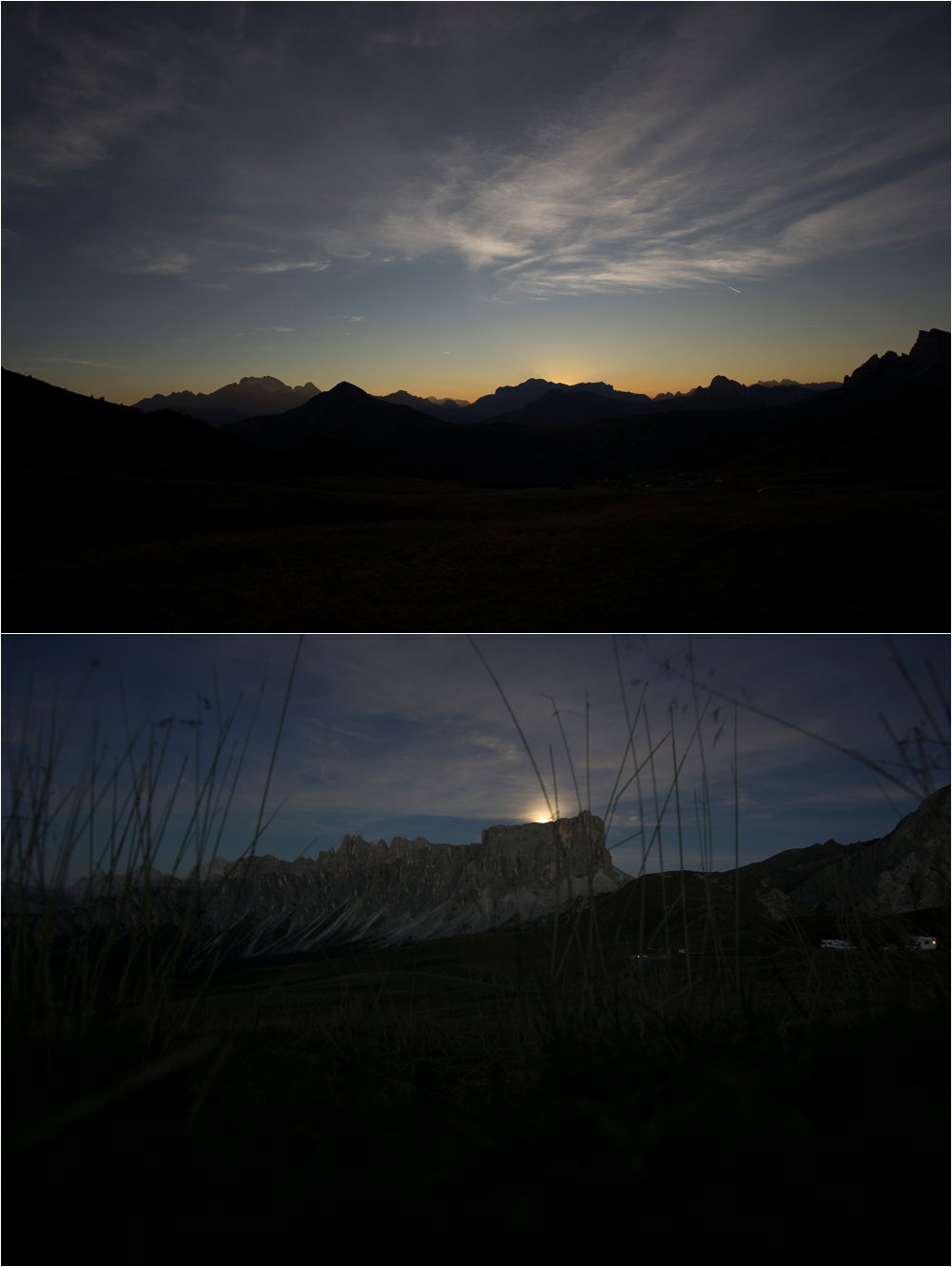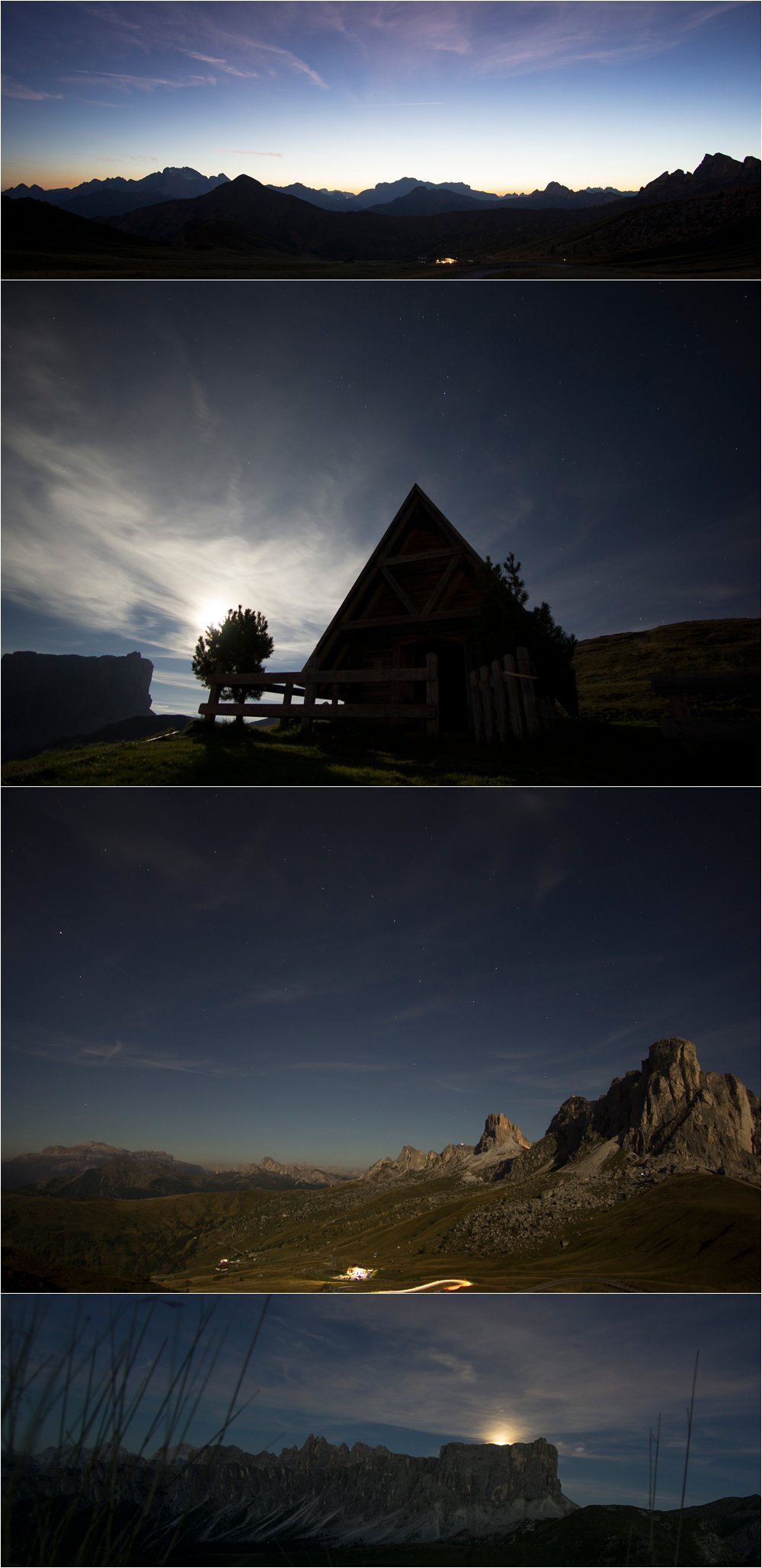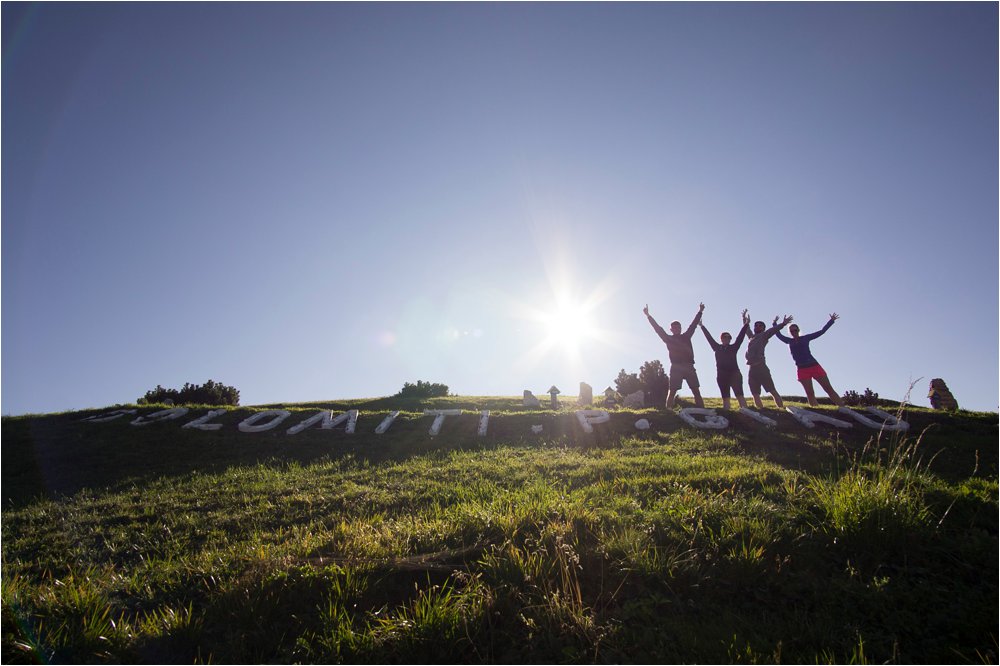 To break up the car ride we planned one last stop at another turquoise lake, Lago di Braies. This one was also popular with the tourists but since it was a bigger area there was a bit more to enjoy and it wasn't roped off to us I think I liked it a bit more. I do sort of wish I had jumped in. There were plenty of great rocks to jump off of but since nobody else was interested I decided to skip it. So, that just means I will have to go back again another time!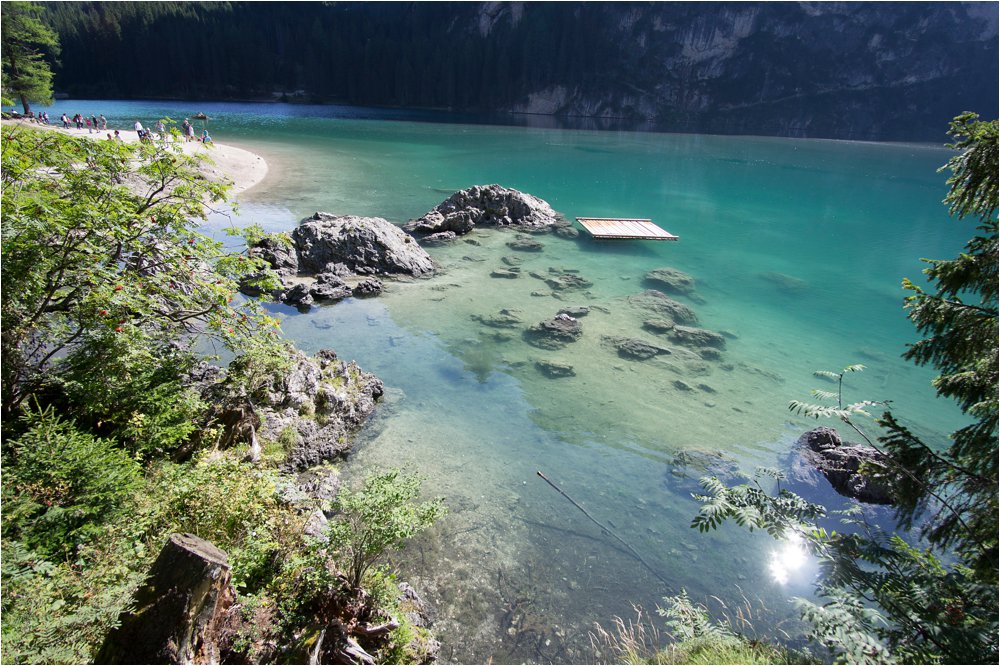 I seriously hope this isn't our last European adventure with Sarah and Mal. Although I talk to her almost daily it's a completely different thing to be able to spend time in person with your friends and to share your life with them. I feel so lucky that I've had so many visitors since moving over here and I hope it never ends! When living abroad gets difficult (which happens often), it's trips home and visits from friends that I can look forward to.
Next time we're back in the Dolomites, via ferrata will be on the list of things to do!