Summer began to turn to Fall and then I had my first guest come out to visit me. My friend Lauren from CA had been visiting her sister in Turkey and flew into Munich for a few days before going back to the States. It was so nice to see a familiar face and have a girlfriend around for a few days (especially a native English speaker!). Showing her around Munich was also fun. I think when you give people a tour of the place you live and see them enjoying it your pride for your city grows a little bit. This was really good for me and just what I needed at the time. We went to a few of the typical tourist spots like the Hofbrauhaus, tried on some dirndls together, and then did a day-drinking tour of the city on our own. This basically means we walked around the city with beers in hand stopping wherever we felt like. At one point we bought beers but forgot to ask the clerk to open them. I figured I've seen Alex open a beer using basically any object at his disposal…how hard can it be? I walked over to a metal gate by the park and tried to use it as a lever to pop the cap off. I managed to make myself bleed and draw the attention of an older couple who was obviously German because he produced a bottle opener on the spot for us. I'm going to really have to practice being a better German. By the time we were ready to get some food I was a bit too buzzed to navigate google maps and find the Mexican restaurant I had intended on going to. Instead we ended up as Weisses Bräuhaus and ate until we were ready to burst. This is probably one of the best German meals I've had since getting here actually. What follows are the best selection of photos from a huge batch of drunken selfies we took throughout the day.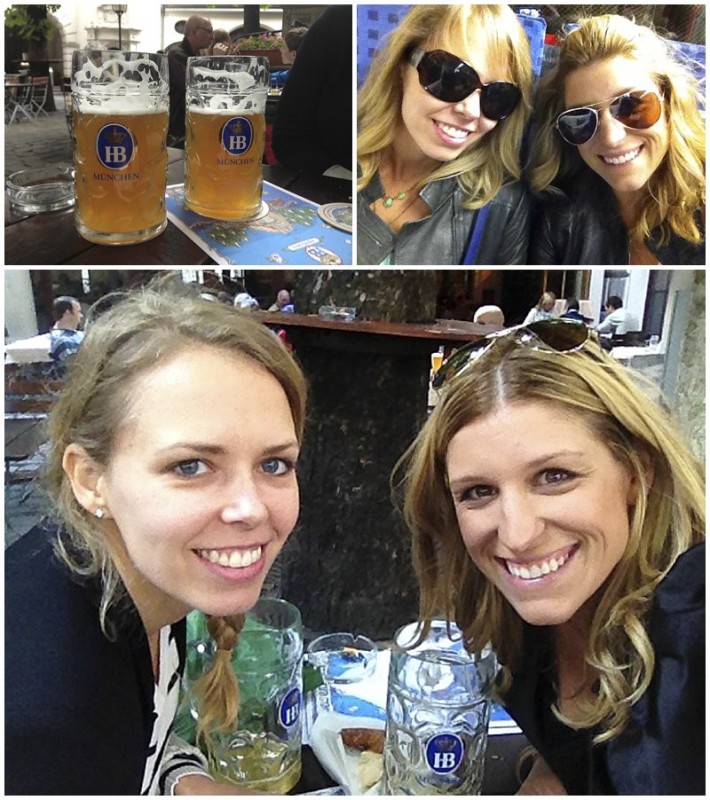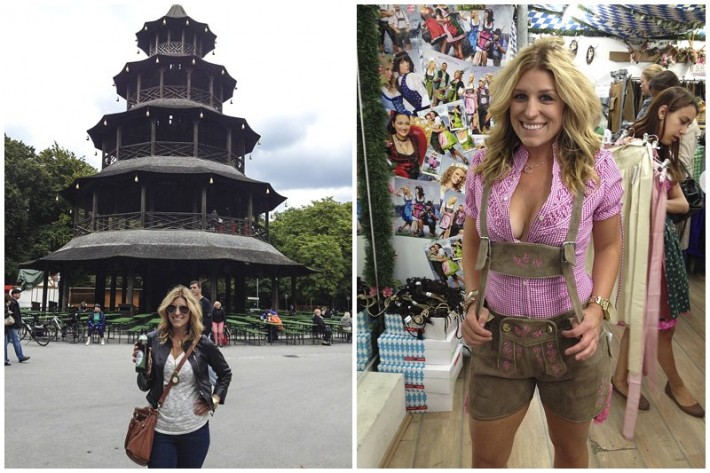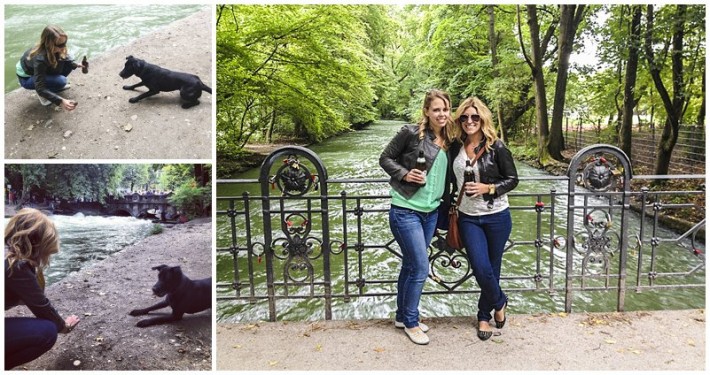 One of the last days of Lauren's visit we decided to rent a car and drive into the mountains of Austria to go canyoning. The weather was absolute shit that day but we'd already made the plans so we just figured if we didn't go canyoning we could check out a little mountain town. It was raining and freezing cold when we arrived to the town of Haiming in Ötztal and found Fankhauser Rafting. We were still undecided so we went in to get some information. We saw one other group that was there to go rafting but other than that we were the ONLY ones there. After some flip-flopping we decided to just do it. The water is freezing anyway so maybe it wouldn't matter if the air was cold. We definitely made the right decision. This canyoning tour was even better than the one I did in Slovenia. Our guide Johannes was very experienced and did a great job keeping us alive! 😉 We got to do some rappelling down huge waterfalls which was really fun. Lauren had done some similar things when she was in Australia but nothing like this and she was the perfect person to bring on this tour, she did great, wasn't afraid, and was having fun. A day like this definitely would be pure torture for some people so I was really happy when she said it's one of the best things she's ever done. The big moment for me was toward the end when we approached a spot where we had the option of doing a high jump, lower jump, or slide down the waterfall. We had just come off a pretty high jump so I was feeling some adrenaline. I didn't necessarily feel the need to do the high jump but wanted to take a look before deciding. I walked up and looked over…it was really high. 15 meters which is about 50 feet. I think the highest I've jumped is maybe 40 ft but it wasn't measured so who knows. Lauren took a look and said she wasn't going to and that kind of gave me an out so I said I'd skip it as well. The tour guide responded "that's totally fine, you'd be the first girl I've seen do it anyway." What?! Why would he say that?! Obviously now I have to be the first girl to do it! So I changed my mind and stepped up to the edge. Lauren did her lower jump first while I stood above still trying to decide if I could do it. It took a lot of mental coaching, my body just naturally doesn't want to follow what my mind is telling it to do. It's such a weird sensation. Every time I thought I was going to jump I took a tiny step to the edge and then stepped back. It felt like I did this for 5 minutes but Lauren said it was more like 10. Finally I just stepped to the edge where I was supposed to jump from and leaped off. I was supposed to keep my body really straight and rigid but that all went out the window when I jumped. I definitely smacked my ass pretty hard on the water and at the same time that I was experiencing this amazing rush I was also thinking that I probably wouldn't do a higher jump than that. When I asked the tour guide if I was really the first girl to do it he said I was the first one HE had seen do it. Tricky tricky! After the tour we had a nice tall beer and hot meal in the hut before driving back to Munich. This was such an awesome day and I can't wait to go back there in the spring or summer when the weather is nicer.
This is someone else' video but it's the same canyon we did our tour of. If you skip ahead to 5:15 you can see the big jump. It gives a rush again just watching it!