Happy Birthday to my beautiful friend Acacia! I decided I will finally finish this blog post about her visit to Germany LAST SPRING and what better time to do it than the day after her birthday.
When Acacia first told me she was coming to visit and we picked some dates I started scheming right away. After a bit of back and forth with a few different ideas we decided to spend some time in Munich and then take a road trip through Slovenia. Acacia had heard so much about my trip there that she wanted to see it. I realized that there was still a lot there left for me to see too so it would be a new adventure.
On arrival Acacia was of course a bit jet lagged so I decided after some relaxation at the apartment we could do an easy city tour on the big red double decker tour bus. I'd never done one of these tours before…and I'd never do it again. It was probably the most boring "tour" I've ever done. It was about the same as just taking a public bus around the city. The only good part is that it's a hop-on/hop-off tour so we were able to get out and see a few things. I think Acacia fell asleep a couple times on the bus. The positive was that it definitely didn't require much energy from us so it was good for someone with jet lag…but I wouldn't recommend it to anyone.
The second day we did some wedding dress shopping. I knew this was something I wanted to do with her because we probably wouldn't have any other chance. I booked an appointment at one shop and another friend from Munich also met us there. The shop was lovely and served us some Champagne. The dresses were beautiful but way more than I wanted to spend but it was nice hearing some opinions and I was grateful to have that experience with Acacia.
The big highlight was our planned road trip to Slovenia. We bought tickets for the long haul bus for something like $60 round trip from Munich to Ljubljana. The ride was supposed to be about 5.5 hours but on the way there we were stopped for awhile due to a tunnel having construction. It added about 2 hours to the trip. Overall though you just can't beat that price.
Once in Ljubljana we walked from the bus station through town to our hostel for the night. This was actually my first time staying in a hostel. We decided to get a private room so that we'd get a good night sleep. The problem ended up being the pigeons outside our window keeping us up rather than fellow travelers. Next time I'll remember ear plugs. But again it was a good, budget friendly place to stay for the night. After dropping our bags off we headed out to explore town. Ljubljana is one of my favorite cities so it was really fun to be able to share it with Acacia. We wandered around the cute streets in the old part of the city. Ate some gelato, had dinner at my favorite restaurant (Marley & Me) and took a walk up to the castle. I forgot to take photos in Ljubljana for some reason.
The next morning we rented a car and started our road trip. I felt bad because I don't have a driver's license anymore so Acacia had to do all the driving. The good thing about Slovenia is that it's so small it doesn't take long to get to the next place. I tried to plan our trip so there was just about an hour of driving between each destination. Truth be told I ended up doing some of the driving so that Acacia could enjoy looking at the scenery. Oops!
Our first destination was the Skocjan Caves which are a UNESCO National Heritage site. We decided to stop on the way there to see Predjama Castle. The castle is about 700 years old and is built into the side of a 123 meter cliff. It's a pretty amazing sight. We decided to just view it from outside the entrance to save from paying the fee. The view was pretty good from there anyway and we didn't have the time to take a tour of the inside since we'd booked a tour of Skocjan.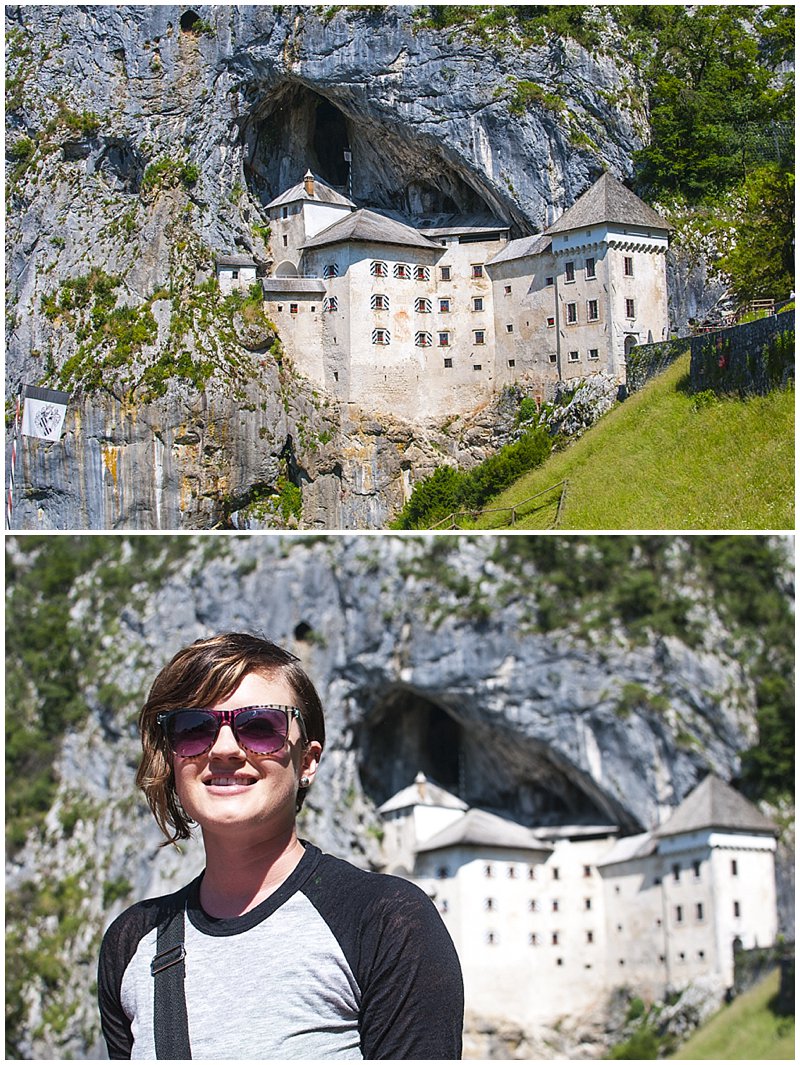 The Skocjan Caves were really beautiful and the tour was informative and in English. The caves are formed by the Reka River which disappears underground and then reappers 34km away. The river flows through some caves which total about 6km. There were some points when the water was flowing really powerfully through the caverns which was impressive. There were other areas where you could see the old caving equipment and boardwalks that had been built (no longer in use) and you could really imagine what it might have been like to be an early explorer of the caves. You especially felt this when they turned out all the lights and you experienced total darkness. If you'd been in there with only a lamp and in a few places 100 meters drops into raging water…that would've been a bit scary.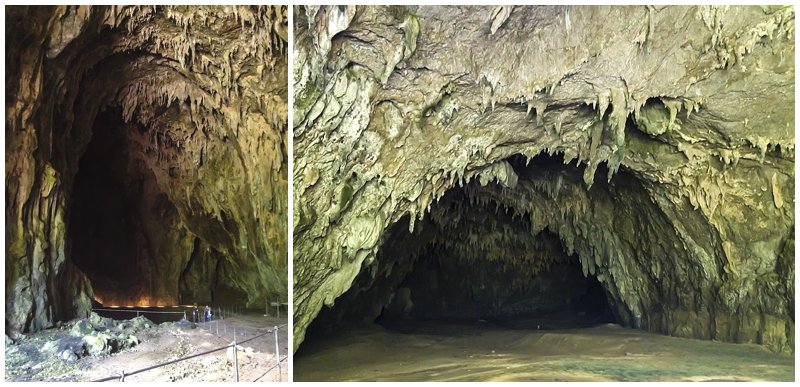 We weren't allowed to take photographs in the caves but we took a few when we exited. There were a few ways back to the car and we decided to take the longer, scenic route which involved a few hundred steps. We got our exercise in for the day!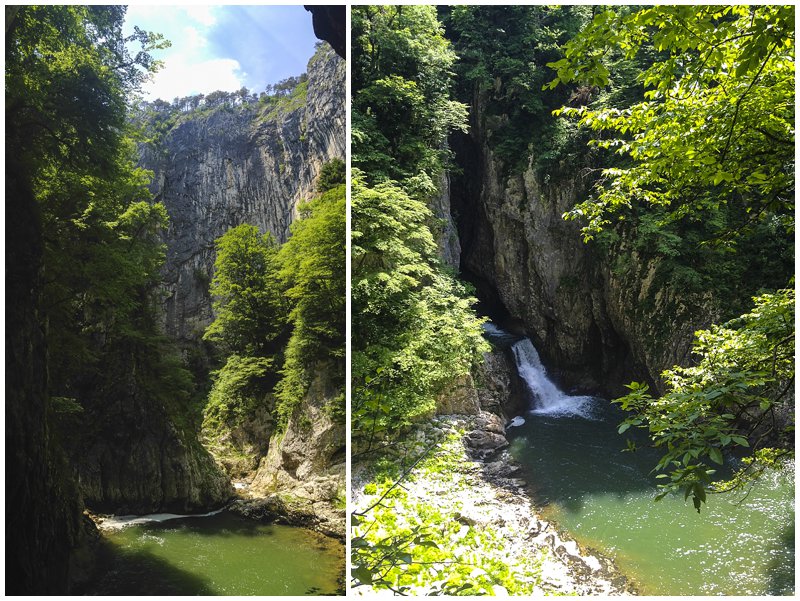 After the caves we were heading toward Dobrovo, which is in the wine region. We decided to take a short detour though when Acacia asked if we were near Italy and if we could pop over to check it out. So we headed there for lunch. I knew nothing about the area so we picked a coastal town on the map. It turned out to be a pretty dirty looking port town. We got some lunch and decided to try a nearby village on the way out that might be more appealing. We weren't so lucky with that town either but we stopped anyway for some gelato. Acacia tried ordering a coffee and instead got the strongest espresso ever and had to add water to it. So Italy was kind of a bust but at least she can check it off the list. 🙂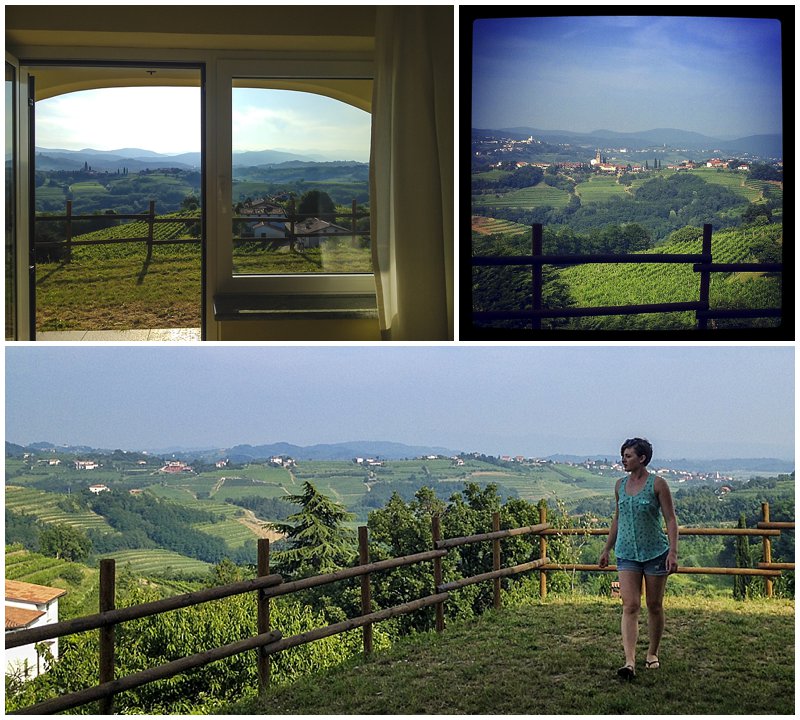 In Dobrovo, I'd booked us a room in a house that overlooked the valley with a nice view of the vineyards. After checking in we headed into town and enjoyed some wine and a nice dinner. Our stay was a little bit too short in this area. It would've been nice to have an extra day and get out and do some wine tasting. Even so, the scenery is well worth the quick visit. As we headed out the next day there was some sort of festival in town that people were getting setup for. As we drove slowly through we saw something that I'm not sure I'll ever forget. They had begun roasting an entire cow on a spit. The thing that made this so crazy looking is that all of the skin of the cow had been removed and the eyes were open and just staring. It was really unexpected first thing in the morning!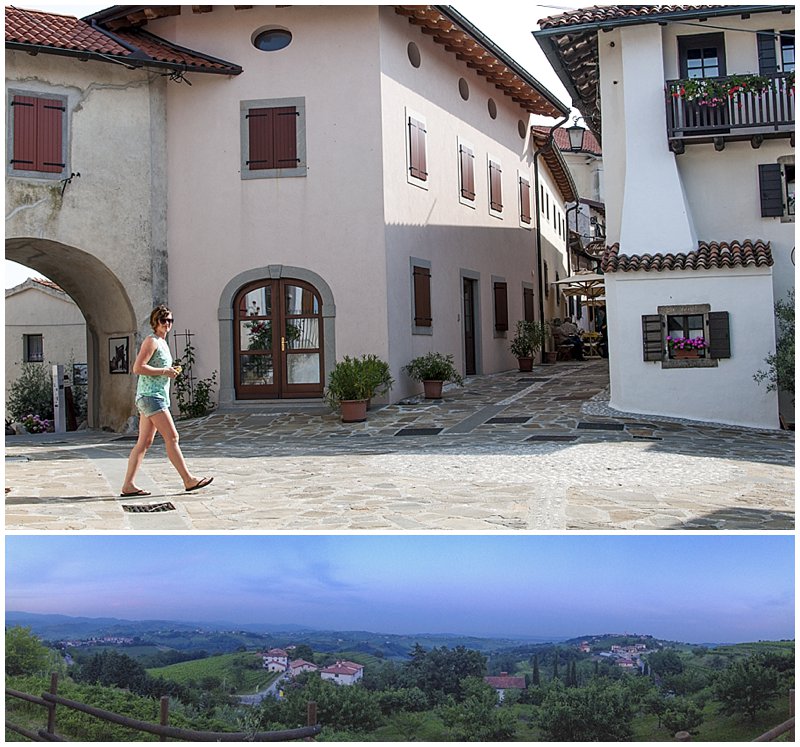 Our next stop was Tolmin to see the Tolmin Gorges. This area is heading into the mountains but we didn't have time to get too far into the mountains as that really increases the driving time. I'd never been to this area before either so I was pretty excited. The GPS directed us to start going up the mountain. I had decided to drive this part so Acacia could get a good view. The road quickly turned into a very narrow one way mountain ridge. We kept driving for 20 or 30 minutes and still didn't see a sign of the gorge. Finally we reached a spot where some people had parked and were starting to hike up to a site. But it definitely wasn't the gorges so we asked them about it. Luckily they spoke English and they told us where we wanted to go was all the way down the mountain back in town. We'd somehow taken a wrong turn. So back down the mountain we went, hoping that no cars would be trying to come up the mountain as there was no place to really pull over. We decided to have some lunch when we got back down and get some more instructions about where to go. It turned out that getting there was quite easy as long and we'd just made one wrong turn. We'd come to the gorge with our swimsuits hoping for a swim in the turquoise waters and maybe a dip in the hot spring. Sadly there was no swimming allowed. So we hiked along the boardwalks and just looked longingly at the beautiful water. It probably would have been much too cold to enjoy anyway.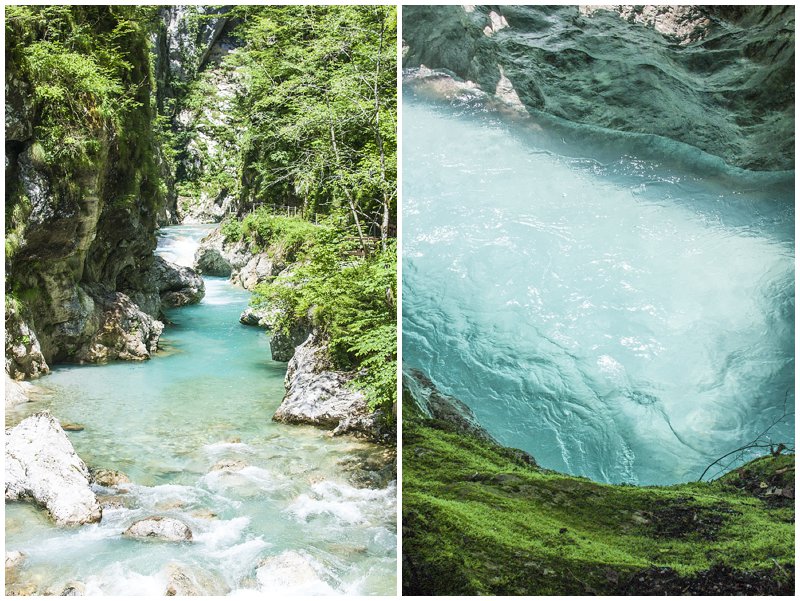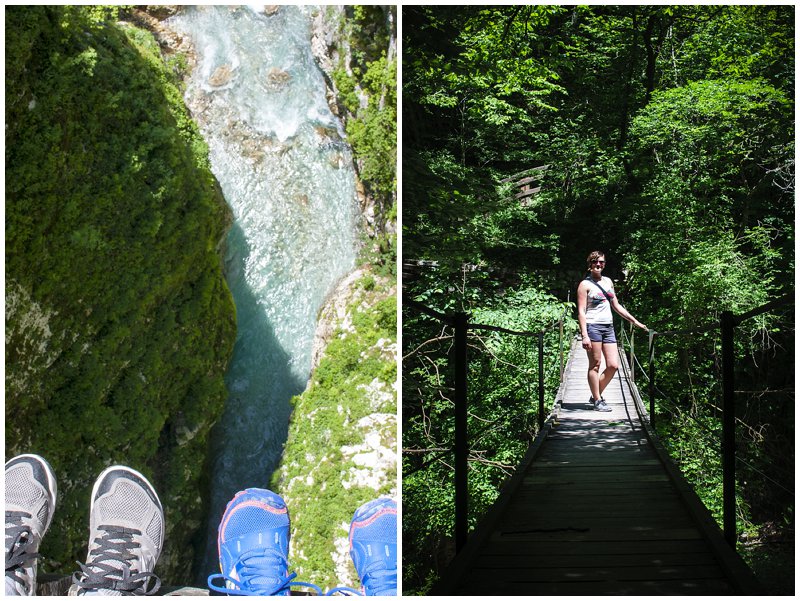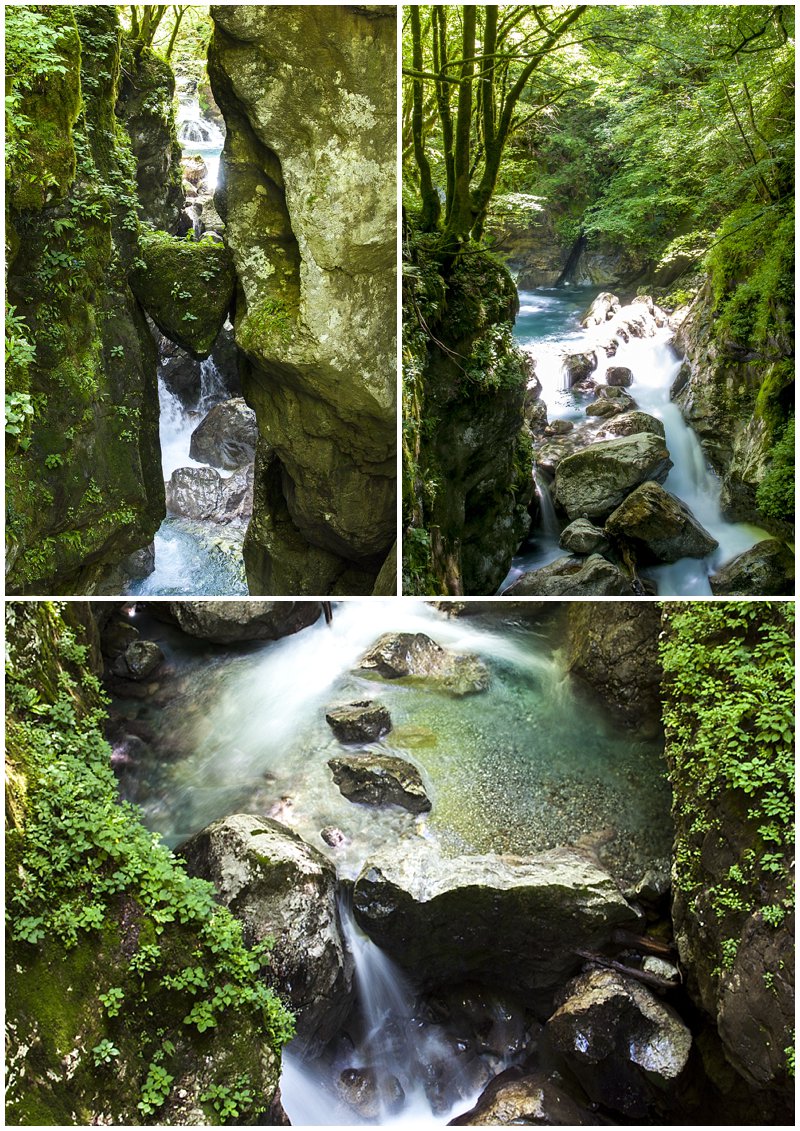 After the gorge we hopped back in the car and headed toward Lake Bohinj where we would stay for the night in a farmstay. Alex had been doing a solo motorcycle trip through Slovenia and decided he would meet us there for the night. The hosts were so generous and when I asked if Alex could tent camp on their property they said they would just put us in the bigger apartment for the same price and he could stay with us for free. So nice! The farm was in a tiny village outside of town and had it's own chickens and cows. The people were really friendly and the apartment was clean and comfortable. We went into town for some dinner and to walk around and check out the lake.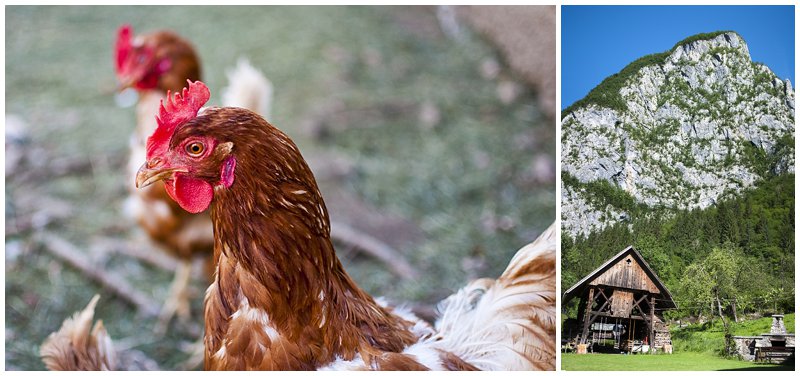 The next morning Alex left us to continue his trip and Acacia and I headed to Lake Bled. This is the "fairytale lake" of Slovenia and I figured we should make a stop for some photos before heading back to Ljubljana to return the car and catch our bus to Munich.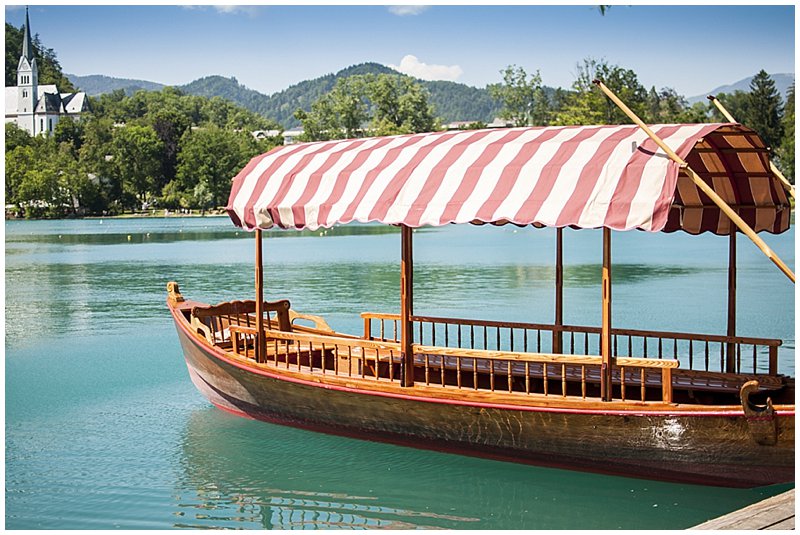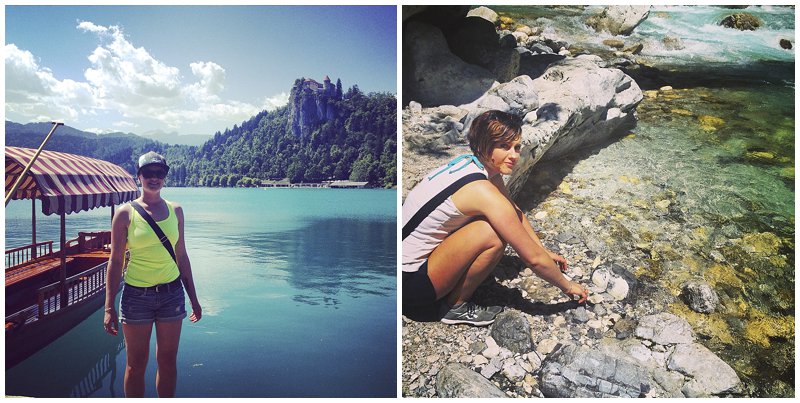 Once back in Munich we just did a little relaxing before Acacia's flight back. Our neighbor's had a birthday breakfast so she got to hang out a bit with some Germans and see what a German breakfast is all about.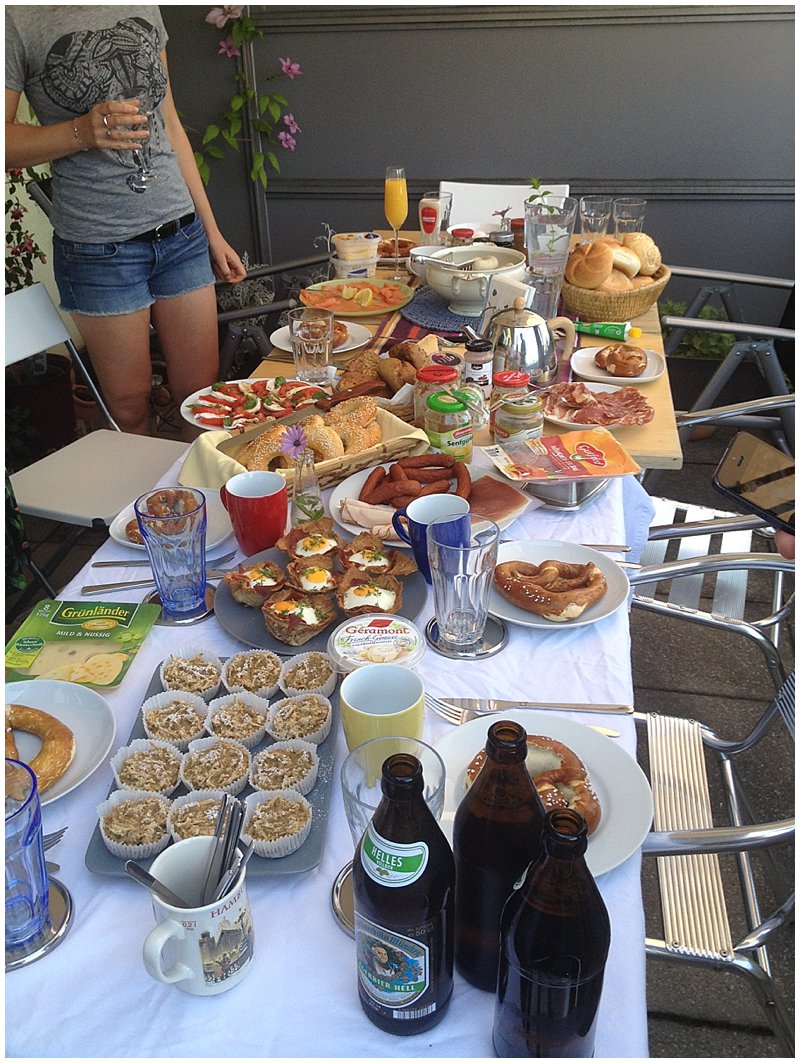 All in all the trip was a success! I'm so grateful that she made the trip over here and that I was able to share so many amazing things with her. I know life will just be getting busier and busier but I hope this isn't the last time she'll make it over to Europe! 🙂